If you're a serious offshore angler but you need the dual console design since it also allows you to take out the family for day-boating, you've probably already discovered the biggest downfall of many DC models: they just aren't built for heavy-duty oceanic action. Enter: Albemarle. Yes, the same Albemarle that's well-known for building heavy-duty inboard expresses, intended for heavy-duty fishing forays to the deep. In recent years they've added outboard models to their line-up, and now, they have the 27 Dual Console.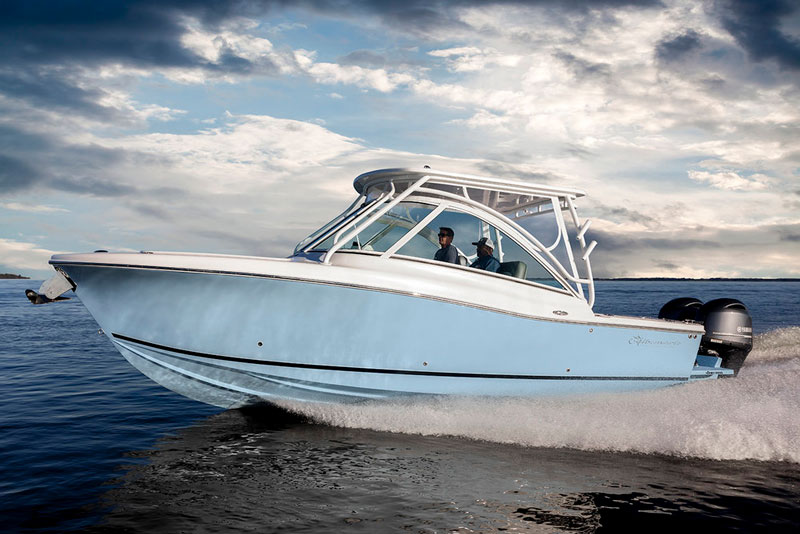 Wait a sec – I know what you're thinking: there are a million DCs out there built by reputable fishing boat manufacturers, so what sets this one apart from the norm? First off, it's built like an Albemarle. That means it's exceedingly hefty; the Albemarle weighs 8000 pounds but if you look at other DCs in this class and you'll see weights mostly ranging between 5,000 and 7,500 pounds. Yes, additional weight does cut into speed and efficiency, but it also gives you more mass to bust open big seas. It also means the boat is as rugged as they come. I ran an Albemarle (hard) for an entire season offshore and discovered that you simply can't bust stuff up on these boats up like you can with lesser builds. Don't just take my word for it – talk to someone who's owned one and I'll bet dollars to doughnuts you get confirmation.
Secondly, Albemarle didn't just build a ruggedized version of everyone else's idea of a dual console. They made some unique design changes that you won't find elsewhere, starting with a massive windshield. It's significantly taller than usual, and allows for comfortable stand-up operation of the boat – a must for long offshore runs in tough conditions. It also provides tremendous protection from wind and flying spray at the helm. Just as unusual, the helm console is larger than the passenger's and the walkthrough to the bow is off-center and to port. This allows gobs more room at the helm for the monster electronics systems we anglers love. You think you can put a pair of 12-inch MFDs into the helm of any old DC? Better check again.
Pushing out the starboard console and trimming down the port one does, of course, cut into the available space inside the port helm. Thankfully Albemarle didn't try to cram too much in there, and instead simply dedicates the entire port side console to a head compartment. There is a berth housed inside the starboard side, but it's not exactly roomy and in all likelihood most folks will use it for bulk stowage on offshore runs or, on family days, a napping spot for the tykes.
So far as fishing features go, the 27DC has the accouterments you'd expect: a 60-gallon macerated fishbox in the deck, a 40-gallon livewell in the transom, cockpit coaming bolsters, four gunwale-mount rodholders aft and two up front, plus four rocket launchers on the hard top pipework (We'd add more along the back of the top. Just sayin'). Same goes for the family side of things, with a wakeboarding/water skiing pylon up on the hard top, a freshwater cockpit shower, five USB charging ports, and seating all around. There's an option between a molded rigging station with tackle stowage or a summer kitchen with an electric grill and reefer. You know which one we'd pick.
Performance and fuel economy are also clearly offshore-capable, with a choice between a pair of F200 or F250 Yamaha V6 outboards on the transom. Opt for the bigger motors and you can plan on a cruise in the low- to mid-30s, and a top-end pushing the 50 mph mark. With 170 gallons aboard that should net you a realistic range of over 220 miles, allowing for a 10-percent fuel reserve.
Considering all of these factors, Albemarle's made one thing very apparent with the 27DC. In this case "DC" doesn't just stand for dual console – it also stands for doubly competent.
Albemarle 27DC Specifications
LOA – 30'0"
Beam – 8'8"
Displacement – 8000 lbs.
Draft (hull) – 1'8"
Transom Deadrise – 24 degrees
Fuel Capacity – 170 gal
Max HP – 500
Area Dealers – Dare Marine, Yorktown and Rudee Inlet, VA, (757) 898-3000.