You think that if you've seen one dual console fishing boat, you've seen 'em all? Then we dare you to take a look at the new Albemarle 31 DC. If you can check this boat out and continue to maintain that all dual consoles are more or less vanilla same-sames, then your level of cognitive dissonance matches that of any (every?) politician in Washington, DC.That said, it may take a moment or two to figure out just how unusual the 31 DC is, because its most unique feature is hidden from sight. Ready to get a look at it on film?
Pop open that door in the side of the helm console, and step down into the cabin. Yes, cabin. On other dual consoles of this size you'll see a glorified stowage compartment with a cushion here, which is rather laughingly called a "berth." In this case, however, when you step down inside you'll discover that the compartment extends underneath of the deck, utilizing most of the boat's beam to provide a berth easily large enough for a couple and maybe one small kid, too. Added bonus: on one side of the cabin there are rodracks, on the other a dedicated mount for the dive ladder, and in the entry area there's a microwave oven, stowage cabinets, and the electric panel. What about a head? That's housed in a separate compartment inside the passenger's console.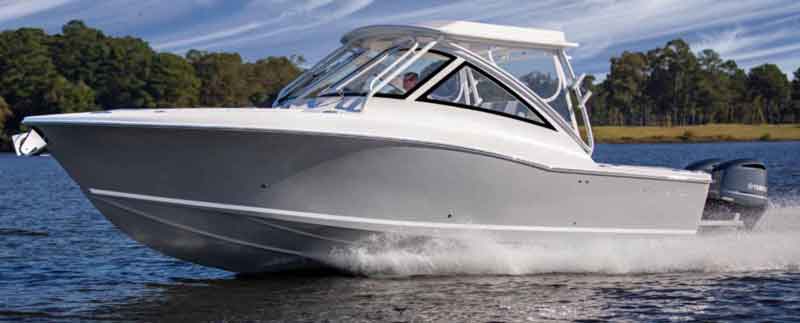 Topside you'll find more perks that put this boat in a class of its own, particularly in a cockpit that's significantly fishier than the norm for a DC. There's a pair of 56-gallon tuna-sized fishboxes in the deck, a 30-gallon transom livewell that's baby-blue inside and has a clear lid, both fresh- and raw-water washdowns, and fold-away transom and inwale seating that swings flush so it doesn't mess with the cockpit's fishability. The gunwales hold four flush-mount rodholders (plus there's a pair in the bow). Even the hard top is designed with an eye towards angling with molded-in mounting pads for the outriggers and a pair of rocket launchers on each side of the support pipes. We'd say ditch the extending aft cockpit shade in favor of a rack of rocket launchers across the back of the hard top, but we also understand why Albemarle puts the shade there – many dual console owners do insist on adding such comfort features, even when they eat into angling abilities.
Speaking of comfort features, the 31 DC also comes with the prerequisites needed for cocktail cruising. There's a hot/cold cockpit shower, a big aft-facing lounge bait-watching seat, a ski/tow bit on the hard top, 12-V/USB outlets at the helm and in the bow, a four-speaker Wet Sounds stereo system, and a molded cabinet with a sink and storage that can tilt more towards rigging (with tackleboxes) or more towards partying (with a reefer and an electric grill). One other comfort factor we need to point out is that the helm, passenger's, and bow seats are all exceedingly comfortable. We plopped down in all of 'em and things like thick dri-fast foam, flip-up bolsters, contoured backrests, and flip-down arm rests made us want to stay plopped. We will note that there's so much of this seating in the bow cockpit (it runs all the way fore and aft) that there's not a ton of fishing space left up there, but that's a price you'll pay with most DC designs.
Lest you think for a moment that Albemarle scaled back their beefy construction methods when building a dual console instead of their usual hard-core fishboats, note that the 31 DC is, like all Albemarles, hand-laid solid glass with vinylester resin, a molded one-piece deck and cockpit liner that's both mechanically and chemically bonded to the hull, and backed by a 10-year structural warranty. We've tested Albemarles for extended periods – entire offshore seasons, actually – and found them to be among the toughest-built boats on the face of the planet. But don't take our word for it, go for a ride and feel how the 24-degree deadrise hull doesn't shudder or vibrate when taking waves at full-tilt. Try jumping up on the hard top and dancing a jig, to learn how it won't waver, vibrate, or move one iota. Flip the cockpit seats down and notice how the stainless-steel hinges are beefy enough to club a grizzly bear into submission.
Just another vanilla, same-same dual console boat? Aw, heck no.
Albemarle 31 DC Specifications
LOA – 30'11"
Beam – 10'8"
Displacement – 12,500 lbs.
Draft (hull) – 2'2"
Transom Deadrise – 24 degrees
Fuel Capacity – 275 gal.
Max HP – 700
Area Dealers – Rhode River Boat Sales, Edgewater MD, (443) 406-4796; Dare Marina and Yacht Sales, Norfolk, VA, (757) 635-3836.