You may not be able to keep American shad and hickory shad, but these species are one heck of a fun catch and historically, are an icon in our region – salted, smoked, and packed in barrels, during the Revolutionary War, they were called the "savior fish" that fed the American Army during the difficult winter of 1778. And during the Civil War shad were blamed by some for the defeat of Confederates at Five Forks, where General Rosser "paused to scoop some succulent shad from the Nottoway River" then ate lunch with General Pickett, and were thus distracted when the Union troops attacked.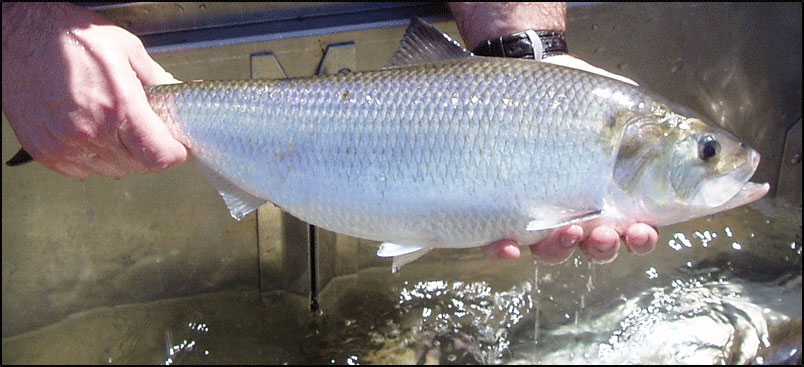 The shad run's timing depends on the weather, but generally begins when water temperatures in the rivers rise over 50-degrees. As early as the middle of March it's game-on, and the action can run as late as mid-May and sometimes up to June.
FLY FISHING for shad is quite popular, and is usually done with a nine-foot, seven- or eight-weight sinking fly line capped off with several feet of 3X to 4X (eight to six pound) leader. Flies used are simple inch-long darts with some tinsel added for flash and "dumbbell" style eyes. Red/white body color combinations trailed by yellow or chartreuse hairs are a classic pattern. Strips should be short and quick, working the lure deep and along bottom when possible. An exception comes at dusk, when the shad sometimes rise and provide action right at the surface.
LIGHT SPINNING gear in the six- to eight-pound class is another great way to catch shad, and naturally, most people use the ubiquitous shad dart. Many anglers tie two to a line in tandem, with a light, small dart in front (1/16 to 1/32 of an ounce) and a larger (1/8 ounce) dart on the bottom. Colors and patterns should be varied as shad show different preferences on different days, but again, the red/white body color-combination followed by white or yellow hairs is the classic.
Mid-Atlantic Region Shad Hotspots include the Potomac River, right on the doorstep of our nation's capitol. You can rent a boat at Fletcher's Boathouse or launch at the public facility right next to Regan Washington National Airport and cruise past the Lincoln Memorial and then Georgetown. Prime fishing is less than a mile up-river. Another prime body of water is Deer Creek, off the Susquehanna. Susquehanna State Park provides shoreline access for all, and when the conditions are right anglers might hook a fish on every cast.
Check out some hot shad fishing action and see a run-down on the gear and tactics, in How to Catch Shad: Shad Fishing Tactics and Rigs that Work: