Until seeing the Angler Qwest, most of us won't really think of pontoon boats as serious fishing machines. In fact, we're more likely to poke fun at a pontoon than to consider it as competition. But there's no denying the usefulness of pontoons in shallow, protected bays. And in areas like Indian River, Assawoman, and Chincoteague, pontoons make for incredibly stable and comfortable fishing platforms. Besides, with one glance at the Angler Qwest—which looks something like a square porcupine when the rods are aboard—you'll know that this boat's main mission is fishing.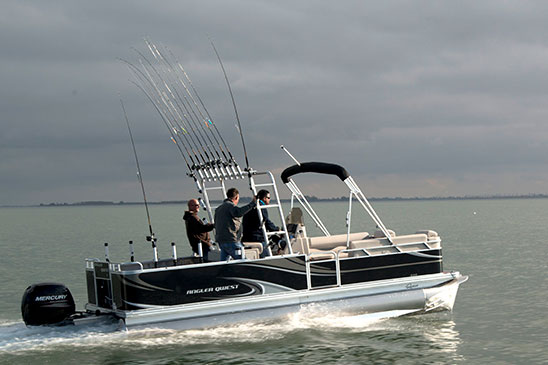 The Angler Qwest comes in a variety of shapes, sizes, and layouts, ranging from a rather simple 18-footer to a rather decked-out 25-footer. In all cases the Angler Qwests come with livewells, rodholders galore, knife/pliers/rig holders, measuring boards, and tackle trays. Popular options include items like raw water washdowns, additional livewells, and bow-mounted trolling motors. Mercifully, wet-bars and blenders are not on the list—possibly a first, when it comes to a modern pontoon boat.
One of the beauties of pontoon boats is their modular nature, and with the Qwests, there are 16 different set-ups to choose from. Some include standard pontoon-ish loungers, others have fishing chairs and T-tops, and still others have arches with oodles of additional rodholders. In all cases, however, pricing is surprisingly reasonable. A fully-rigged 22' with a T-top and a Yamaha F90, for example, will run you in the mid-$30,000 range. And an 18-footer with a 20 horse outboard can be had for under the $20,000 mark.
Are we going to see the captain of a pontoon on the leader-board any time soon? It's not likely. Will you have to jockey with one for the best position at Baltimore Canyon? We certainly hope not. But if fishing is in your blood and owning a party barge is in your future, what could be more perfect than the Angler Qwest?
Quick Facts:
LOA – 18'5" – 24'4"
Beam – 8'0"
Displacement – 1450 – 2075 lbs.
Draft (hull) – NA
Transom deadrise – Definitely NA
Fuel Capacity – Portable tank - 17 gal
Max HP – 75 to 135
Area Dealers – F&S Yamaha Marine, Spring Grove, PA (717) 632-6382. Chesdin Boat Sales, Petersburg VA, (866) 959-8055.