If you're in the market for a hot new fishing boat for the 2019 season, mark April 12 to 14 on your calendar – the Bay Bridge Boat Show is the time and the place for some serious boat shopping. You can do extensive research on the internet and make sure you read all the Hot New Fishboat Reviews in FishTalk, but there's simply no substitute for standing on a deck, swinging open a hatch, and kicking back against a leaning post.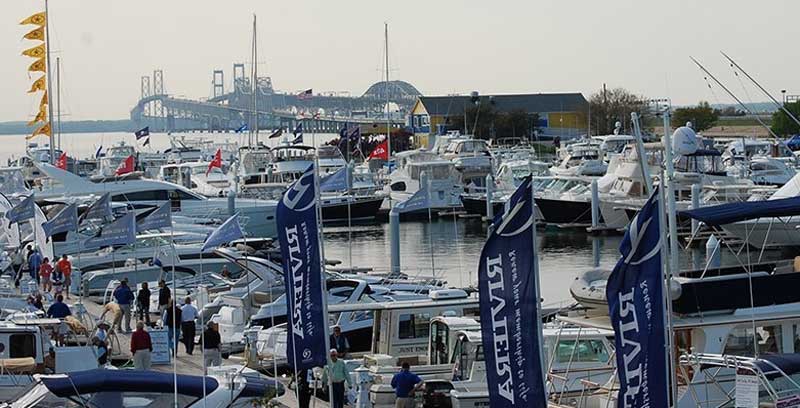 As you walk the docks, we hope you'll take note of the dealerships and builders who advertise here in FishTalk and thank them for helping to support our fishing community. Reality Check: Without their backing we simply wouldn't be able to bring you this magazine, so if you enjoy seeing FishTalk it's important to let them know you've noticed and that you care. That said, ultimately, we want to see every angler find the ideal boat for their needs no matter who builds or sells it. To help make that happen, here's a boat-buying cheat-sheet that should help you make the best call.
Judging Boat Construction
The hulls and decks of virtually all molded fiberglass boats built in America today are structurally reliable. Though some are beefier than others, at a boat show it's very difficult to judge how heavily major components like the hull and deck are built. These other construction traits, however, will give you insight into how well a manufacturer builds their boats.
Fit and Finish: Sloppy gel coat work or caulking, or the extensive use of flimsy plastic parts, are generally signs of lower quality. Conversely, a higher grade of fit and finish indicates a builder who take pride and care at each and every step. But don't think of fit and finish as a tell-all construction factor. When it comes to items like the underside of a hatch or the interior appearance of a stowage compartment, many boats that are quite robust will appear imperfect. That's because finishing off these spots takes time and time is money. There are many boats out there which cost significantly less than the competition because the builder prioritized affordability over eye-appeal.
T-tops, rails, and Pipework: In a nutshell, less flexing is better. Grab the back of a T-top and give a hard yank or lean against a railing, to get a feeling for how they compare to those found on other boats.
Upholstery: This is a rarely considered construction factor which has long-term implications. Look for vinyls which are treated with antimicrobials (preferably to "official" ASTM G21 standards) to help resist mold and mildew. For comparison purposes find out the weight of the vinyl a builder uses; the material is measured in ounces per square yard, 28-ounce is usually considered minimum to warrant the title "marine grade," and more is always better.
Hulls and Decks: Again, we'd stress that you aren't likely to find any boats at the show which are constructed to a level as to be unsafe, and it's very difficult to delve too deeply into structural items at a boat show. That said, simply banging on a hullside and stomping on a deck can be informative. Those with hollow drumming sounds are apt to make a lot more water noise as you cruise, and whenever you see excessive flexing you know you're not looking at the beefiest boat in the world. Remember, though, that many boats (especially smaller models) will have some amount of flex in the fiberglass. Again, this should be thought of in comparative terms as you look at multiple boats.
Judging Boat Engines and Performance
We don't want to sound like we're copping out, but the truth of the matter is that it's tough to go wrong with any of the modern outboards on the market. Today's four-strokes are amazingly quiet and reliable, and modern two-strokes have incredible fuel economy and reliability plus radically long periods between scheduled maintenance. That said, there are a few specifics to keep in mind as you shop.
Size Matters: When it comes to choosing the best outboard(s) for any given model, bigger is usually better and smaller doesn't not necessarily mean lower operational costs because larger engine works less to accomplish the same performance. If a 150 horse outboard needs to run at 4500 rpm to cruise a boat at 30 mph, for example, a 200 or 225 may hit the same speeds while turning 3800 or 4000 rpm – and its fuel consumption may (though not always) actually be lower. Another factor to take into consideration is resale value. While a larger motor does cost more up-front, boats seen as under-powered by other people can be tougher to re-sell (and bring a lower price) when you're ready to upgrade.
Service Matters: One of the biggest considerations you should keep in mind is future service. Does the dealer you're talking to service what they sell? How far are they from where you keep the boat? And most importantly by a L-O-N-G shot, what's their reputation? Have you talked with other people who've bought boats from them in the past, researched their track-record, and asked for references?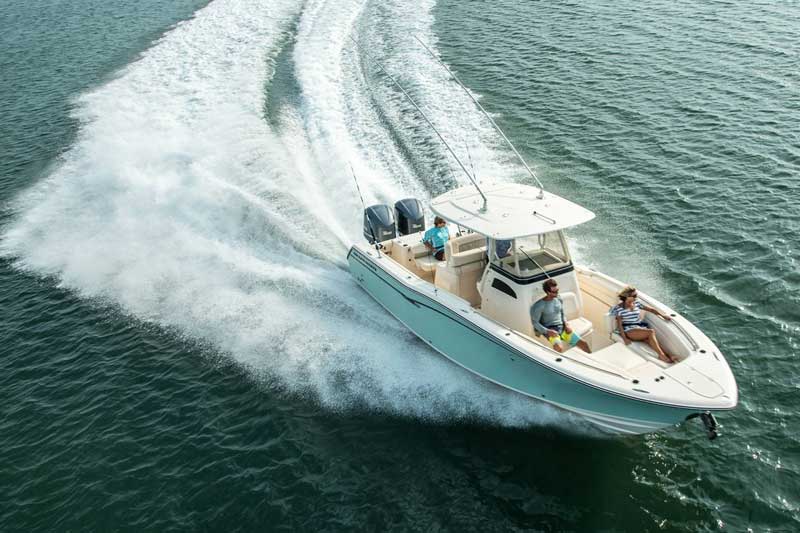 Judging Fishability
This is to a great degree a matter of personal preference, but the fact remains that some boats are simply better designs for one type of fishing versus another.
Light Tackle Fans: In most cases, center consoles are going to be right up your alley. In fact, for all-around fishing versatility they're tough to top. Look for a boat with fore and aft casting decks and consider bay boat designs if you like fishing the shallows, but deeper cockpits and higher gunwales may be in order if you tend to fish open water when it's rough, or want to have the flexibility to make long runs through the ocean. Award bonus points for boats rigged with electric trolling motors with features like Spot-Lock virtual anchoring, jack plates to help zip through the shallows, and copious livewells if live-lining is on the agenda.
Trollers: Aft cockpit space, rod holder capacity, and the ability to stow and haul bulky planer boards are likely on your list of priorities. Boats designed with the traditional Chesapeake Bay deadrise attitude including a wide-open cockpit with aft controls, capped off by a hard top – the perfect spot to tie down those planer boards – with rocket launchers lining the back may be ideal. But if you also want to troll offshore, speed will become an important factor. Large center consoles can accomplish the mission too, but weather protection needs to be part of your considerations as well.
Fly Anglers: You folks need a more specialized boat. The bay boat genre is great but additional key considerations should include a snag-free foredeck with pop-up cleats and hardware, flush hinges, and a lip around the edges. Rod stowage is another issue to consider, since few models can safely handle a rigged nine-foot fly fishing rod. If you don't have a rod box that allows you to run with rigged rods, you'll be cursing the loss of fishing time each and every time you have to break down and reassemble before and after cruising.
Bottom Fishermen: Just about any design works just fine for bottom fishing, but you should place an emphasis on static stability. Bottom fishing often entails drifting, and boats that rock and roll excessively will make life difficult. Remember that flat bottom hulls are the ultimate in stability, but they'll also pound; semi-Vs ride better but give up a hair of stability; deep-Vs pound even less but rock the most in a beam-sea; powercats ride incredibly smoothly and have great static stability, but sometimes they're so stable that when they do roll, it can be a very abrupt and snappy motion.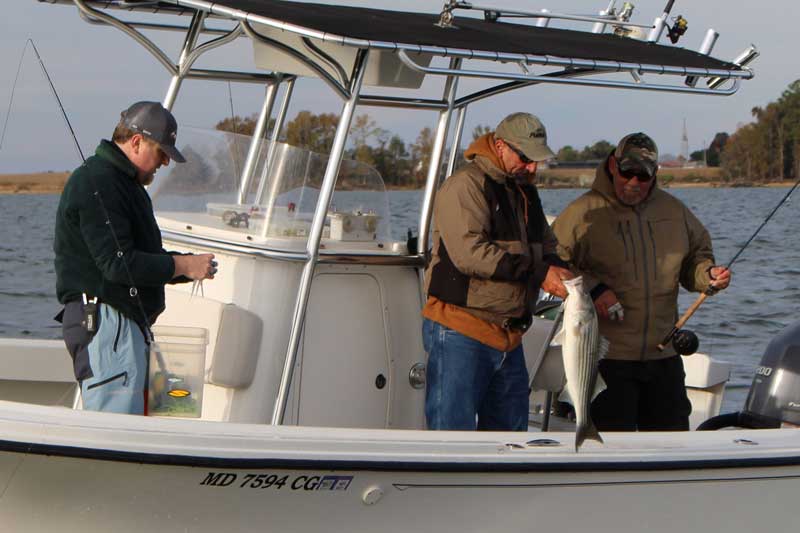 The bottom line? Each and every one of the factors mentioned above should be carefully considered as you shop for a new boat. You need to personally judge the importance of each, and where your own personal priorities lay. Do so, and then take advantage of the spring boat-buying opportunities at the Bay Bridge Boat Show this month, and hopefully you'll soon be fishing from the deck of your ideal hot new fishboat.