The Bay Bridge Boat Show is coming up, and anyone shopping for a hot new ride should check out our Fishboat Reviews, read up on the latest in marine powerplants, and walk the docks with an in-depth knowledge of what to look for. And even though they say you can't put a price on happiness, once you figure out exactly which model fishboat you want we're pretty dang sure a local dealer will be able to come up with a solid figure. Now now, stop denying it – we know you really do want to buy a new fishing machine. And truth be told, when you finally set foot on the deck of the ideal boat all those old excuses for not pulling the trigger will melt away like March snow. You need to save the cash because the HVAC went kaput? Open the windows when it's hot and grab a blanket when it's cold. The kid's tuition bill is due? There's no reason in the world they can't get a job working nights at 7-11. Your wife's car threw a rod? Trust us, she won't mind biking to work. When it comes to buying a new fishboat all those other things simply don't seem to matter so much anymore. Nor should they, because whatever that perfect boat might cost the price is right – just as long as it gets you to that hot bite.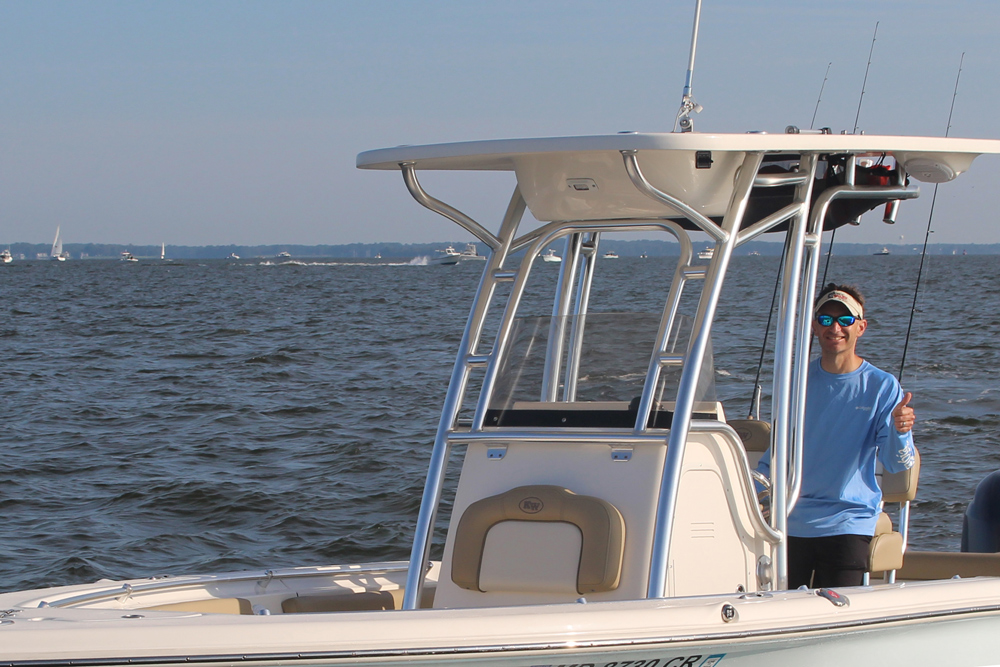 Opportunity Knocks at the Bay Bridge Show
The Bay Bridge Boat Show, running from 10:00 a.m. to 6:00 p.m. Friday April 27 through Sunday April 29 (the show closes at 5:00 on Sunday), marks your last chance of the boat show season to get a new ride. It also marks your last chance to get a boat for the 2018 fishing season. There will be over 100 fishing boats from over 30 manufacturers to choose from, and you can take a test ride at the PropTalk Demo Dock. There will also be daily seminars and representative of Shore Tackle and Custom Rods will be on hand to demonstrate fly fishing techniques and spinning rod casting.
Okay: sure you know there will be plenty of boats to see, as well as extra events going on at the show. What you really want to know, of course, is how to find the perfect boat for your needs. So let's look at a few of the key points that make the difference between a good fishing boat, and the ideal one for you.
Do you like trolling? If the answer is yes, important details to look for include aft cockpit space, rod holder capacity, and the ability to stow and haul bulky planer boards. Boats designed with the traditional Chesapeake Bay deadrise attitude should be high on your list, since they usually feature a wide-open cockpit capped off by a hard top (the perfect spot to tie down those planer boards) over a bridge-deck lined with rocket launchers. But if you also want to troll offshore, speed will become an important factor – and don't forget about the outriggers.
Do you groove on casting in the shallows? In that case, a relatively small center console bay boat with fore and aft casting decks is in order. Award bonus points for electric trolling motors, jack plates, Power Poles, and a shallow draft.
Are you a fly guy or gal? If so, you'll want a boat that has a snag-free foredeck, with pop-up cleats, flush hinges, and a lip around the edges. Boats with rod boxes that can hold nine-footers should get some extra attention.
Is live-lining your fav? Then naturally, the livewell is a priority. Look for a round shape (so baits don't beat themselves silly in a corner), maximum capacity (plan on two spot per gallon), a dedicated pump (pump shares with washdowns are generally weak and low-flow), and an overflow drain (as opposed to a stand-pipe, which gets in the way and can get knocked loose). Also remember that a baby-blue interior will help keep the baits calmer. Subtract points if the livewell hatch doesn't dog down tightly and/or close on a gasket, to prevent sloshing and spilling.
Do you dream of sight-fishing for cobia? If that's in your plans, an elevated spotting station is in order. Half-towers and T-top buggy seats are also a big plus for anglers who plan to run offshore now and again, because that crow's nest will help you spot the flotsam and weed paddies that mahi tend to gather around.
Do you want to do all of the above? Well heck – of course you do! We do, too, but you'll have to recognize that every boat has trade-offs of one sort or another and the "best" combination of the above traits will be different for different anglers.
The Hull Story
Everything we've discussed thus far can be seen above the waterline. But choosing a boat with a hull design that fits your needs is every bit as important as looking at what's on deck. As you consider your options, remember that:
Flat bottom hulls are the ultimate in stability, but they'll also pound your fillings out in a chop.
Deep-V hulls provide a smooth ride, but they also require more draft, have less stability, and require more power.
Semi-V hulls lie somewhere in between flat bottom hulls and deep-V's, and commonly incorporate the best – and worst – traits of each to some degree.
Powercat hulls are a completely different beast, and the best of the cat designs are significantly smoother in a chop than the deepest V-hulls. They also feature excellent static stability and make for a roomier topsides. But cats are quirky and many have a quick, abrupt "snap roll." Some throw a lot of mist into the air (called "sneezing"), and some also lean outwards when they turn.
So which boat is going to be your ideal ride? Heck, that's a question we can't answer – only you can make that call. But we do know one thing for sure: if you do find the perfect boat at the Bay Bridge Boat Show this spring, happiness is just one signature away.