If you think you'd love to join the ranks of new-boat-owning anglers but the bite out of your budget would be too big, the Bayliner T21 Bay has a simple answer to that assertion: nonsense. It may not be the fanciest nor the fastest fishing boat on the water, but the average American family will have no problem putting one in their garage (just as long as that garage is at least 24 feet, six inches long). While we note that advertised MSRP information isn't always the same as what you encounter in the real world, it does give you a ballpark figure to work with. And when it comes to buying a new T21 Bay that figure is around $268 a month with $1500 down.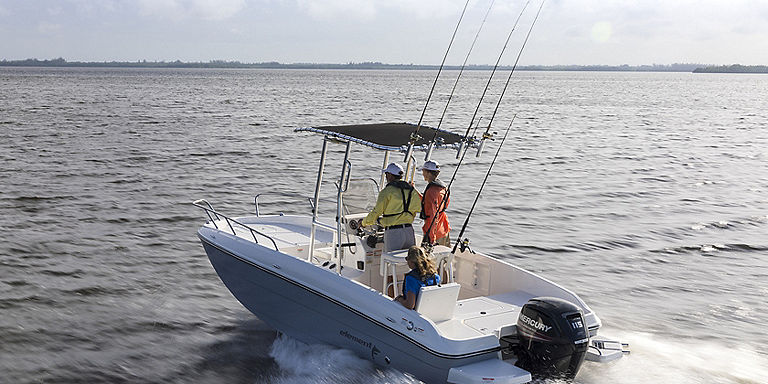 Think about that for just a sec. Two hundred and sixty-eight dollars a month is barely more than half of what you'd be paying on an average new car loan, less than what you'd pay to take a family of four to baseball games twice a month (and that's before you figure in food and drinks), and one heck of a lot less than you're paying for health insurance every month — yet when it comes to your family's physical and mental health it's been scientifically proven that absolutely nothing is better than owning a fishing boat. (Disclaimer: Any and all science we're referring to is absolutely imaginary. Still, we here at FishTalk fully believe it).
So, just what does that $268 a month get you, other than a magical cure to all your ills? The boat's rigged with a Mercury 115 FourStroke XL, an aft casting deck with flip-up flanking jump seats and a livewell in the middle, a cooler in front of the console (which can be plumbed as a second livewell), six vertical rodholders on the console, under-gunwale rodracks, and a tandem axel trailer with brakes and a swing-away tongue.
Where we think Bayliner really excelled, however, is in the bowdeck design. You can get the filler cushions and turn it into a sunpad, sure, but leave those cushions at home when you're ready to stalk fish, and you'll have a rather huge forward casting deck for a boat of this size. The sides extend aft to create additional casting territory and the flanking stowage compartments run forward under the deck to create extra space. After stepping up the deck is all one level to the toe-kick, and it wouldn't be a stretch to have multiple anglers up there casting at the same time — a tall order on the bow of a 21-footer.
Of course, we all know you have to pay to play and when a boat's cost undercuts that of the competition by such a wide margin there's got to be a reason. In this case, you'll notice that the hatches lift on straps rather than gas-assist struts, cup holders are plastic, and you'll be getting analog gauges and cable controls rather than the latest digital stuff. You'll also see a few unexpected quality touches, though, like lighted toggle switches at the helm, full-length hinges on the larger hatches, and pop-off caps on the rodholders. Opt for the T-top and you can get four more rocket launchers, but perhaps more importantly, it's a hinged folding version you can quickly swing down so the boat still counts as "garage ready."
One more important detail for anglers: the boat drafts just 16 inches, so sneaking into those shallows to cast for stripers and specks will be in your future. And according to our scientific studies, you'll be hooking up and grinning big in no time. (Yep, imaginary again — but you know we're right!)
Bayliner T21 Specifications
LOA – 20'8"
Beam – 7'9"
Displacement – 2645 lbs.
Draft – 1'4"
Fuel Capacity – 44 gal.
Max. Power – 150 hp
Area Dealers – Riverside Marine, Essex, MD, (410) 686-1500.
You want a hull with a deep-V bottom? Check out our review of the new Bayliner Trophy T20CC.