When Bayliner reintroduced their Trophy lineup we first focused on the T20CC, then jumped to the larger end of the model line by covering the T24CC. Each of these boats has its own advantages and you can check out our previous reviews. But thus far we've skipped over the mid-sized T22CC — an oversight we'll resolve right now. But first, let's take a peek at the 22CX, the T22CC with a flip-up transom seat as opposed to twin aft jump seats (otherwise, the boat is identical).
The T22CC is, like both its larger and smaller siblings, designed as much for family fun as it is for serious angling. It has creature-comforts like a head in the console, an optional freshwater shower, flip-up aft seating, and a bow cockpit that Bayliner expands in volume by bringing the boat's full beam far forward. It's also available with all the goodies the kids will love, like an optional ski tow pylon and 120-watt Bluetooth stereo system with four Rockford Fosgate speakers.
Another feature of the boat that's likely to please the family is its hull design. It has 18-degrees of deadrise, which is a bit less V than some dedicated fishing machines of this size. Yes, more deadrise does help split the waves, but remember that all other factors being equal, the steeper the V a boat has the more it'll rock and roll. And a lack of stability is regularly fingered as a major complaint of boaters, especially among those relatively new to boating who haven't had years on end to develop sea legs and iron stomachs. If you plan to charge forth through three-footers and fish no matter what the weather has in store and rocking and rolling in a beam sea doesn't faze you one bit, by all means you'll want that 24-degree deep-V underfoot. But if you'll be picking your weather and taking out kids, sticking with this sort of hull design is a good move since 18-degrees is plenty to smooth out a reasonable chop while also delivering great stability.
From the fishing point of view, the T22CC is a middle-of-the-road type of boat that allows you to try everything from trolling to light tackle casting, without being so specialized that it locks you into any one technique or another. Live-liners will appreciate the fact that there's a livewell in the transom (under the bench seat in the CX version and between the jump seats in the CC) and a second one under the leaning post, so you can keep the spot and the eels in separate accommodations. Four flush mount rodholders are in the gunwales, the leaning post sports four rocket launchers, and if you opt for the T-top you get four additional rocket launchers. If you're serious about your angling (and we know you are), you'll want to add in a pair of factory-installed nine-inch Simrad MFDs. Note that many 22-footers can't handle twin screens of this size flush-mounted at the helm, a leg up that can give you a significant advantage when you're searching for the hot bite.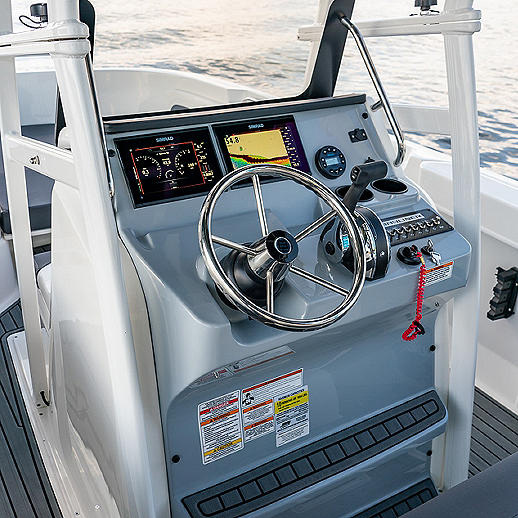 Speaking of searching for that bite: the T22CC is available with a wide range of Mercury outboards, starting with a stock 150-hp FourStroke and ranging all the way up to a 300-hp FourStroke. Opting to double the power does boost the boat's cost significantly, but opting up to a 250 costs a lot less and will provide very similar performance. Note that with max power the boat comes close to hitting 53 mph at top-end and can cruise at close to 40, which is a lot more speed than the average family angler needs — truth be told, for most people 200 horses is plenty of juice for a boat of this size.
We need to point out that for a huge number of folks, the biggest attraction of the T22CC is going to be the price point. In a world of boat pricing gone mad, it's not difficult to find 22-footers that break the $100K mark. And while nailing down boat pricing is always a moving target, even in loaded form the T22CC won't cost anything like that and this is going to be one of the most easily afforded boats of its size on the water. Plus, Bayliner includes a tandem axel galvanized trailer in the package, something that many manufacturers will list separately as a cost-adding option.
Will the Bayliner Trophy T22CC be the best boat for you? Hey, that's your call to make. But we can say one thing for sure: if you want a versatile boat that allows you to experiment with a wide range of angling techniques, you want a boat that keeps the entire family happy, and you want a boat that maximizes LOA for the dollars spent, the T22CC is a must-see.
Bayliner T22CC Specifications
LOA: 22'7"
Beam: 8'6"
Displacement: 4000 lbs.
Draft (Max.): 3'1
Transom deadrise: 18-degrees
Max HP: 300
Fuel Capacity: 65
Area Dealers – Riverside Marine, Essex, MD (410) 686-1500.