Back in ye olden days, after a day of Chesapeake Bay fishing people would log their catches in notebooks. Logging is still a great way to figure out trends and patterns, but it's the 21st Century. Pen and paper are going the way of the Rolodex, polio, Xerox machines, and good music. As a millennial, I'm always looking for any opportunity to get out into the great outdoors and dink around on my phone. Luckily there are tons of logging apps to choose from; almost too many. To figure out which one was best, I downloaded the 30 most popular ones and tested them on the water.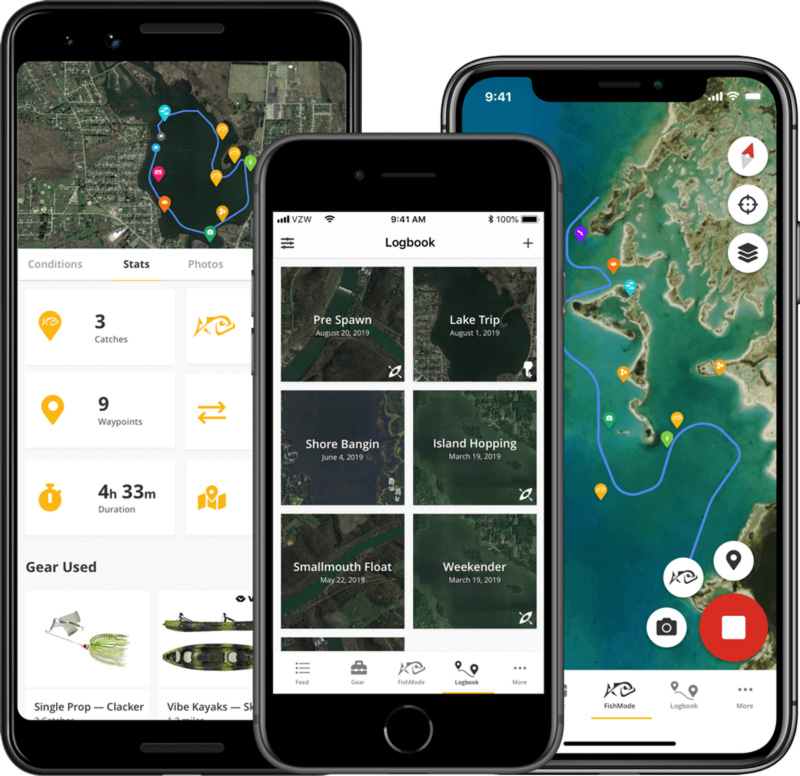 Of all the apps I looked at, ANGLR Logbook is most likely going to be the one still be on my phone when I inevitably drop it off the side of a boat within the next few months. By itself, ANGLR is easily the best all-rounder. Before your first cast, you punch in the body of water you're fishing on, the gear you are using, and the type of fishing you plan on doing. After that, the app will log where you go, changes in weather conditions, and tidal fluctuations. Then, when you finally do catch a fish, you just press the log button and the app will automatically mark the location, time, and tackle. If you feel so inclined, you can manually add a fish pic to your entry along with the weight, length, and species. If you don't feel so inclined you can enter that data when you return to land from memory (which I often find results in logging much bigger catches). You can add waypoints to mark important locations like honey holes or particularly defensive osprey. And if you switch out your tackle mid-trip, you can make a note of it and quickly select your new rig from your virtual tackle box. Additionally, if you want to simultaneously avoid your loved ones and save precious time on the water, ANGLR provides an excuse to meticulously photograph and log all of your lures while on land. But, best of all the app is free.
So, what's the catch? Well, ANGLR sells periphery Bluetooth devices so that you can log catches, mark locations, and indicate a rig switch, without touching your phone. If you have $29.99 burning a hole in your pocket there's the Bullseye, which is a button that can clip onto your clothing or rod. To log a catch, all you have to do it give it a click. But if you're willing to fork out $130, then there are the Abu Garcia Virtual Rods, which have the button built into the grip and (crucially) a cool name. You do still have to whip out your mobile to snap a pic or manually enter data, but I haven't found this to be a problem. If I'm catching fish in quick succession over a long drift, I tend to care more about where the fish are concentrated than their length.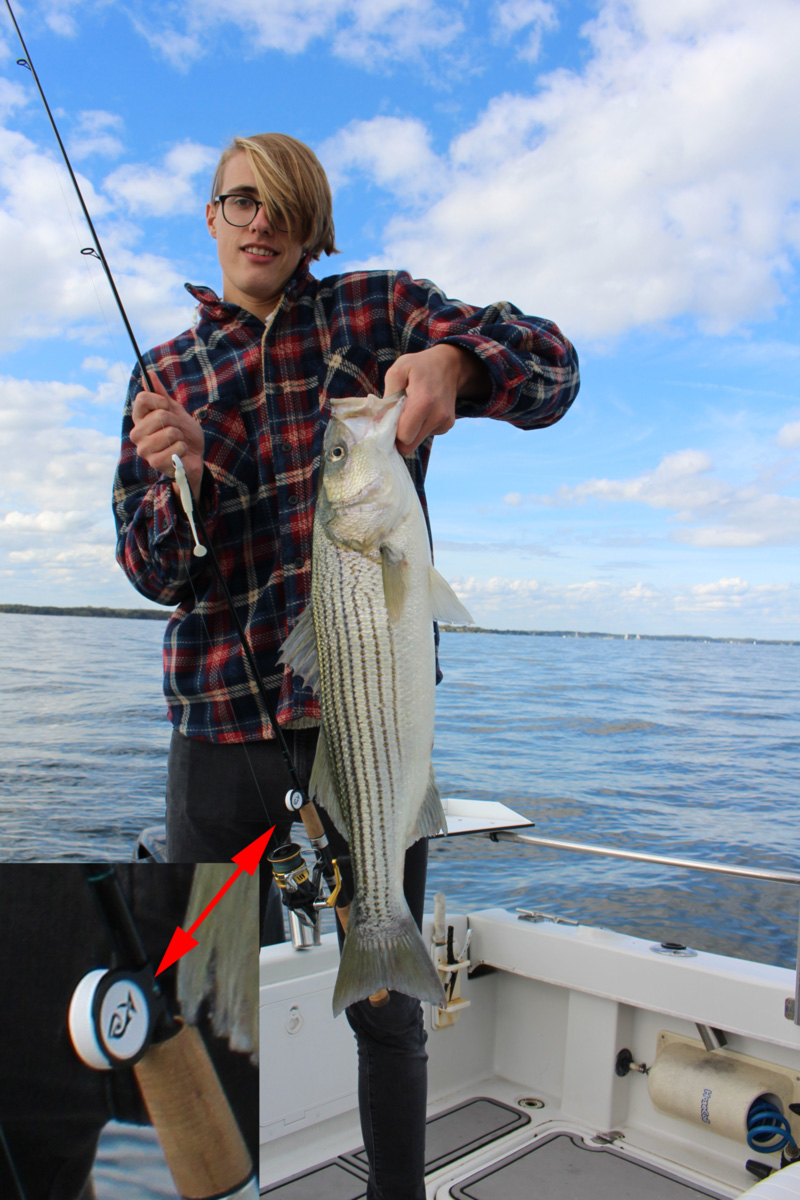 All that being said, ANGLR is far from perfect. It lacks any real data analysis and on a couple of occasions I've sent the Bullseye hurtling into a river (I like to think it's because my casts are so powerful) and had to wade in after it. Fortunately, it is water-resistant.
The Fishency app also offers trip logging, a virtual tackle box, and it automatically logs much of the same data points (with the addition of moon phase). The user interface is clunkier than ANGLR's; however, it does pool your logs so that you can easily figure out what lures work best, and where you catch the most fish. Fishency doesn't offer any proprietary peripheral projectiles or sci-fi rods but, if you don't want to get fish goo on your smartphone, you can get it on your smartwatch instead since Fishency can pair with Apple and Android watches, allowing you to quickly log a catch, its species, and your bait. Additionally, the developers claim that the app employs Artificial Intelligence, boasting "the more you use the app the smarter it gets" which sounds like a slippery slope to a Blade Bait Runner or Honey Hole HAL 9000 existence. If that isn't creepy enough, while fishing alone one night I found out that every time you log a catch a computer-generated voice tells you "fish logged".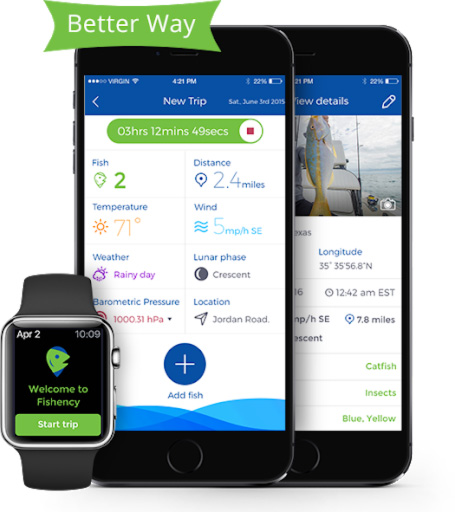 There are a handful of other apps that fall slightly short of ANGLR and Fishency in some ways, but are better suited for particular types of fishing in others. Fishing Points logs the same data points as the other two apps but lacks the peripheral connectivity. However, it can be used to measure anchor drift, record trolling paths, and plot trotlines.
FishBrain is packed with tons of cool features. It gives you weather, pressure, solunar, and tidal forecasts. If you're willing to pay $9.99 a month, you'll get access to FishBrain's proprietary "bite time" prediction software. Also, if you are a newbie like me when it comes to discerning between fish species, the app offers a fish identifier. Just snap a pic of your mystery fish and it will tell you what it is. It's astoundingly accurate, but I managed to baffle it with my goldfish.
As an honorable mention there's MyCatch. The app performs very in-depth catch analysis and has a comprehensive list of data fields, but unfortunately relies heavily on manual entry. However, it is outstanding in that it offers users the option to share their logs with local biologists and fisheries. That means that you can give back to the environment, and provide crucial population data to the organizations that maintain our waterways.
While there are plenty of options out there, none of them will make you a better fisherman overnight. But fish logging apps show a lot of potential, seeing as your average smartphone has over 100,000 times the computing power of Apollo 11's guidance system. So, hopefully, one of these apps can help you turn all those bytes in your pocket into bites on the end of your fishing line.
-By Ryan Gullang