We try to bring you FishTalk readers the latest and greatest fishing boats, and while we do check out some, er... abnormal boats in the magazine, we don't always put them online. For your viewing enjoyment, here today are three of the wackiest creations we ran across in 2020.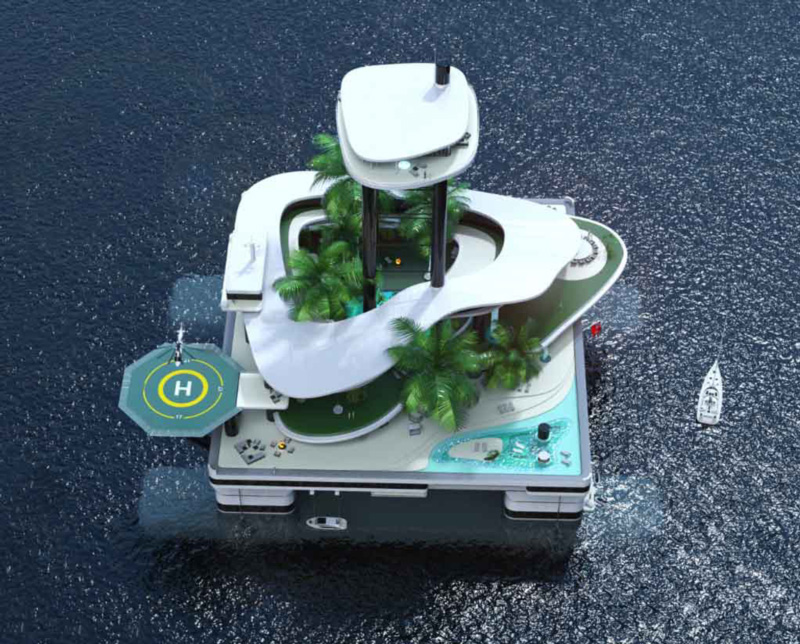 Migaloo Kokomo Ailand
The Name Isn't the Only Thing That's Strange
You say a mere fishing boat simply isn't enough, and you want your own floating luxury island to cast from? No problem, if you have a spare few hundred million laying around somewhere. Welcome to Migaloo's Kokomo Ailand, a tropical paradise complete with its own waterfall, which you can anchor wherever the heck you'd like. Eight Azipods propel this pelagic palace at up to eight knots, the penthouse sits aloft over 260 feet above the waterline, and there's an elevator in – yes, in – one of the pools. Oh, and let's not forget that a submarine comes standard.
We know what you're thinking: will my chopper fit on that helipad? Fortunately, the practically-minded designers made sure it's suitable for a Sikorsky S61. Yeah, the 59-foot, 30-passenger, six-ton version. So like, no prob dude.
Specifications:
LOA – 383'8"
Beam – 255'9"
Displacement – Unknown
Draft (hull) – 67'0"
Transom Deadrise – NA
Fuel Capacity – TBD
Max. Power – 150,000,000 hp (or something)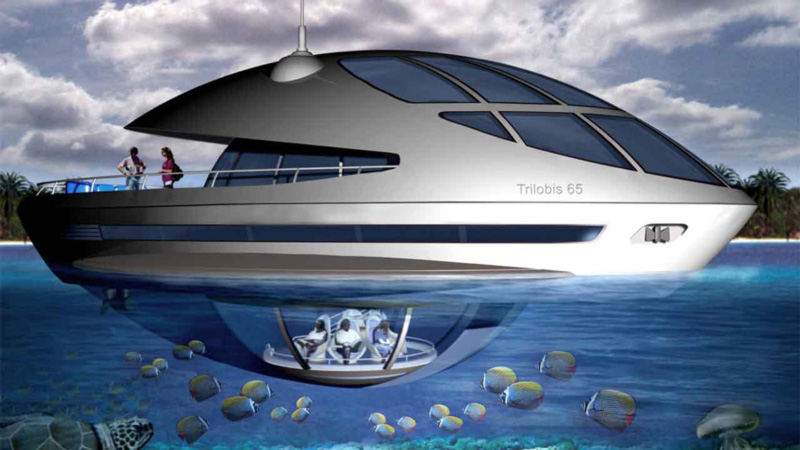 Trilobis
Don't Hold Your Breath
Looking for a yacht that allows you to watch fish take the bait as your guests angle from above? Then the Trilobis should be on your short-list. This concept yacht from the Giancarlo Zema Design Group has four levels (with a spiral staircase connecting them, naturally), is capable of spinning 360s without moving an inch, has an underwater observation globe, and features electrochemical windows that can change opacity. Of course, it doesn't actually exist except for on paper, which is probably a good thing considering that it's purportedly run on hydrogen fuel cells that aren't exactly widely available in the here and now.
Quick Facts:
LOA Diameter – 65'
Beam –
Displacement – TBD
Draft (max) – 30'0"
Fuel Capacity – 65,000 Zapp Brannigans
Area Dealers – Use your imagination, these folks certainly did.
2 Seats Transparent Plastic Fishing Pedal Boat
Clearly Necessary
You say you like to watch the fish take your bait? That'll happen a lot more often, if you're vertically jigging from the 2 Seats Transparent Plastic Fishing Pedal Boat. This polycarbonate prize features mini-outriggers to boost stability, though we do have some safety considerations in mind since the level upright floatation is provided by a couple of inflatable balls tied into the bow and stern. On the other hand, the manufacturer says it has "inflammability good flame resistant burning point is 630-degrees Celsius." So if the gas tank explodes, we guess you'll be okay. And they also say it can "serve as lifeboat in flood disaster." No question, that makes this little fishing machine a clear necessity.
Quick Facts:
LOA – 3.33 meters (about 33 inches or about 33 feet, we're not sure which)
Beam – 760 M&Ms
Displacement – Something called "kilograms."
Draft (min.) – You can see the bottom through this thing, so what's the difference?
Fuel Capacity – Hum. So, where are the pedals, anyway?
Max. Power – 2 hp (human power, not horsepower)
Area Dealers – No.11 North of Kaiyuang Rd, Shangdong, China (website deleted due to virus pop-up blocker)