If you want a no-nonsense angling platform that helps you stock the freezer, it's time to meet the Bluewater 2150, a 23'9" LOA fishing machine with a rousing 150 gallons of fish-stowing capacity. If you manage to plug the fishboxes on this boat, you'll be frying fillets for months on end.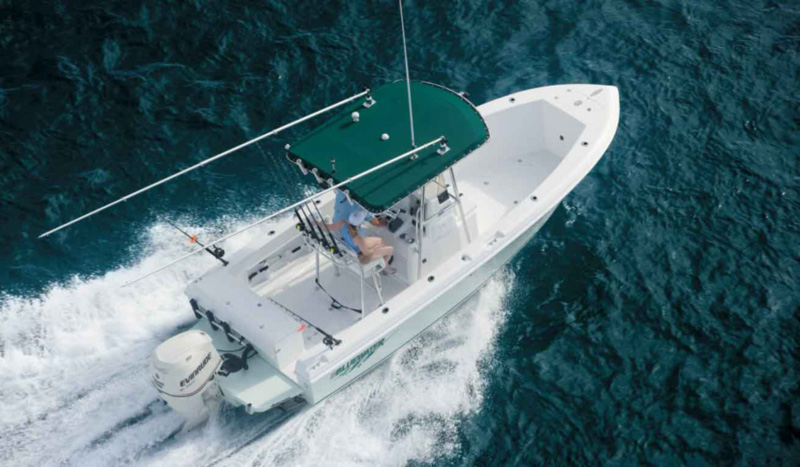 The Bluewater is a bracket boat with a 21'5" hull length, and as any owner of a bracket boat can tell you, pushing the outboard aft vastly improves the ride while also allowing for a better running attitude with or without tabs. Another advantage it provides is a full-beam swim platform, although we hope you never have to use it for swimming — that would be a waste of perfectly good fishing-time. Fishing time is made better by the 35-gallon livewell, under-gunwale rodracks, four flush-mount gunwale rodholders, and raw water washdown. Opt for the T-top, something we'd call a must-have if you're going to make long runs in the hot summer sun, and you can get four rocket launchers across the back, outrigger plates, and you cobia fans can even add a crow's nest if you so desire.
An unusual trait of the 2150 is its 8'1" beam. True, the relatively narrow beam does mean less cockpit space. However, it also means the boat has a more knife-like ability to slice through the waves. Add in a 24-degree deadrise and the bracket, and you get a winning combination when the seas kick up. Plus, a single 200-horse outboard is all the power this rig really needs. That'll get you a cruise of around 30 mph and a top-end pushing 40, and if you want more oomph, the boat can handle a 225. With over 100 gallons of fuel in the tank and a single engine, whichever size you go for this boat has very long legs. Figure on burning around nine gallons an hour with a 225 spinning at 4000 rpm, which makes for around 3.3 mpg and gives you a range of over 300 miles with a 10-percent fuel reserve. Yowza.
What about creature comforts? Hey bub, this is a fishing machine. Still, if you opt to you can get the boat with niceties like coaming bolsters, cushions for the foredeck, a freshwater system, and a Clarion four-speaker sound system. We say forget that sort of stuff, and instead get the underwater lights (in green, to attract more fish at night), additional transom rodholders, and Rupp Radial Top Gun outriggers. And one more thing: you'd better get a new vacuum-bagger, too. Because the freezer is about to get stuffed with all those fillets.
Bluewater 2150 Specifications
LOA – 23'9"
Beam – 8'1"
Displacement – 2840 lbs.
Draft (hull) – 1'4"
Transom Deadrise – 24 degrees
Fuel Capacity – 102 gal.
Max. Power – 225 hp
Area Dealers – Carlisle's Marine, Smyrna, DE, (302) 389-0100.