The Boston Whaler Dauntless series has been around forever, and while they're generally thought of as family-fishers designed for crossover use ranging from trolling to tubing, their low-slung profile and large fore and aft decks make a great platform for light tackle casting, bay-boat-style. Enter: the 240 Dauntless Pro.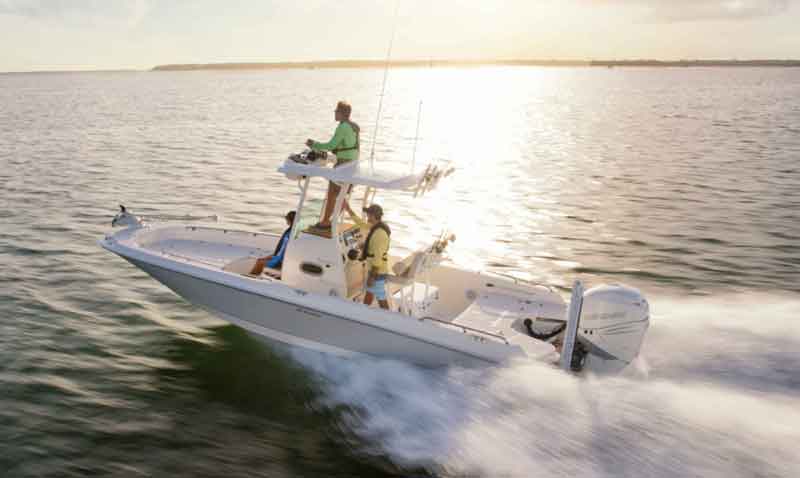 The Pro is tweaked out to serve as a far more serious fishing machine, with a number of perks that will appeal to Chesapeake dwellers. First and foremost: have you heard about that rockin' cobia bite stretching from Point Lookout to Cape Charles? Of course you have. And with the Pro, you'll be on it in a big way. It has a hatch in the hard top and upper station controls, so you can stand atop the console and add sight fishing to your repertoire.
Thanks to the 38-gallon livewell in the aft deck it will be no problem keeping those live eels frisky, so now let's say you've got your three big boys on ice in the foredeck fishbox. Nice job. That means it's time to run on over to the Eastern Shore and hit some shoal water for speckled trout and maybe a red drum or two. Here's where that monster foredeck really gets appreciated, as it's big enough for two to cast from an elevated position (while you hog the aft casting deck, of course). Here's also where you'll be glad for opting to get the 24-V Motorguide XI-5 electric trolling motor with GPS, since you can stealthily creep through the shallows and use the virtual anchor feature to lock the boat in place when you discover a hotspot. You've put a hurtin' on those specks? Okay, now it's time to zip on out to open water and do a bit of mackerel trolling. Good thing there are four gunwale-mount rodholders, four rocket launchers across the back of the hard top, and four more behind the leaning post.
Speaking of zipping around the Bay: with a Mercury 350 Verado on the transom, the 240 Dauntless Pro hits an eye-watering WOT speed of 57 mph. Cruising speed is pretty dang spiffy too, running just a tick under 40 mph at 4500 rpm — while getting better than 2.8 mpg.
Complaints? We have just one, and it's one you've heard us make about Whalers in the past: foot-for-foot, it's an expensive boat. Be prepared for a bit of sticker shock, though also remember that this is mitigated somewhat by Boston Whaler's excellent resale value, which tends to be as high or higher than that of any other builder as long as you properly maintain the boat.
You say you always liked the Dauntless design and you love the idea of owning an unsinkable Boston Whaler, but those models just weren't seriously fishy enough for your tastes? Check out the 240 Pro, and you'll discover a very different kind of Dauntless.
Boston Whaler Dauntless 240 Pro Specifications
LOA – 24'8"
Beam – 8'6"
Displacement – 3300 lbs.
Draft – 1'2"
Fuel Capacity – 90 gal.
Max. Power – 350 hp