When the guys at PYY Marine told me they had a new Cape Horn 27 XS sitting in the water ready for a boat review, it wasn't difficult to walk away from the desk and head for the marina. Join us for a quick look at the sea trial - you might be a bit surprised at what you discover about this center console fishing machine.
True, it was calm during our sea trial, but we made a serious effort to smack through our boat wakes in every direction, at every speed. And the hullform, which one can see is unusual when looking at the bow, never sent any spray above the rubrail. Sure, the Cape Horn has reverse chines designed to throw spray down and away and yes, there's some flare to keep errant drops of water from being blown back into your face. These traits are common to center consoles, but this hull starts out particularly narrow beneath the chine and widens noticeable above it, combining a wave-splitting entry with a more voluminous upper portion. Meanwhile, the sheerline rises a bit heading for amidships, before dropping back down toward the transom. If there's a technical term for this style of hull I couldn't find it (not even with the help of my very smart friend Google) but I can tell you one thing for sure: zero saltwater hit the deck during our run.
A dry hull is great, but who cares about getting a comfy run to the fishing grounds if you arrive there unprepared for a bluewater bloodbath? Not us – but we have a good way to get a handle on just how important the Cape Horn 27 considers fishability. There are many metrics by which you can tell a fishboat's seriousness, including the number of rodholders aboard. When a 27-foot "fishing" boat comes with more cupholders than rodholders, for example, its design priorities become fully exposed. At the opposite end of the extreme you'll find the Unicorn boat, with one rodholder per foot of LOA. The Cape Horn 27 comes darn close to mythical status, with 25 rodholders included as standard-issue.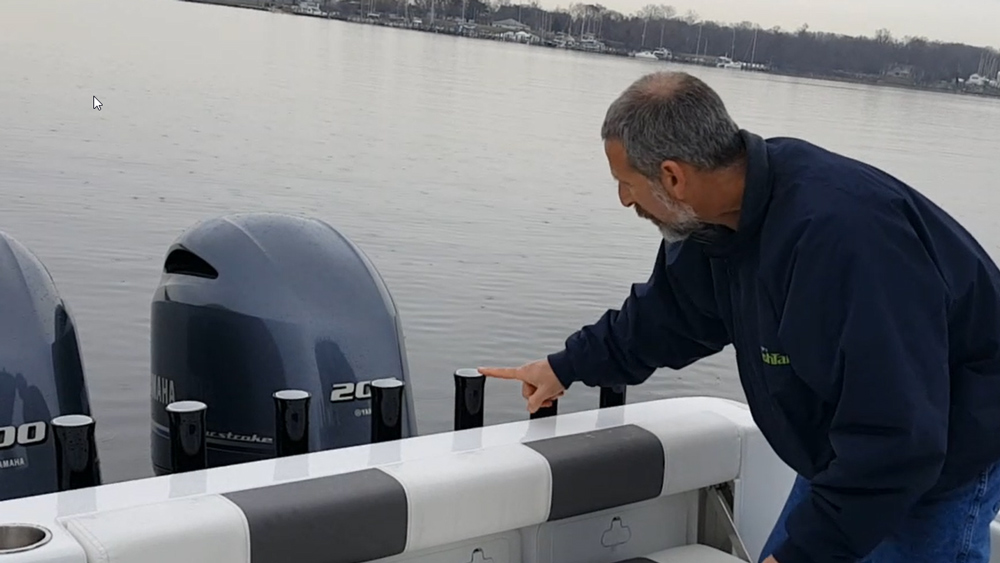 Beyond the rodholders, I found plenty of perks for piscatorial pursuits. Start with the 42-gallon livewell, which is built into the back of the leaning post. Removing the well from the common transom location allows that transom to be kept svelte, even with the fold-down bench seat it houses. That mean you can stand significantly farther aft as you fight a fish, and can actually reach a rod tip back around the outboards if need be. The fishbox is a bigger shocker, though. And when I say bigger, I mean it – at seven feet long it has 700 quarts of capacity and is large enough to hold everything from a 150-pound bluefin to an angler in chief named Lenny.
What about performance? With the twin Yamaha F200 outboards on out test boat set at 4500 rpm we cruised at 38 mph and got 2.2 mpg. Spooled up to 6000 rpm top-end hit 55 mph. Surprisingly, when we shut down one engine, tilted it up, and tested single-engine performance for get-home ability, the boat actually ran on plane and maintained over 20 mph. Many boats of this size can't do better than 12 or 14 mph and are unable to get over the hump, with only one screw spinning. Another surprise came when I opposed the throttles and applied a little juice. Even though the outboards are quite close together on the transom, the boat politely spun a 360 without requiring any excessive revving.
No boat is perfect, and like all, the Cape Horn does have some down-sides. From what I saw these are related more to gentrification than anything else, an example being the forward stowage box hatch. Its underside is finished in painted, not molded, gel coat. It may be every bit as strong as infused or two-part-molded hatches but it doesn't look quite as slick – which is one of the reasons why the Cape Horn doesn't cost as much as competitors with yacht-style finishes. There's also no electric grill, air-conditioning doesn't blow on you at the helm, and the console head compartment doesn't have a berth nor a flat-screen TV. But if you really want that sort of stuff you should probably be looking at a boat with four rodholders and 25 cupholders, not the other way around.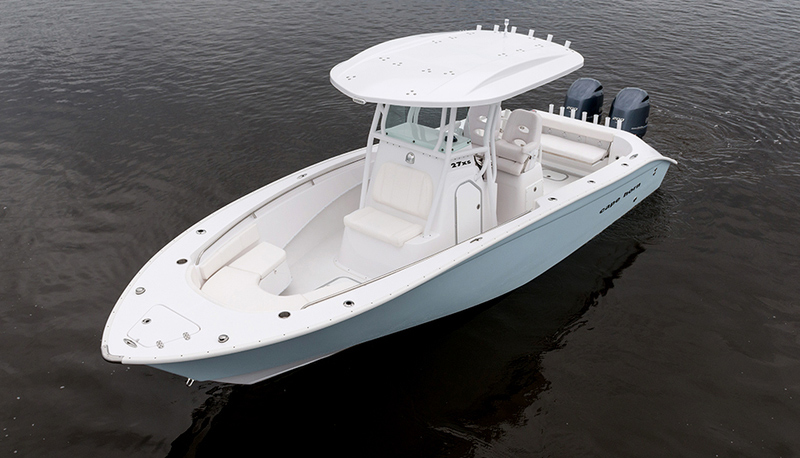 Quick Facts:
LOA – 26'9"
Beam – 9'0"
Displacement – 4,200 lbs.
Draft (hull) – 1'10"
Transom Deadrise – 23
Fuel Capacity – 180
Max HP – 450
Area Dealers – PYY Marine, Pasadena, MD, (410) 255-1771.