Giant bluefin tuna are the stuff fishing dreams are made of. Few fish can match the bluefin tuna for sheer size and power, few places can match the Outer Banks of North Carolina for winter bluefin hotspots, and no matter where in this region you live you're within a day's drive of these massive beasts. What makes this fishery go from fantastic to fantasy is that many seasons the winter bluefin are around in good enough numbers that you can effectively jig for them with what amounts to ultralight tackle in the big game world. Consider heading for the stretch of coastline between Oregon Inlet and Southport, if you want to engage in the ultimate angling battle.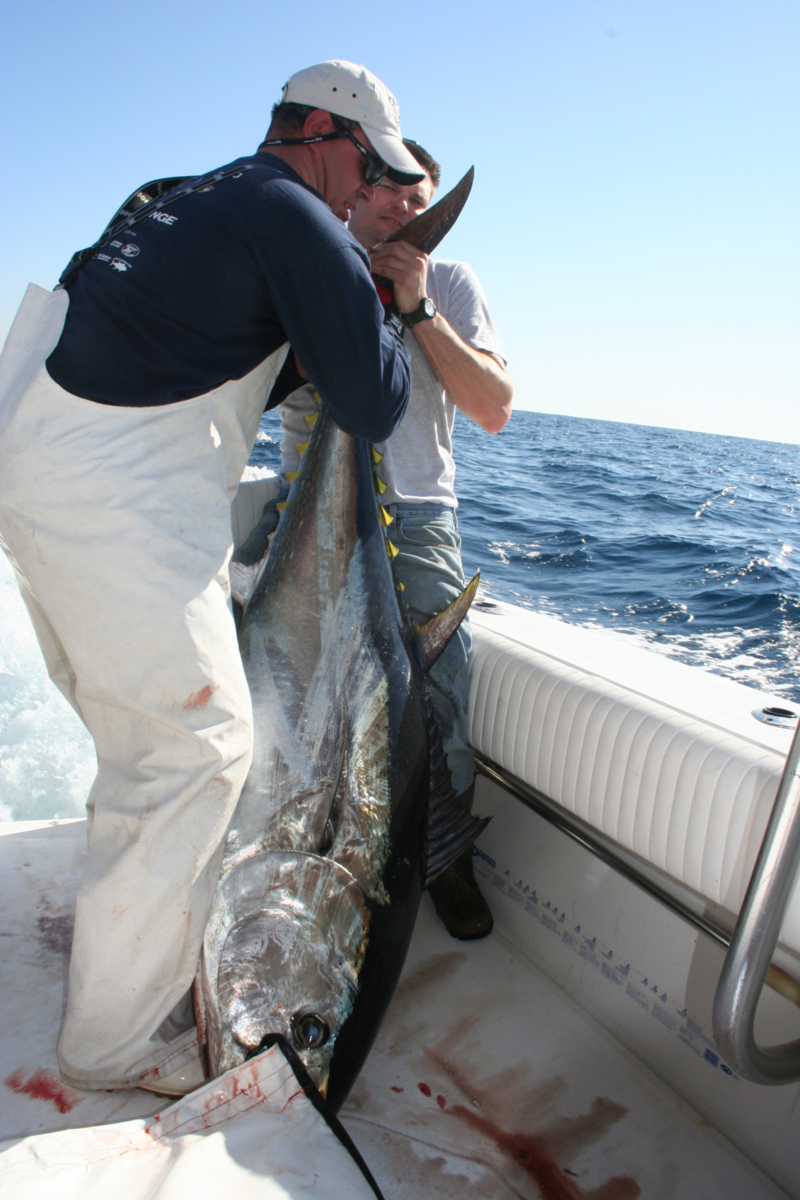 When and Where Will the Bluefin Show Up?
The presence of these fish is quite variable; some years the water's teeming with them, others they show up erratically here and there, and some others the run is more or less a bust. They may show up in time for Christmas, or they may make their presence known as spring arrives. But whenever they show up, if they show up, when the fishing is good the biggest impediment to bending your rods is usually finding a break in the wind. Trips should be scheduled with as wide a window as possible and planning a week's stay to get in a day or two of fishing is not out of line. Full disclosure: the first four times I made this trip personally, I sat in a hotel room for multiple days on end staring at the weather forecast without ever leaving the dock. The fifth trip, however, made it all worthwhile.
Because of the weather challenges, the fact that the Carolina inlets present a challenge in the best of times, and the fact that cold-weather fishing always has an extra element of danger to it, the vast majority of the anglers who travel here book a charter. In order to get the trip you're hoping for, however, a discussion with the captain prior to booking is in order. Many of them will troll with heavy tackle — period. Some won't allow you to bring your own gear. Others will be a bit more open-minded (possibly depending on how good the bite has been), and are willing to fish however the party would like. There are many excellent North Carolina captains who care first and foremost about providing you with the experience you want, as opposed to fishing for bragging rights back at the dock. But there are also plenty out there who seem to care more about their ego. So, it's important to talk turkey with the captain and verify that the trip will be the type you want, before you send a deposit.
Gear For Giant Bluefin
Most folks will agree that 50-pound gear is under-gunned for many of these fish, which commonly run several hundred pounds and on occasion even larger. As we noted earlier, potentially much larger. Trolling is usually the primary method of locating the fish, and most trips will start off by dragging lines. Horse ballyhoo, some skirted and some not, on 80s and 130s is the norm. At least one line and often several get rigged with the classic blue/white Iland Lure, which, by the way, is what commercial guys were using when they caught a 1005-pounder on hook and line in January of 2015.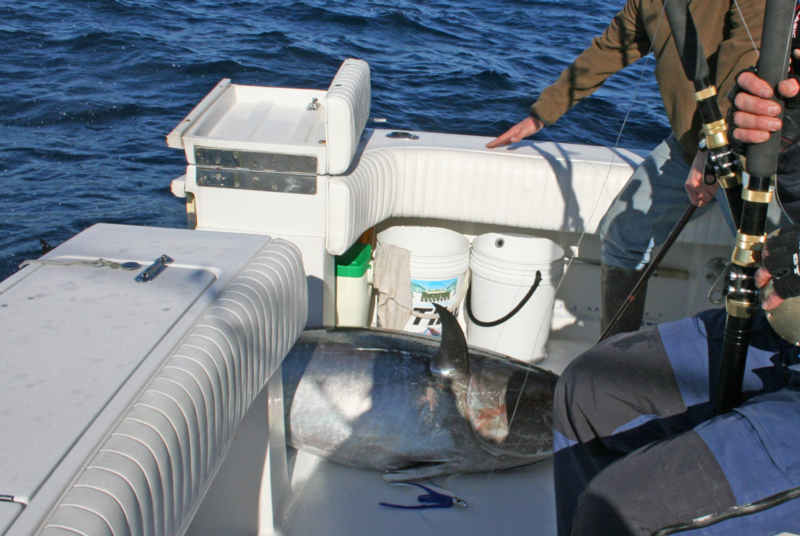 If you've arranged for a light tackle trip, after a knock-down the captain will commonly search the immediate area with an eye on the fishfinder and try to locate larger pods of fish beneath the surface. At that point the captain may shift into neutral and call for the anglers to send their jigs over the side. Speed jigging is the normal tactic, dropping five- to nine-inch Butterflies and similar heavy metal down to the depth of the fish and then zipping them back up through the water column to trigger a strike. Pinks and blue/white mackerel patterns are often top color patterns.
Modern jigging rigs with high-speed conventional reels spooled with 65-, 80-, or 100-pound braid topped with 150- to 200-pound wind-ons can give you a realistic shot at most of the fish you're likely to encounter. A few high-end spinning rigs (the larger Stellas, for example) fall into the mostly-capable category and can be used. On rare occasions you'll spot these massive fish exploding on bunker and it's sometimes even possible to hook them on big surface poppers, making for the ultimate in topwater thrills. Either way, the rods and reels used for this technique in essence represent the ultimate light-tackle big-game challenge.
Bonus Catch
Big bluefin aren't the only fish you'll encounter cruising off the Carolina coast during the winter months. Sometimes a good blackfin bite develops, and unlike the blackfin tuna found farther south, these are often fish in the 25- to 30-pound class. No, that's not exactly big compared to those bluefin, but they are true trophies when it comes to blackfin. Another species that may pop up in unusually large form is kingfish. This species heads farther offshore than usual in the winter months, and if they find warm enough water, some seasons they stick around in the same areas bluefin may generally be found. Savvy anglers will have a few king rigs aboard, and if the bluefin baits start coming back shredded, send out the wire and trebles.
Some seasons yellowfin tuna are in the mix during the winter months, and it's not unheard-of to encounter a mahi-mahi before spring officially arrives. In fact, you really never know what pelagic is going to pounce during a winter trip off the Carolina coast. But if catching a giant bluefin on light tackle is your goal, there's no better place to make it happen than wintertime off the Outer Banks.
Finding a Ride Offshore
If you're dead-set on trying this trip on your own ride, use extreme caution, only go when the weather is very cooperative, and follow the locals through the inlet. Again, we have to point out that this is a serious endeavor and as a general rule it's wisest to ride on a hired local boat. So, how will you find one? The Outer Banks Guide (obxguides.com) is a good starting point if you don't have any contacts down that way. Just make sure you and the captain are 100-percent clear on your goals and desired methods, so there aren't any crossed wires. Oh, and one final bit of advice: hang on TIGHT.