The Carolina Skiff 198 is a boat that eschews those bells and whistles that drive up cost, and instead offers up a simple, straightforward, economical, safe platform that's equally at home both fishing and crabbing. Before we dig into some details, let's take a quick peek at the boat on video.
Since most of you anglers are already going to be familiar with the basics about a Carolina Skiff – hey, these boats are all over the place and have been forever – we won't go too deep into construction details except to note that the glass-foam-glass hull and deck are laminated together, sealed, and about as rugged as they come. No, Carolina Skiffs do not as a rule offer the smoothest ride foot-for-foot. And yes, their relatively flat transoms can lead to some pounding in a head sea. (Can you find a 19-footer that never does?) But on the flip side, these boats are about as stable as they come and require mere ankle-deep water to float. Meanwhile, Carolina Skiff has substantially improved the entry to the point that the 198 is significantly drier than the Skiffs of yester-year.
Another area that's vastly improved is the fore and aft decking. The foredeck houses an anchor locker and two large (unfinished) stowage compartments. A pair of folding jump seats swing up from the aft casting deck, which also houses a livewell and stowage compartments.
Other fishing features include six vertical rodracks in the console, and four rocket launchers on the (upgraded) leaning post with a cooler underneath. You can opt to have an electric trolling motor on the bow, a raw water washdown, an additional console livewell, and/or a T-top.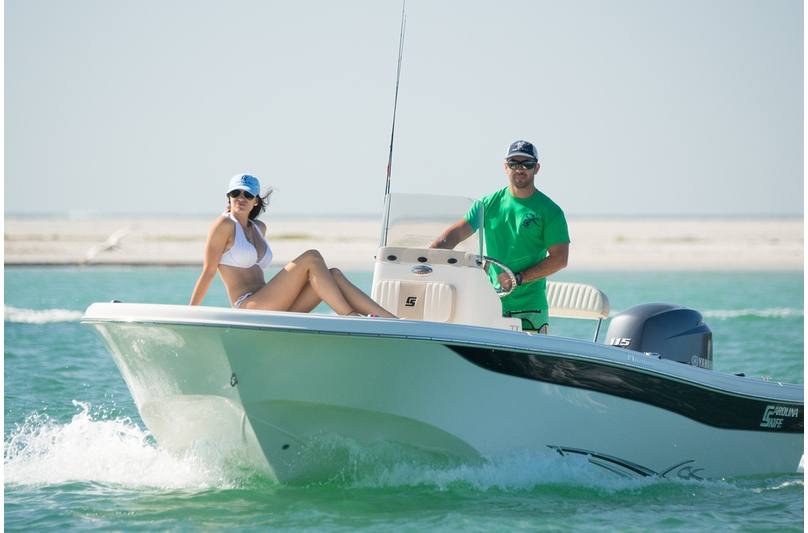 Max power for this boat is a 115, which provides more than enough juice. In fact, with a stock 90 the Carolina Skiff will cruise in the upper 20s and top out in the mid-30s. On a 19-footer there aren't many times you'll want to be running faster than that, though most people would recommend upping to the 115 if you plan to pull wake-boarders or water-skiers with regularity. Shame on you, for wasting perfectly good fishing-time on such frivolous activities.
Naturally, one of the best things about buying a relatively simple boat is the relatively low price tag that goes along with it. And when it comes to the 198, depending on how you get it outfitted you can get a boat-motor-trailer package in the upper $20,000 to lower $30,000 range. You could easily spend twice that amount on a boat this size – if, that is, you don't mind shelling out your hard-earned cash for a bunch of bells and whistles.
Carolina Skiff 198 Specifications
LOA – 19'0"
Beam – 8'0"
Displacement – 1,660 lbs.
Draft (hull) – 0'6"
Transom Deadrise – 10 degrees
Fuel Capacity – 20 gal
Max HP – 115
Area Dealers – Pasadena Boatworks, Pasadena, MD, (443) 858-2400; Danny's Marine, East New Market, MD, (410) 228-0234; Sandpiper Marine, Accomac, VA, (757) 787-7783.