One year ago this month I swapped out my trusty, dusty, old, very slow Glacier Bay 22 for a new ride, and got a Caymas 26 HB powered by a Suzuki DF300AP: the FishTalker. I said then that after a year of use I'd report back to the FishTalk world with a long-term test, and now that time has come. I've run the Caymas from Edgewater to Bloodsworth Island to fish the shallows for specks and reds (58 miles), from the Ocean City Inlet to Poor Man's Canyon to hunt for tunas (60 miles), and locally more times than I can count. Net result? I. Am. PSYCHED!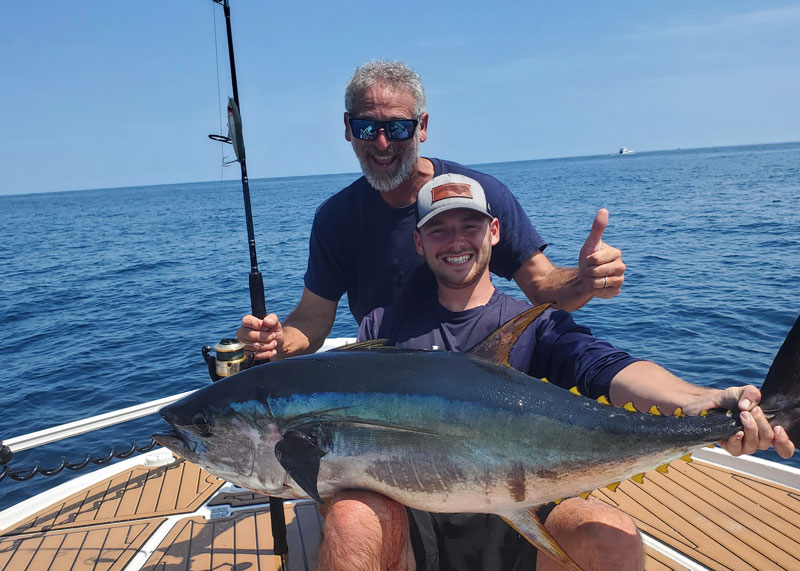 Many people question the choice of a hybrid bay boat for Chesapeake Bay angling in the first place. Won't the lower deadrise make for a rough ride in the chop? Aren't the gunwales too low? Won't it be a wet boat? A decade ago, I would have been asking the same questions — and I would have said you'd be nuts to run a boat of this genre on the Chesapeake. Through time and many boat tests, however, I came to realize that the designers and manufacturers had gotten better and better and making hybrid bay boat models with complex variable deadrise hulls, better balance, and improved construction. A Pathfinder 2600 TRS blew my mind when we ran 20 miles out of Stuart in a slop to fish for cobia. Then a Sportsman Masters 267OE shocked me when we buzzed through Eastern Bay in a 20-knot wind. And then a Caymas 26 HB kept me surprisingly comfy and happy during a full day of fishing from Annapolis to the Chester.
The bottom line? Hybrid bay boats in 2023 are very different beasts than they were a decade ago. I've now had the Caymas in just about every different condition the Bay can dish out plus a run offshore, and it handles the seas better than many of the deep-V models out there. One caveat: with the Suzuki DF300AP on the transom, you have the potential to go fast. Really fast. And that means a judicious use of the throttle in waves over two feet or you'll send the boat flying; I've found that in such conditions throttling back to 30 mph or so is a good move, and in three-footers, running in the mid- to upper-20s is in order.
Speaking of going fast: 300 horses is actually the least Caymas rigs this boat with (it can take 400), but for my purposes it's plenty of juice. With the Suzuki wound up to 6200 rpm and a light boat the fastest I've seen is 52 mph. Loaded with fuel and passengers, top-end is usually in the upper 40s. An easy cruise (4500 rpm) is in the mid-30s, and a fast cruise (4800 rpm) is a hair under 40. Going with the DF300AP you also get a number of perks, like auto-trimming, uber-smooth fly-by-wire controls, and amazingly quiet idling.
The boat runs on the Michael Peters Stepped Vee Ventilated Tunnel (SVVT), which is the same design utilized on the Valhalla line, Invincibles' monohulls, Barker Boatworks, and others. Twin steps feed a tunnel with vertical sidewalls running to the transom. They claim it gains a 15-percent boost in speed and efficiency, which from my experience seems reasonable. My Caymas/Suzuki rig generally cruises somewhere between 2.3 and 3.0 mpg, depending on how hard I run it and what the sea conditions are like. And that SVVT hull not only runs fast and efficient but also smooths out the chop; the steps, tunnel, and air cushion they create has a very different feel than a straightforward V. Since sensing the ride qualities of a boat is rather subjective, all I can suggest is that you take one for a sea trial before allowing any preconceived notions about hybrid bay boats to influence your judgement.
What about beefs? After all, there's no such thing as a perfect boat, right? As far as construction goes there's very little to complain about — the term "rock-solid" does come to mind — and the few items that have required warranty work (a broken LED light in the T-top, a seat cushion that absorbed water, and a pair of snaps that pulled out) were taken care of by North Point Yacht Sales quickly and without question. I'll also note that the cockpit drains are on the slow side when the boat isn't moving, but this is a common trait of low-slung fishing machines. What about those low-slung bay boat style gunwales? I love 'em. They make it uber-easy to land fish or dip your hands in the water, the boat has very low windage, and it has zero effect on spray; the boat's quite dry. Family anglers with multiple young children they're trying to keep contained may want taller sides but beyond that, once you fish from a boat of this style I'd bet you love it.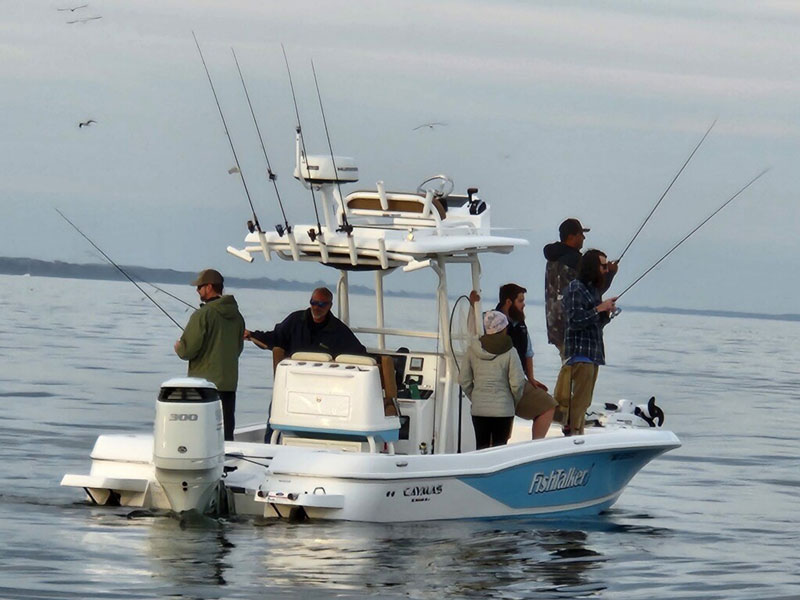 We should mention that the FishTalker has been gussied up a bit since delivery, with a Humminbird electronics package, a Minn Kota Riptide Terrova on the bow, and a Furuno autopilot installed by BOE; ReFlex decking by Brown Dog Marine; and a tackle station from Teak Isle. We'll address boat improvements like these and how they may come into play on your own fishing machine in more detail in a future article. For now, I'll leave you with this: One year later, I. Am. PSYCHED!