I'm shoving down the throttles on the new Caymas 341 CC, igniting 900 raging Verado horses in an explosive internal combustion experiment that sends triple 13.8" x 21" stainless-steel Enertia Eco props spinning at a dizzying 6000 rpm. Net result? You'd better hold on tight! The boat springs out of the hole like a gray-hounding sailfish, wind starts ripping at my clothing, and in a matter of 30 seconds or less we're zinging across Biscayne Bay at 60 mph.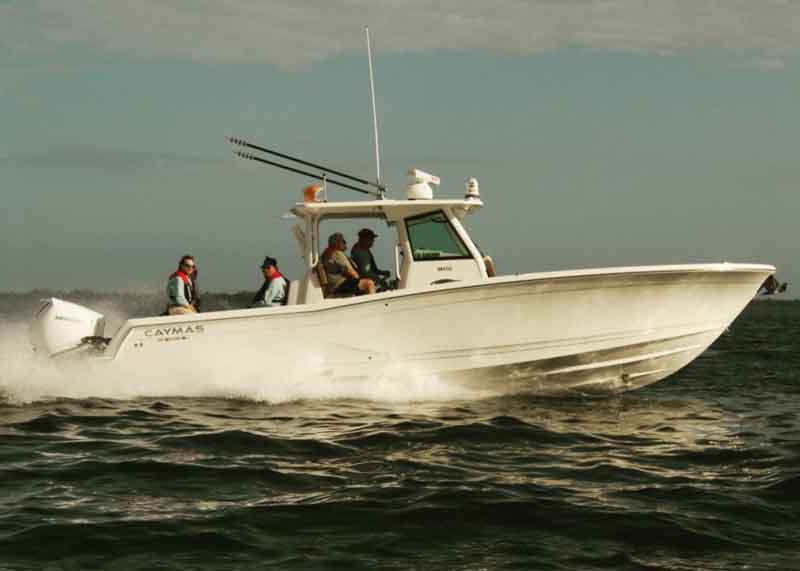 Sure, we have uber-horsepower on our side and I fully expected we'd reach highway speeds. The surprise comes when cranking the wheel around and cutting a few S-turns. The boat's twin-stepped SVVT Michael Peters designed hull maneuvers like a cheetah, gripping the H2O and whipping around immediately in response to the slightest inputs from the helm. Set at a reasonable 4500 rpm cruise, speed settles in at the low 40s, and economy stays well over one mpg—something you don't commonly see on triple engine rigs. This. Hull. Kicks. A**.
The Caymas 341 CC may be a love-at-first-throttle boat, but it's also a love-at-first-sight fishing machine with a slew of angling features that you won't find on many competitors. Take the livewell, for example. Located in the transom, it has a bathtub-sized 70 gallons of capacity, is pressurized to prevent sloshing, has a clear lid, is baby blue inside to keep baits calm, and gets supplied by a sea chest with a pair of variable-speed 2500 GPH Hooker pumps. You say you want to keep a school of spot in one well, and a flock of bunker in another? No problem. The aft fishbox in the deck can be plumbed to serve as a second, 60-gallon well.
Fishbox capacity is another prime example. Swing up the forward console lounger and you'll be greeted by a massive cavern with 125 gallons of fish-stowing capacity, which is evacuated by a scale- and bone-eating Gulper pump. Oh, and while you're up there, note that the lounger is lined with flush-mount vertical rodholders, three per side. But the best feature in the bow is undoubtedly the forward seating arrangement. Looking at virtually all other boats, you'll have to choose between an open bow primed for fighting fish, flanking seats that add some comfort but keep you back from the gunwales a bit, or U-shaped seating that adds more comfort but further deteriorates your fish-fighting abilities. In this case, however, the bow is completely clean and open for maximum fishability—until you grab the edge of the inwale, pull, and swing out the flip-down seats integrated into each side.
More for anglers to love: the back of the leaning post incorporates five rocket launchers, a tackle station, and a slide-out Frigid Rigid cooler that does double-duty as an aft bait-watching seat. The transom is lined with five flush-mount rodholders, the gunwales house six more, and there's locking rod stowage inside the console head compartment. The raw water washdown has its own integrated hose-holder. The helm is designed to house a pair of MFDs up to 17 inches wide and Garmin, Raymarine, and Simrad packages are all available factory-installed. And finally, the standard hard top has a pass-through hatch so you can send a crewmember up top for fish-spotting duty. Get an eye-full, people:
Oops—the use of the word "finally" in the preceding paragraph was a mistake, plain and simple. We're out of room here, but if you inspect this boat closely with your own eyes you'll see even more details that get your angling adrenaline pumping. Like we said: you'd better hold on tight.
Caymas 341 CC Specifications:
LOA – 33'6"
Beam – 10'0"
Displacement – 8800 lbs.
Draft – 2'3"
Transom Deadrise – 23 degrees
Fuel Capacity – 345 gal.
Max. Power – 900 hp
Area Dealers – North Point Yacht Sales, Annapolis MD, (410) 280-2038 and Portsmouth/Gloucester Point, VA, (804) 885-4090.