After three solid months of very tough catch-photo-release competition with an amazing 80 anglers registered in the running, the CCA Maryland Winter Pickerel Championship drew to a close with hundreds of chain pickerel logged — including dozen upon dozen of citation-sized-plus fish. Top honors go to angler Chase Savage, who scored his overall three fish stringer victory with a total 80.5 inches. Way to go, Chase!!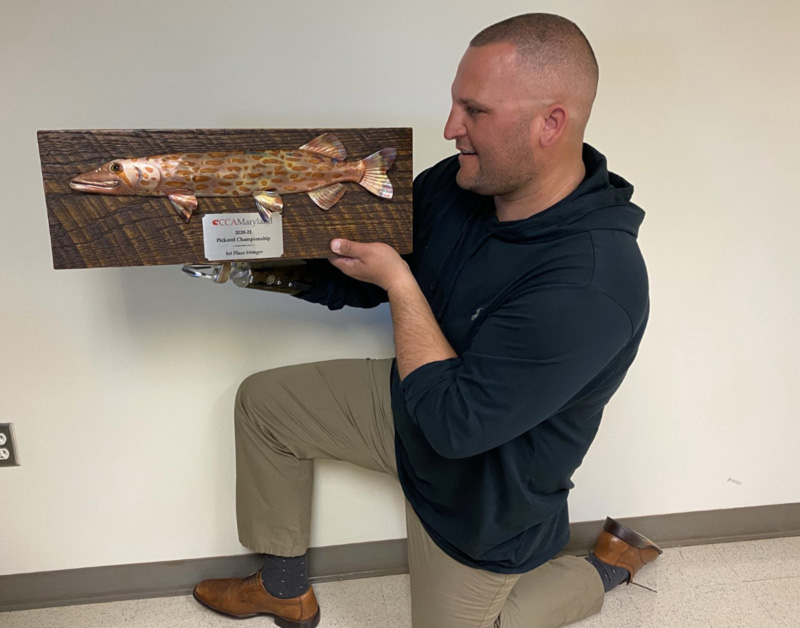 FishTalk team member David Rudow took second place with 78.25 inches, and FishTalk Angler in Chief Lenny Rudow finished in third with 77.5 inches. David Rudow also won tops in the Kayak division thanks to a 26.5-incher, which he caught early in the morning on the final day of the tournament. Single biggest fish went to angler Shawn Kimbro, with a 27.25-inch beast of a pickerel.
Rounding out the awards, biggest panfish was taken by another FishTalk sharpie, contributor Eric Packard, who caught a monster 15-inch-plus black crappie. The fly fishing category went to a FishTalk Contributor as well, Peter Turcik, who used the buggy whip to fool a 24-inch fish into biting. And the youth division was won by angler Ayden Swick with a 26-incher, followed by Carter Jordan with a 17.5-incher.
Prizes were amped up along with the competition this year, with CCA-MD parlaying the unexpectedly high number of entries into unexpectedly awesome prizes — among them, a collection of copper pickerel trophies made by metalworking artist R. Hanes Hoffman, Jr., of Bluewater Copperworks. These are sure to become coveted wall-hangers, so congratulations to one and all who participated, double-congrats to the winners, and we'll all be looking forward to next year's competition!