You say you're looking for the ultimate Chesapeake Bay fishing adventure? One with a wide range of target species, so many creeks, cuts, and coves to cast to that you can barely scratch the surface even on a multi-day trip, and a bite so hot that rivals the best seen from Key West to Kennebunkport? The Bay offers countless opportunities and many attractive ports of call but the most unique — and perhaps the fishiest of all — may well be Smith Island.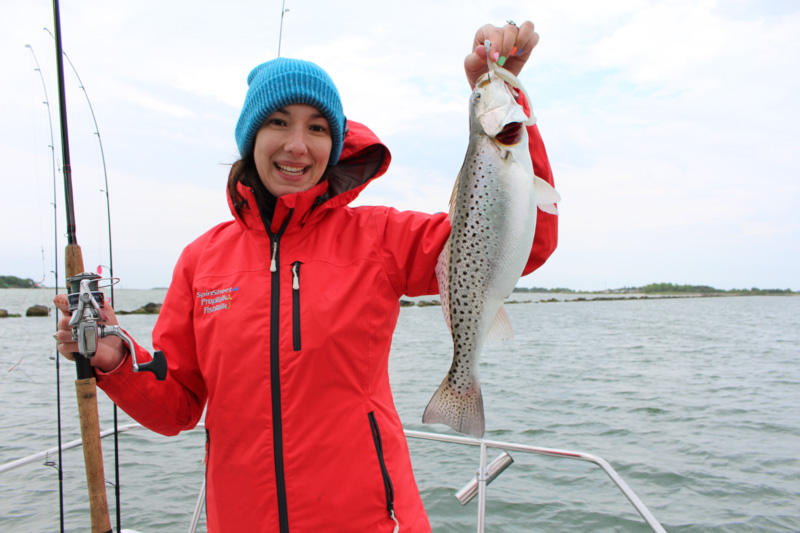 Smith Island
Most Bay-dwellers are at least semi-familiar with Smith Island, where around 200 people live on the only inhabited island in Maryland accessible strictly by boat. Except that it's not exactly in Maryland. The island is bisected by the state line and partially in Virginian territory, as well. Plus, in reality it's not in any "state" so much as it exists in a state of its own. The main mode of transportation is golf carts, the main profession is crabbing, and the main source of pride is the famed Smith Island cake (which is utterly luscious — if you visit this place without trying one fresh from the bakery you deserve to be flogged).
The island supports a handful of B&Bs and small inns, and more recently, residents have taken to fixing up homes and listing them on VRBO and Airbnb. We stayed in a VRBO house called The Pearl which has been renovated and outfitted to cater specifically to anglers. It comes with a large pier and slip so you can arrive via your own fishboat if you so desire, and has a grill, a fish-cleaning station, a fishing kayak, and pretty much everything else an angler could want for a multi-day fishing adventure. Full disclosure: The Pearl has a small ad in FishTalk. That's actually how we heard about it. The owner offered us a trip there to check it out and decide if it was something FishTalk readers would be interested in learning more about. Our decision? Well…
Arrival at Smith Island
Shortly after tying up at The Pearl's dock in the town of Ewell, we have a chat with Captain Mark (the guy who will deliver freshly steamed crabs to the front door of The Pearl if you should so choose). He divulges a few angling options with one notable perk: the channel leading into the town holds fish at times, and since it's surrounded on all sides by marsh islands, provides an opportunity to fish even when the wind is howling. Which it is. With six- to eight-foot depths and grass beds along the edges we catch small stripers in the channel, until we decide to try poking our nose just a hair out into the Bay. Winds are out of the east so we find sufficient shelter just outside the jetties, where keeper-sized rockfish prove tempted by four- and five-inch plastics in white and Electric Chicken on quarter and half-ounce jigheads and white bucktails.
Then, we get lucky.
FishTalk Production Manager and resident kayak fishing sharpie Zach Ditmars lets his bucktail sink to bottom in about eight feet of water, gives it a couple twitches, and BAM! His rod goes down. He plays the trip's first speckled trout, a fat 19-incher, up to the boat. In the next few minutes PropTalk editor Kaylie hooks one, Zach reels up another, Pearl proprietor Chris reels one in, and shortly thereafter yours truly brings up the rear. We pull and re-drop the anchor to adjust boat position for better casts into the target zone — darn, I wish I had the Minn Kota with Spot Lock installed!! — and begin utterly wailing on them. Just about every other cast produces a speckled trout between 19 and 21 inches.
Whoa, slow down there, we'd better open up that fishbox and take a head-count.
After starting out cold with minimal local knowledge (Chris is more of an open-water guy than a shallow-water speck aficionado) we have two rockfish and over a dozen speckled trout in the box. Wow. The grill will be stacked, we'll have fish left to bring home, and… we're 1.5 hours into a three-day fishing trip.
For the next hour we catch and release speck after speck, with an errant rockfish mixed in here and there. It hits me: numbers-wise, this may well be the best speckled trout bite that I've ever experienced. Crystal River? Fished it many times and had some awesome speck days, but only once came close to a bite like this and those fish averaged 14 or 15 inches. Port Aransas? Not this hot by a longshot. Flamingo, Florida City, Charleston, and the Pamlico Sound? Uh-uh.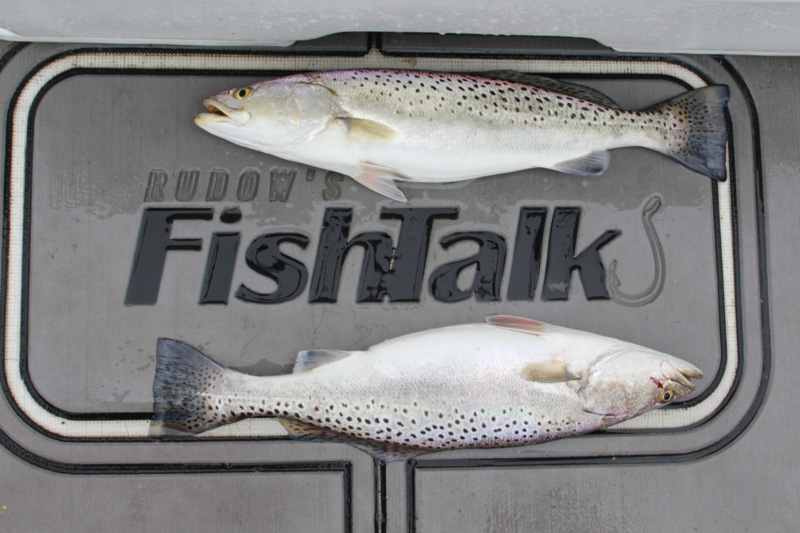 After a mega-meal back at the Pearl and then hanging out on the screened porch at Jack and Pickles mini-arcade (free Galaga!), reflecting on the day there was only one possible conclusion: the speckled sea trout bite in this part of the Tangier Sound in late May can be utterly epic.
Day Two of Fishing
Is it possible to get bored of catching specks? Not really, but considering how much success we had on 'em the day before, we decide to go on a flounder hunt. So we make the short run to Kedges Straits, where sharp drops from 12' to 25' generally attract them. Unfortunately, it proves fruitless. And combatting the stiff south wind of 15-plus knots, fishing the open waters of the Sound where flounder have been reported recently isn't an option. But whichever way it's blowing there's always a lee to be found in this neighborhood. We cast to Solomons Lump lighthouse, then along the island's north-side rock jetties sitting in four or five feet of water.
Though this zone doesn't produce any trout there are some rockfish prowling around. But just as interesting is the bird life you'll encounter while casting up close to the shoreline. Nesting pairs of oyster catchers are clustered just feet from the waterline, countless herons and egrets of multiple varieties inch along in the shallows stabbing at minnow, osprey soar overhead, and pelicans crash into water in their own particular not-so-graceful way of angling.
Working down the western side of the island where we still catch a bit of a break from the wind, we discover that the rockfish around here also like to hunt at creek mouths on a falling tide. As the marshes drain out, we position the boat in mini-channels scoured out by the endlessly moving waters, catch a few more stripers, then move on to the next creek mouth.
Then we're back into the specks.
Interestingly, while up until this point we'd been catching either speckled trout or rockfish, the fish weren't intermingling much. This time, however, it's one species and then the other on cast after cast.
We quite literally catch until our arms get tired, then zip back into Ewell and tie up for the evening. As we pull back up to The Pearl in the golf cart, Captain Mark is standing at the door with a box of hot steamed crabs. Good golly, I love this place.
Departing Smith Island
With more heavy south winds blasting up the Bay, a 65-mile cruise back to the South River, and plenty of fillets zip-locked in the cooler, we decide to head for home on the early side Wednesday morning. But we also figure that it would be criminal to leave these waters without catching a fish or two first. So we stop at the end of the jetties protecting the island channel entrance and get in our last licks. Kaylie throws her jig and a gets a striper for her send-off. Zach takes a swing and catches one more trout to say goodbye. I point the bow north, bring the twin Suzukis up to 4500 rpm, and the bow begins chewing through the mogul-filled miles.
Despite the endless strikes and constant action, we failed to accomplish one thing: we never found a redfish or a flounder to attain a Smith Island slam. Thanks to the breeze, nor did we make it out into open waters to target cobia, blues, or Spanish mackerel and complete a Smith Island Grand Slam. And I'm calling it a blessing that these challenges remain unattained, because now there's no question — we will have to come back.
-Lenny Rudow
Editor's Note: Our visit took place in late May, and while the speck bite has been relatively strong through most of the summer, we enjoyed the peak of the spring action. As the waters chill and fall sets in, late September through early November should be prime-time for a red-hot fall speck bite here.
Check out our How to Fish for Speckled Sea Trout video, filmed entirely on the scene at Smith Island:
Sign up here to get the weekly FishTalk Chesapeake Bay and Mid-Atlantic fishing reports in your email inbox, every Friday by noon.