Greetings fellow FishTalkers, I hope you've been having an awesome summer of fishing and are as excited as I am at the prospect of fall Chesapeake Bay fishing, angling on the Atlantic Ocean, and casting into the reservoirs and rivers winding through our gorgeous chunk of the US of A. There was a time in my life when the arrival of September meant we'd soon be breaking out jackets and gloves but these days it seems more and more like T-shirt weather right up to October or thereabouts. Like it or not, things are changing.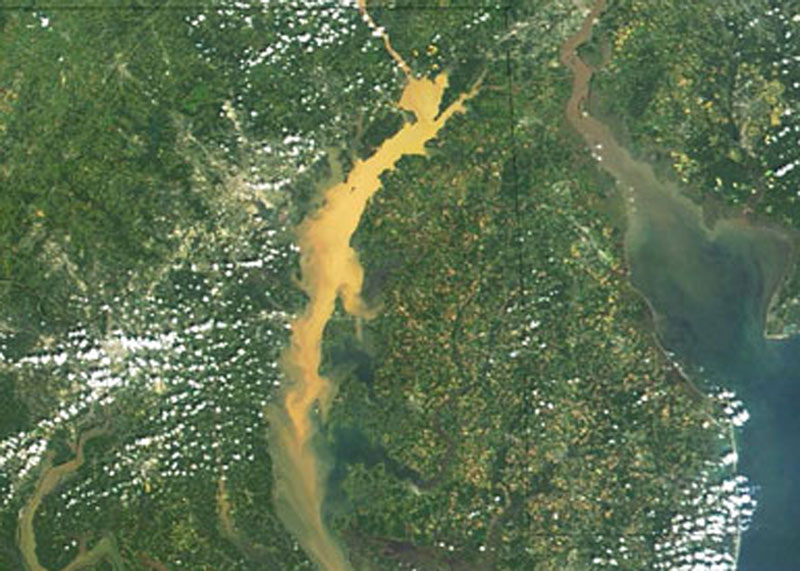 We always hear about climate change "winners" and "losers," and truth be told, in many ways I feel like we're winners around here. On the whole, fishing for southern species like redfish, cobia, and speckled sea trout just seems to be getting better and better. And I certainly won't complain about the mild winters we're often treated to in modern times. But in the very same breath, we must recognize that in many ways the Chesapeake Bay habitat, particularly the habitat treasured critters like rockfish and blue crabs depend on, may not be better off.
Despite increased harvest numbers in recent years wild oyster populations remain at a level that can only be described as pitiful. Bay grasses last year made up a whopping 37 percent of the restoration target of 185,000 acres, which is down 38 percent from 2018. (And no one really knows just how many acres there were historically, because nobody was bothering to count way back when). Blue catfish populations have exploded to the point that fisheries managers are seriously concerned about their impact.
What does all of this add up to? Plusses, minuses, and I don't know. I don't believe that anyone really does know. Even the smartest science-types among us, many of whom are quite committed to helping save the Bay, are usually quick to admit that the Chesapeake is a moving target, so vast and complex that understanding it entirely is nearly impossible. There are, however, a few cold hard facts that nobody can argue about. One of them is that our degraded water quality vastly contributes to the suffering of the Chesapeake's habitat. And another is that the cause of this abhorrent water quality is us — you and me Joe Human — and what we do when we're on terra firma. You know the old saying, the **** runs downhill? Well, downhill drains right into the Chesapeake Bay.
Most of us, especially those of us who spend time on the Bay, are cognizant of this and do our best to limit our contribution to the problem. It all adds up, but it doesn't add up to enough. Meanwhile, the pressures of running a business can drive even a cognizant citizen to cut corners when efficiency is on the line. Yes, discharge regulations and construction permits cost businesses time and money. But those settling ponds, silt fences, and soil stabilization aren't just worth the cost, they're absolutely critical if we ever hope to improve water quality.
This is where government can and must step in. But it won't, if we don't force it to. If you read FishTalk regularly you've heard us say time and again that we need to constantly reach out to the powers that be and let them know how important the Bay is to us and our way of life. You've also heard mention that in doing so, we must put forth polite, educated, well thought-out input. To that end, I want to encourage each and every one of you to tune in for the Coastal Conservation Association's final Chesapeake Perspective of 2023, focusing on Chesapeake Bay habitat preservation and restoration, Thursday, September 21 at 7 p.m. This livestreamed roundtable including experts and scientists can be viewed via the FishTalk YouTube channel or Facebook page. Register at fishtalkmag.com/Chesapeake-perspective to get a link in your email inbox. Join us, and you absolutely, positively will have a better understanding of the Chesapeake's habitat, the challenges it faces, and how a galvanized angling community can help bring pressure to bear where and when appropriate. It's one way we can help steer our society to rebuild the Chesapeake.