On March 30th Maryland's governor made the announcement that at 8:00 p.m. that evening, a stay-at-home order would be in place. I remember the day. I was fishing for the first time out of Wooten's Landing on the Patuxent River, and I felt the pang of disappointment that I may not be able to fish again for some time. But I launched my kayak anyway. The river was flowing faster than normal, rain had muddied the water over the previous few days, and after the hearing the governor's announcement I had trouble concentrating on fishing, so I wrapped it up pretty quickly.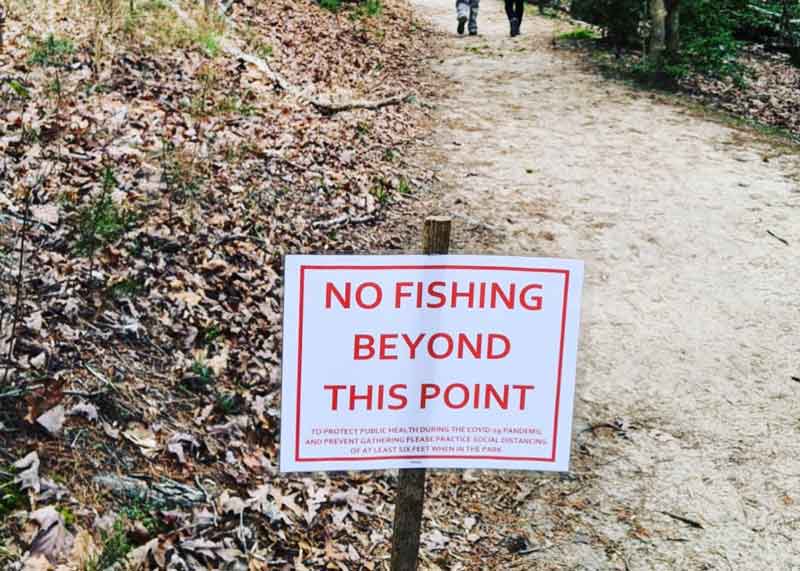 When I got home, I scanned the DNR website and social media sites looking for any information and any loopholes that may allow me to fish. I reached out to other anglers and friends for answers. See, I fish a little. Well okay… I fish a lot.
The following day the DNR would post a FAQ paper on the matter. And there it was – I could fish if I were to keep the fish I caught for food and practiced social distancing while fishing. "Sustenance fishing," in the legal parlance. Yes! Now, keep in mind, that limited what fish I could target to species such as snakeheads, catfish, crappie, or perch, to name a few that are good to take home and eat. Also, the length of time I could be out fishing might be restricted. Once I caught my limit, I'd need to head home. Anglers would have to continue to follow creel limits and state fishing regulations.
Fast-forward two weeks: I make a pot of coffee, pour myself a cup, and then turn on the television. I sit there for a moment, warming my hands and listening to the news. I get up and walk to the window, open the blind, and look for any sign of what the weather might be. Frost covers the roofs of the homes across the street. I had hoped to leave early under cover of darkness, but now I'm questioning myself about even fishing today. It's April 15, 2020.
I wait until eight o'clock before getting into my Jeep. I mentally go through the checklist of fishing gear I would need. Kayak, got it. Life jacket, check. Three fishing rods (rigged for snakehead), check. Tackle, check. Hand sanitizer… yes, that too.
I had loaded up the Jeep the evening before, thinking I would be leaving early. Reaching up I hit the garage door opener, and once the door is fully open I start the engine. I pull my neck gaiter up over my nose, then slowly back out of the garage. I look to my left and then to my right. Boy, I wish I had left the house before dark.
The drive to Mattawoman takes almost an hour. Once I arrive, I scan the parking lot and boat ramp. There are no Park Police or State Troopers. I back the Jeep down the ramp, and unload my kayak and gear. Then I pull the Jeep back up and park it near the launch. Placing my life jacket on I attach my handheld marine radio. I always carry it with me, especially when I fish alone, even though I tell my wife where I'll be fishing. Hey, you never know when an emergency might arise? Hmmm.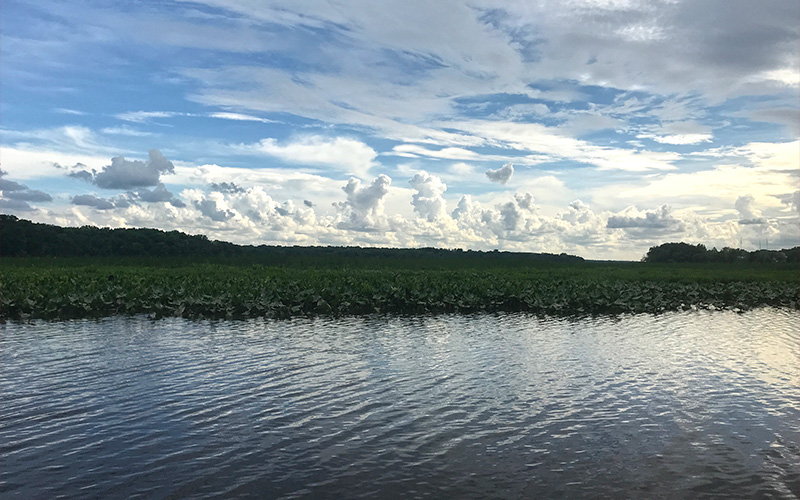 The river is still somewhat cloudy and the wind picking up. Clouds cover the sky but there was a chance the sun would come out and hopefully warm the shallows. I had limited my tackle to just a few baits: a white topwater frog, a white Whopper Plopper, chatter baits, a few jigs with paddle tails, and some shaky head jigs. These are my go-to bait for when I am snakehead hunting. Sustenance fishing.
The reeds and lily pads on the Mattawoman are still early in their growth for the spring. They provide sparing cover for the fish, so I would have to find them in deeper water or another type of cover. I had recently caught snakeheads at a local marsh near me where there's limited access to deeper water, but that location was now closed to all fishing. The Mattawoman snakehead would be harder to find.
At the other location I had caught 22 snakehead and three largemouth bass over five days of fishing. This was just before the state put up the "No fishing beyond this point" signs and closed off the beach, in order to limit social gatherings. MapQuest says that location is nine minutes from my house.
Back on the Mattawoman, I turn my kayak and continue upriver. I scan the horizon for any movement that would tell me there were fish feeding. Seeing nothing, I move closer to the shoreline and take a few casts with a white chatterbait. I work the shoreline for a few hundred yards, then change up and head deep into the lily pads. There I see no baitfish, so I retreat back out of the pads and push further north on the river. The sun finally comes out, but brings wind with it. It seems that no matter where I point my kayak the wind is in my face. I paddle on.
After an hour or two of not catching any fish I come to a bend in the river. I could tell that the water was slightly deeper there, the bank dropped off and the water was a darker shade. I change up baits and put on a shaky head dressed with a wacky worm. I like to use a wacky worm on a shaky head jig rather than a standard plastic worm. The wacky worm slows the fall, and I believe stands up in moving water better. Plus, it gives the bait additional action. It only took a few casts and I was into the fish, but they are the wrong species and inappropriate for sustenance. Looking over my shoulder I release the fish quickly, slipping them back into the water and hoping to not bring attention to myself as I let the would-be dinners go.
This goes on a while, then I call it – with no fish to take home. Snakeheads will have to wait for another day. I make it back to the boat ramp, and scan the parking lot once again. There are no Park Police or State Troopers.
I load up my kayak and head home, wishing I could just go fishing like I had always done before. Alone on the water on my kayak, away from everyone else, catching a meal or simply releasing the fish as I choose. But things have changed.
Don't misunderstand me, I get that we need to look out for others as well as ourselves. This is a problem that affects us all. It isn't like this will be over soon, we will probably have to wait for a vaccine before all is normal again, and that may be a ways off. So I will follow the social distancing orders, and all the other State and DNR regulations. I just wish I didn't feel like I was committing a crime when I went out to go fishing, alone on my kayak.
-By Anonymous