I first sea trialed a Contender 28 close to two decades ago, and back then the boat had one trait that stood out: cruising at hat-stripping speeds, the 24.5-degree transom deadrise deep-V ate through both oceanic rollers and a stiff chop with ease. Some boats are great in rollers but not so much in a chop, or vise-versa. But way back then I recall thinking that it provided among the smoothest 60-mph rides through Biscayne Bay and out into the open Atlantic that I'd ever experienced. But back then the finish was just so-so, and other than the leaning post there was zero seating. Flash forward: today the Contender 28T offers an even faster but still epic ride through the rollers, but at this point has been refined and upgraded from the waterline up to rival any top-tier fishing machine.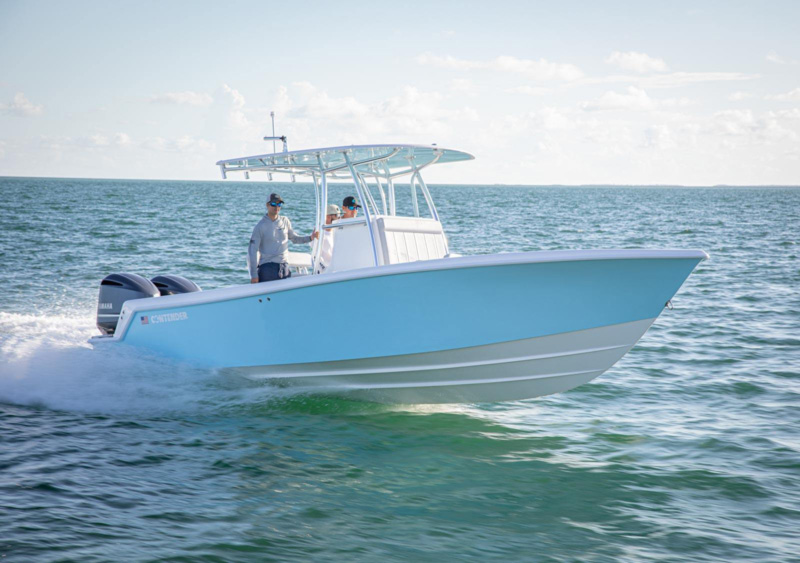 Contender's 28-foot offering has been through a number of generational changes, including being tagged the "Sport" and now, the 28T. Major improvements on new models include forward seating with removable backrests and integrated stowage, a more gracefully rounded gunwale cap, and a significantly upgraded recessed console design with forward seating and room for a pair of monster MFDs at the helm.
To get some insight into how much the boat's fit and finish has been improved through the years, swing open a deck hatch. In a way hatches offer a glimpse into a boat's soul. They're a part that's normally inspected only from above and rarely with a critical eye, which gives builders an opportunity to cut corners and save a buck. But when you open the Contender's deck hatch, you'll see a fully finished underside, a latch that dogs down, and a gasket that compresses over a lip surrounded by a draining deck gutter. Nice.
Thanks to ever-improving boat construction and outboard tech, today you can drop a pair of 300-hp outboards on the 28T's transom and the boat will easily break 60 mph and cruise at around 50 mph (turning 4500 rpm). A much more recent sea trial on a 28 proved that even with this much speed and power the ride remains surprisingly smooth, and we can't help but note that handling is also incredibly sporty — crank the wheel back and forth at high speeds and the hull carves out a series of tight S-turns while remaining completely in control.
Despite the improvements in looks, functionality, and performance, Contender didn't overly-gentrify the boat like so many of the froufrou center consoles we see these days and it's still a serious fishing machine through and through. The fish-hauling capacity tells the story: there are twin 76-gallon insulated fishboxes in the aft deck, and a cavernous 140-gallon box in the bow. Catch a fish too big to ice down in this boat, and you'll be headed for the record books. There's also a 40-gallon livewell in the transom, rod lockers under the foredeck, four standard flush-mount rodholders (more can be added), four rocket launchers in the leaning post, and five rocket launchers adorning the hard top.
Most boat models don't last more than 10 or so years before fading away. It takes a real winner to survive the test of time so well that a manufacturer continues upgrading and modifying it, rather than replacing it altogether. It takes a boat like the 28T — a boat that's a real contender.
Contender 28T Specifications
LOA – 28'0"
Beam – 8'10"
Displacement – 7400 lbs.
Draft – 1'8"
Fuel Capacity – 180 gal.
Max. Power – 300 hp
Area Dealers – Intrinsic Yacht Sales, Annapolis, MD and Ocean City, MD, (410) 263-9288.