Editor's Note: We wish we could personally test every item that appears on these pages, but that simply isn't possible. So that you know the difference between when we've physically tested a piece of gear and when we're writing about it because it's newsworthy and we think you'll want to know about it, we've developed the FishTalk Tested button. When you see "FishTalk Tested" next to something in this section, it means we've personally run it though the wringer. 
St. Croix Legend Tournament Inshore
St. Croix fishing rods took top honors in the new saltwater rod category this summer at the ICAST fishing tackle show, with the new Legend Tournament Inshore series. One of the reasons why is what St. Croix terms "IPC technology." So, just what is that, and how will it help you catch more fish? IPC stands for Integrated Poly Curve. The idea here is to essentially make the transitions in the rod blank smoother, thereby making the action smoother while also increasing sensitivity and strength. The other feature they like to talk about is ART, Advanced Reinforcing Technology, which is a carbon fiber that adds about 10 percent more strength to the rod blank without increasing weight or diameter. It also prevents the blank from "ovaling" under stress. The Legend Tournament comes in a wide variety of weights and sizes in both spinning and conventional versions, and as usual with St. Croix's high-end rods, these rods carry a 15 year warranty covering defective workmanship or materials. In our experience, St. Croix is excellent when it comes to rod repairs and replacements, and absolutely stands by its word and then some—so if you're looking for a new inshore saltwater rod any time soon, this is one you'll want to check out. Price: $270 - $350, depending on model. For more info visit stcroixrods.com.
FishTalk Tested: Okuma Epixor
On a trip down to Florida we had the chance to fish with Okuma's new Epixor spinning reels, which were a surprising find. Why? Because to be perfectly frank with you, FishTalk readers, we didn't expect to like them very much. The Epixor is designed to meet a price point, and while many of Okuma's offerings have shown serious improvement over the years, we thought this moderately priced offering might be a step backwards. We were wrong. While it doesn't have the smoothest drag on the face of the planet and there is a bit of rotor wobble, the Epixor offers value in spades considering the cost. It has a graphite body and rotor, brass pinion gears, seven ball-bearings and a roller bearing, and a machined-aluminum spool. The best part of this reel, however, is the real-world price of $70. For more information, visit okumafishing.com.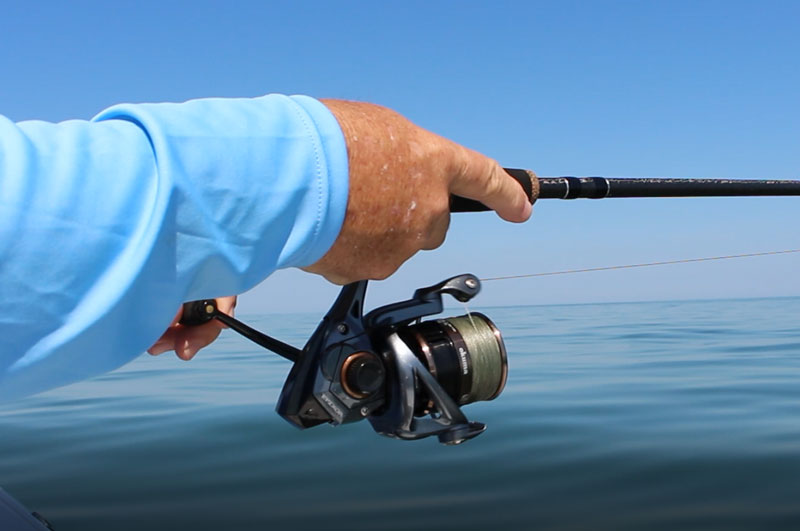 Eco-Popper
We have cameras in our phones, cameras in our cars, nanny-cams in our nurseries, and now people, you can even have a camera in your fishing lure. Eco-Popper has a wide-angle underwater camera in its rear, which you can view on your iPhone or Android for "real-time strike detection." While we'd like to point out that staring at your cell phone is actually a great way to miss strikes, we do see tremendous value in this concept, especially when fishing with kids. ("Daddy, you missed it AGAIN!") We should also point out that the Eco-Popper doesn't exactly exist just yet. But its makers say that professionals (Sig Hansen? Dave Marciano? Ricky Bobby?) are currently testing these lures. And when they say this bait has 720p, they aren't talking about what comes out of the fish's aft end… Price: who knows? For more information, visit eco-net.com.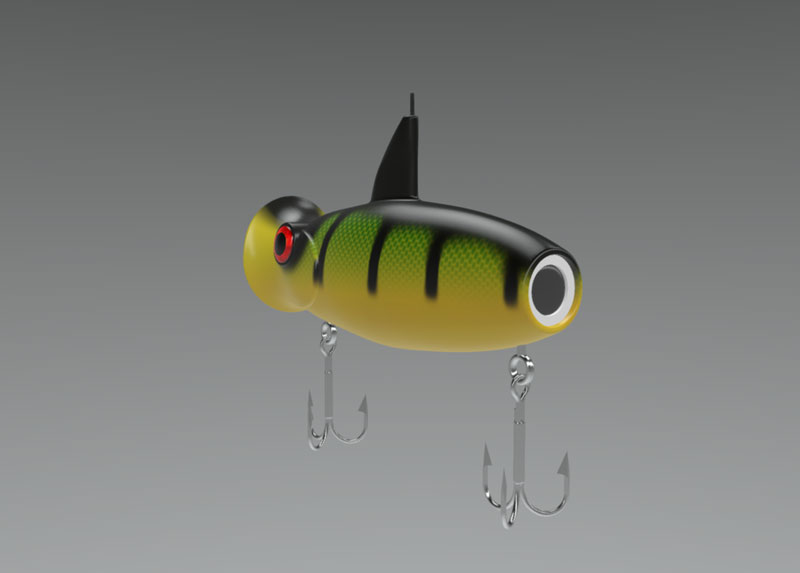 Shimano Coltsniper Twitchbaits and Topwater 
At a hair over three inches in length, Shimano's Coltsniper Twitchbaits come in both floating and sinking versions. They have 3X treble hooks and come in eight different color patterns. If a walk-the-dog is more your style, Coltsnipers also come in rattle-equipped topwater versions, which stretch the tape at 4.3 inches. Cost for either is about $10; visit fish.shimano.com for more info.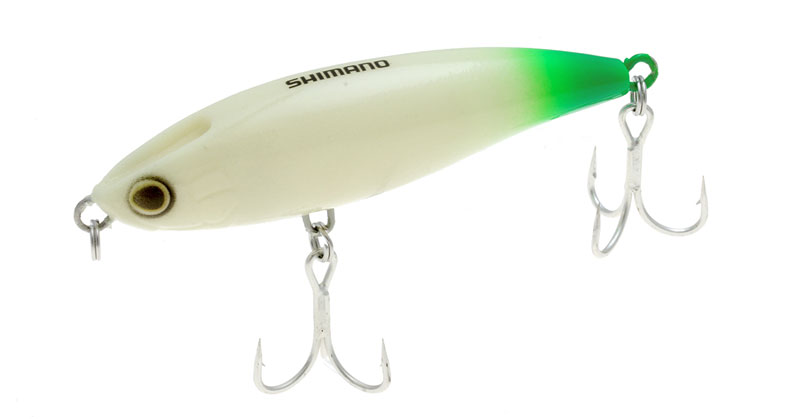 FishTalk Tested: Penn Conflict II 
New for 2017, the Penn Conflict II is the lightest spinning reel of its size that Penn Fishing Tackle has ever produced. The Conflict II goes on its diet thanks to a body and rotor made of resin, which is significantly less weighty than the normal usual aluminum or graphite materials used in modern reels. Gears, however, are still CNC machined aluminum, and the Conflict II has the same HT-100 carbon fiber drag washers utilized in other Penn reels. That drag felt thoroughly smooth in our hands, and the reel certainly did feel lighter than others of the same size, but we can't address longevity until we've had some serious time on the water with it. That said, we didn't spot any glaring issues.
Other highlights include seven ball-bearings, a roller bearing, and a rubber gasket on the spool to prevent braid from slipping. The smallest Conflict II in the mix is a 1000 model, an ultralight that weighs 6.3 ounces and holds 160 yards of six-pound braid. At the other end of the spectrum lies 5000, a 14.4-ounce model that can take 420 yards of 20-pound braid. Price: $149.95 - $199.95. For more information visit pennfishing.com.
FishTalk Tested: Pelican Elite 70
There are an awful lot of high-end coolers on the market these days, and one of the newer versions is the Pelican Elite series. We got our hands on a 70-quart model early in the game and have now had over a year to bash, batter, drop, and kick one, in an orgy of equipment abuse that constitutes a serious torture-test.
So how did this wannabe-Yeti survive the ordeal? With flying colors. As far as we can tell it's just as rugged and tough, although ours had a white finish that did stain with fish blood (other colors are available). Its (two-inch insulated) walls are uber-thick and as far as we could tell the cooler holds ice as well as other super-coolers. You can stand, jump on, and beat the cooler's exterior to no effect. And while the plastic latches look to us like they may not hold up as well as some other latching systems, they are quite beefy and never let us down.
The one clear advantage the Pelican has over its competition is price, which tends to run about 10 percent below the vaunted Yeti. It's also available with wheels, which may appeal to some people but increases bulk without increasing capacity. Price for the 70 runs about $360. For more information visit pelican.com.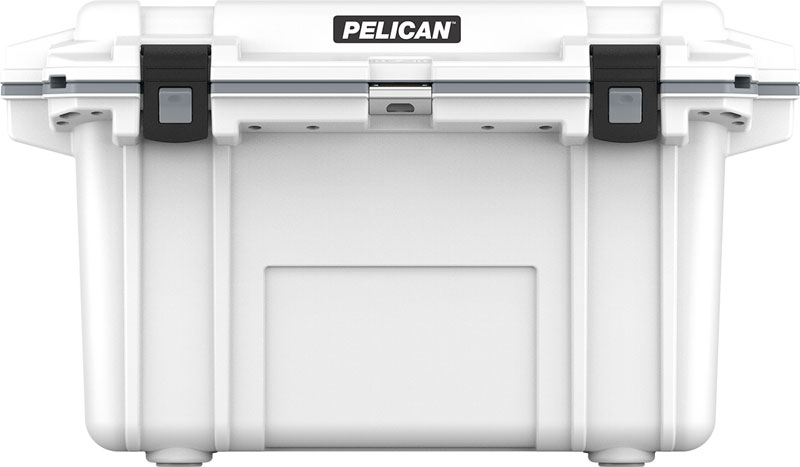 FishTalk Tested: Soundstream WTS-8B Tower Speakers
If you like to jam ear-splitting tunes while you run to the fishing grounds and you're on the hunt for a new set of speakers that can be clamped right onto your T-top pipework, the Soundstream WTS-8B Tower Speakers are worth a listen. We've had them aboard for months now, and can attest to the fact that they jam so loudly you can knock gulls out of the sky.
The WTS-8B is a coaxial, two-way fully enclosed speaker with polypropylene-mica cones and a titanium tweeter, which can handle 125 watts RMS. They're unusually light for this type of speaker (just under 10 pounds) and to our now-nearly-deaf ears they sound great. One potential hitch for some boaters: even with the rubber inserts in place the clamps are too large for rails and some thinner T-top pipes; you need two- to 2.5-inch diameter pipes for a solid fix. Price: $375. Visit soundstream.com for more info.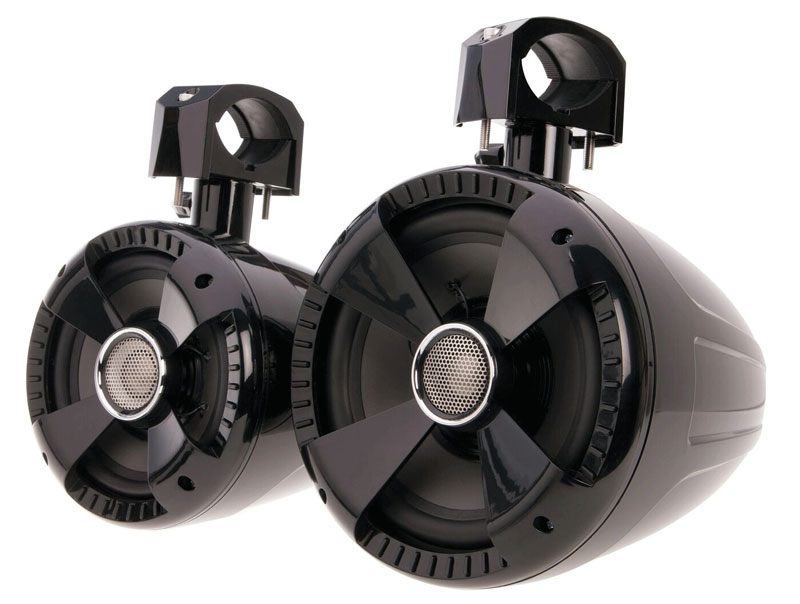 Yamaha F2.5
No, we didn't forget a zero or misplace the decimal point in that sub-head, we really did test Yamaha's new 2.5-horsepower outboard. We're not giving it a FishTalk Tested button, though, because we only ran the engine for an hour or so. Still, in that short time we learned a lot. This little eggbeater may be the smallest in Yamaha's line-up, but if you want a mini-mite for a scanoe or a car-topper, this one will do the trick. It weighs in at a mere 37 pounds, has one 72 cc cylinder, forward and neutral (no reverse—you have to spin it 180 degrees), and an isolation mount that keeps vibrations from reaching the boat and tiller handle. It also has an integrated fuel tank that Yamaha says holds 0.9 "leeders." We're not sure what a leeder is nor why Yamaha didn't translate that into gallons for we 'Merican folks, but the bottom line is that it'll run for hours on end between fill-ups.
The engine does produce a somewhat annoying chatter, but this is true of every small single-cylinder outboard engine we've ever used. And it has a leg up on the competition with Yamaha's "Easy Storage Oil Retention System," which means it won't leak when you lay it down in the back of your SUV. Price: around $850. For more info, check out yamahaoutboards.com.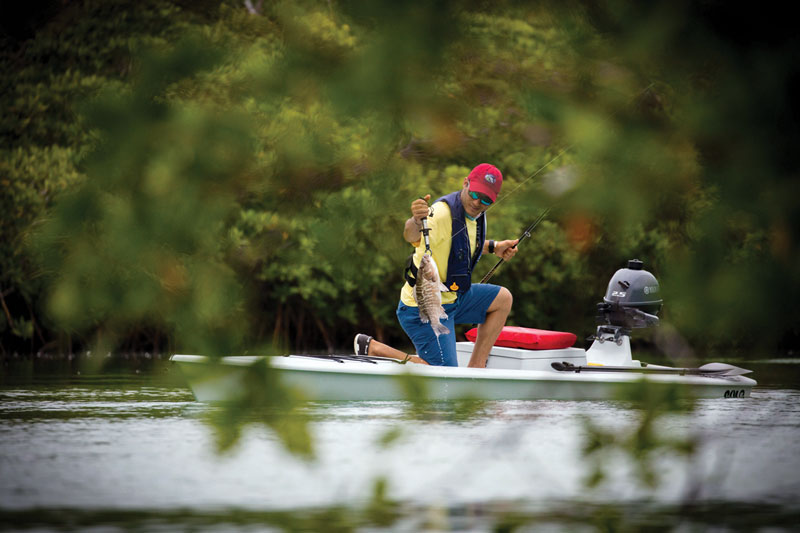 Yakima Longarm Bed Extender
If you have a kayak, canoe, or small boat you shove into the back of a pick-up, the Yakima Longarm Bed Extender might be of interest. The 12-pound aluminum rack fits a two-inch ball hitch and can be adjusted for both length (up to four feet) and height. It can support up to 300 pounds, and can also be mounted in a vertical position to support the aft end of car-toppers or boats carried on top of a truck cap. Price: $219. For more info check out our video preview at the FishTalk Magazine YouTube channel, or visit yakima.com.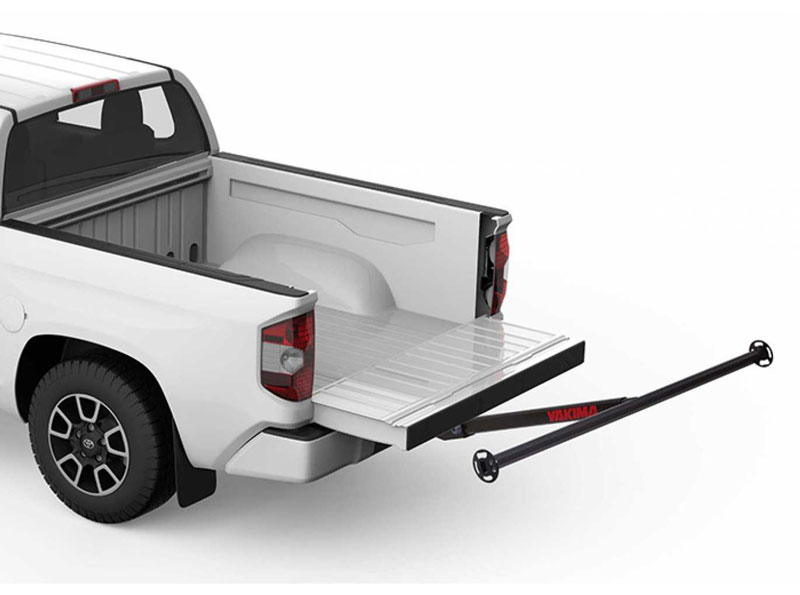 Rapala X Rap Magnum 40
If you like trolling those jaw-breaking monster lipped plugs, then you'll want to check out Rapala's newest entry in the X Rap series: the 40. This beastly lure can dig down deeper than the vast majority of other lipped plugs (the 40 denotes a 40-foot running depth), and it has 3X split rings with 4X VMC Perma Steel hooks. Internal holographic foil gives it some flash, and the wiggle these plugs have is phenomenal. The one fly in the ointment is a tremendous amount of drag—hey, you have to expect it from a lipped plug this large—and you'll want to deploy it from a broom-stick of a rod. Price: $22. Visit rapala.com for more info, or visit our FishTalk Magazine YouTube channel and check out the video preview.