Crevalle has always been known for building hybrid bay boats ideal for activities like light tackle jigging for rockfish or casting in the shallows for speckled trout, and naturally, that's consisted of models under the 30-foot mark. But with the 33 CSF they bust right through that barrier — and then some.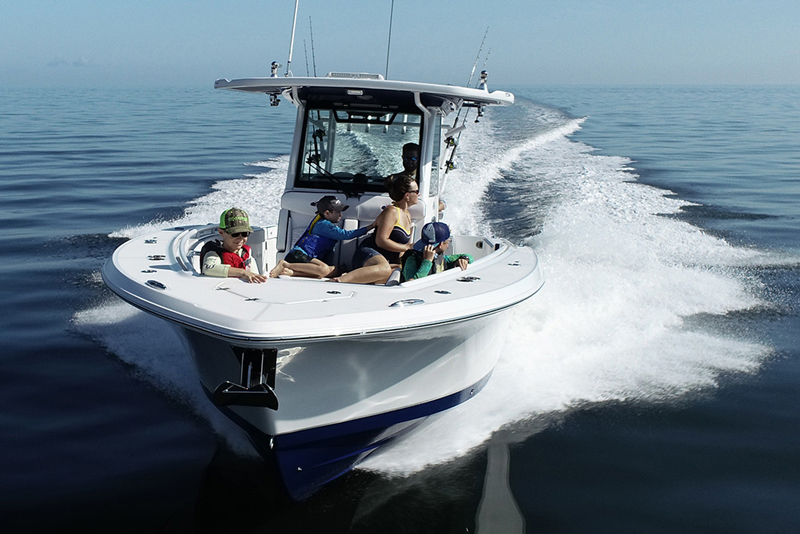 The 33 CSF is, like other Crevalles, a resin infused boat. But the hull and stringers are infused together, so they create one single, solid fiberglass component. That delivers the optimal resin-to-glass ratio, maximizing strength while minimizing weight. Note that the 33 CSF tips the scales at 8800 pounds (excluding motor weight), and it doesn't take a lot of searching to find boats with similar dimensions that weight 15 to 20 percent more. The lighter weight gives the Crevalle a performance edge (more about that later) but just as important, the single-structure infusion process delivers a solid feel underfoot and eliminates worries of bonding failures with age and hard use.
There's a slew of other construction features you can point to that are above par in addition to the resin infusion. Wiring connections are the waterproof Deutsch type, electrical terminals are heat-shrinked, fuel tanks are epoxy-coated, vinyls are Sileather silicon fabric, grab rails and pipework are powder-coated, and gel coat is scribed under the rubrail to prevent crazing.
This list goes on and on, but what impressed us most when we crawled through the 33 CSF at the Annapolis Boat Show was simply looking into the bilge. In fact, a peek down here gives you so much insight into just how this boat is constructed that we felt it necessary to include a picture of it here, rather than showcasing a more glamorous feature. Yeah, we know nobody wants to look at a bilge, but check it out: plumbing and wiring runs are neat and loomed; plumbing is double-clamped; the ends of clamps get a cap so you never cut yourself on the sharp ends; in addition to the bilge pump there's a high-water pump; and all the mechanicals are easily accessed for servicing.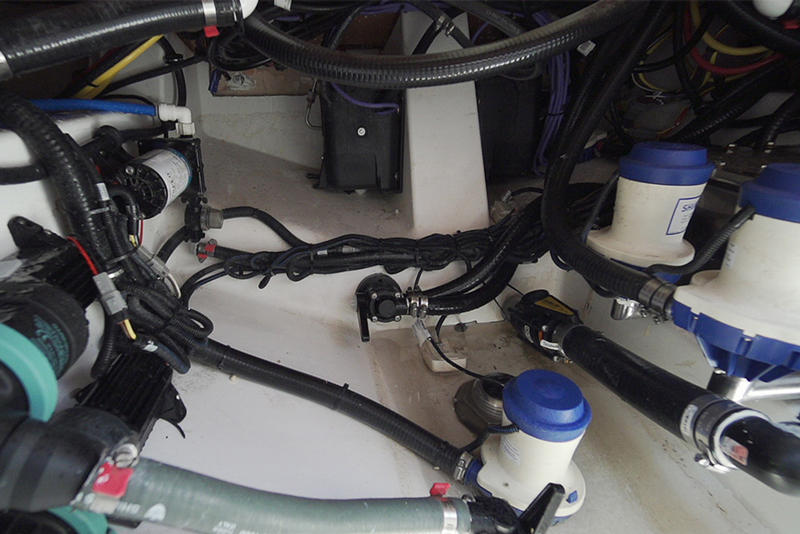 While you're down there you may also notice the beefy bracing on the transom, which can hold twin or triple outboards up to 900 hp, total. Stack on a pair of 400s and top-end will come in at darn close to 60 mph, while a 4500-rpm cruise will get you a hair over 40 mph according to Crevalle's performance reports.
Speeds like that make short work of long runs, and once you get to the fishing grounds you'll appreciate that Crevalle has included just about everything you could want on the standard feature list. In fact, the only angling option you may want to add are the downrigger/electric reel outlets, electric trolling motor, and carbon fiber outriggers. Just about everything else one could come up with is already on the stock boat: three 30-gallon insulated, lighted livewells; underwater lights; 11 rocket launchers on the hard top and supports; 11 flush-mount rodholders; a tackle station; in-deck dedicated five-gallon bucket stowage; rig/knife/pliers holders; twin 70-inch insulated, macerated fishboxes; under-gunwale rodracks; and a raw water washdown. Heck, Crevalle even includes dual 16-inch MFDs in the package, your choice of Garmin or Simrad.
There are also a few non-fishy perks that may be of less concern to die-hard anglers, but we feel compelled to mention nonetheless because they're uber-cool. If you're feeling a bit salty in the hot summer sun, for example, you can simply position yourself under the aft starboard section of the hard top, flip a switch, and enjoy a freshwater rinse from the overhead rain shower. If your phone is about to run out of juice, you can sit it on the Scanstrut wireless phone charger integrated into the helm. And if you've pined for the ease of joystick docking, you'll be glad to know that's a standard feature on the 33 CSF, too.
The bottom line? Crevalle didn't just go big, they went bigger — and better. They didn't just jump over the bar, they moved it up a notch and then sailed right over it. If you're looking for a 30-something center console that's built with the latest tech and then gets outfitted to match it, this is one boat you'll want to check out.
Crevalle 33 CSF Specifications
LOA – 33'2"
Beam – 10'6"
Displacement – 8800 lbs.
Draft (hull) – 1'8"
Transom Deadrise – 20 degrees
Fuel Capacity – 300 gal.
Max Power – 900 HP
Area Dealer – Tradewinds Marina, Middle River, MD, (410) 335-7000.