In Part 1 of The Past, Present, & Future of Striped Bass: A Chesapeake Perspective we were very fortunate to have an expert panel including Bill Goldsborough, Jim Uphoff, and Marty Gary join us to share their experience and perspective about striped bass history.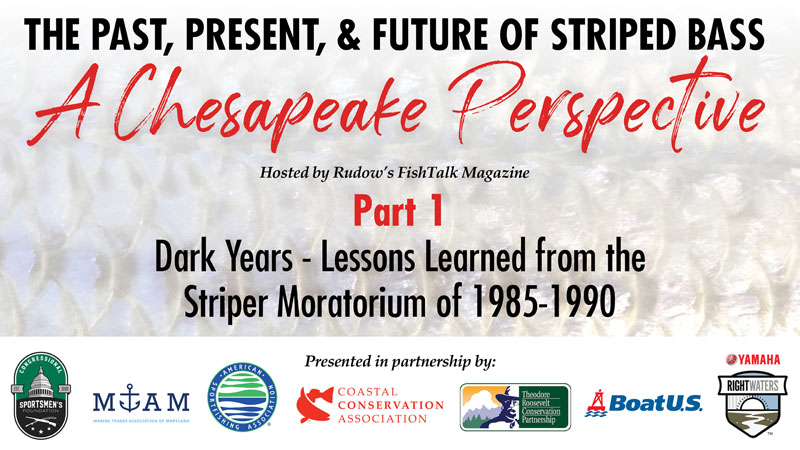 Together they have more than a century's worth of experience studying, helping create policy management, and conserving many of the Chesapeake's key fisheries, including stripers. They were on the frontlines when the striper stocks plummeted in the early 1980s–forcing Moratorium (1985-1990)–and were part of the effort to rebuild the population. Each brings their unique perspective to share with us, and we're excited to hear from them. 
---
Learn about the guests on Part 1 -The Dark Years - Lessons Learned from The Striped Bass Moratorium 1985 - 1990.
Bill Goldsborough
Bill spent his entire 37-year career with Chesapeake Bay Foundation, and much of that time served as the Foundation's Fisheries Program Director responsible for advancing the Foundation's legislative and regulatory initiatives at the state, regional and federal levels. 
A tireless advocate for the Bay's fishery resources, Bill helped advance efforts to restore and maintain sustainable fisheries and a healthy estuarine ecosystem. In the early years of his career, he was at the meetings when the big decisions were being hashed out. During his career Bill served for more than a dozen years on the Atlantic States Marine Fisheries Commission, and chaired several committees including Habitat and Shad/Herring Committees. 
He's an avid angler, having fished all over the Bay as well as in the Florida Keys. Now retired, he currently lives in Florida, but maintains strong ties to the Chesapeake region and returns regularly to visit and fish. 
---
Marty Gary
Born and raised in Baltimore, Marty received his Bachelor's of Science in Fisheries Ecology from Texas A&M University in College Station, TX. He began working for Maryland's DNR Tidewater Fisheries just as the moratorium on Striped Bass was implemented in 1985. He spent 27 years working for MD DNR in a variety of roles as a fisheries biologist. In July 2013, he became the Executive Director of the Potomac River Fisheries Commission (PRFC), only the third person to run the agency since it was created in 1963. 
He currently serves in leadership positions on multiple Chesapeake and Mid-Atlantic fisheries teams, including President Elect of the American Fisheries Society Tidewater Chapter and as Co-Chair of Chesapeake Bay Program Sustainable Fisheries Goal Implementation Team. He is also the Chairman of the Atlantic Striped Bass Board for the Atlantic States Marine Fisheries Commission. 
In his free time he enjoys fishing with family and his son Ryan who is also a fisheries biologist. He still is an active SCUBA diver, river snorkeler, and gathering with family and good friends and fishermen over a pint. He currently lives in Catonsville, MD.
---
Jim Uphoff
Also a native Marylander, Jim started with Maryland Department of Natural Resources nearly fifty years ago as a summer assistant. Five years later in 1978–after earning a B.S. at the University of Maryland, College Park in 1976–he was hired full-time as a fishery biologist with the State agency. During his 44-year career with DNR, he has sampled and analyzed almost everything that swims in Chesapeake Bay…and a few things that don't.  
He has spent most of his career doing commendable research on rockfish. Currently, he is the Fish Habitat and Ecosystem Assessment Program Chief for DNR's Fishing & Boating Service, working out of the Agency's Cooperative Oxford Lab. 
Jim is also an avid angler, with stripers are among his favorite fish, along with largemouth bass, chain pickerel, crappie, white perch, hickory shad, and bluegill. He has lived on the mid-Shore since 1991 and helped raise three daughters who have scattered across America and have successful lives. He became a grandad last year.