Presented by Fish & Hunt Maryland
---
What invasive species of fish has rapidly expanded its territory in Maryland waterways, reproduced in epic numbers, has zero regulatory restrictions, attacks lures like a samurai, and tastes great? Yes folks, we're talking about the northern snakehead. Thanks to all of those factors plus the fact that they can be easily targeted from land, kayaks, and boats with shallow-water capabilities, the popularity of fishing for snakeheads has been exploding.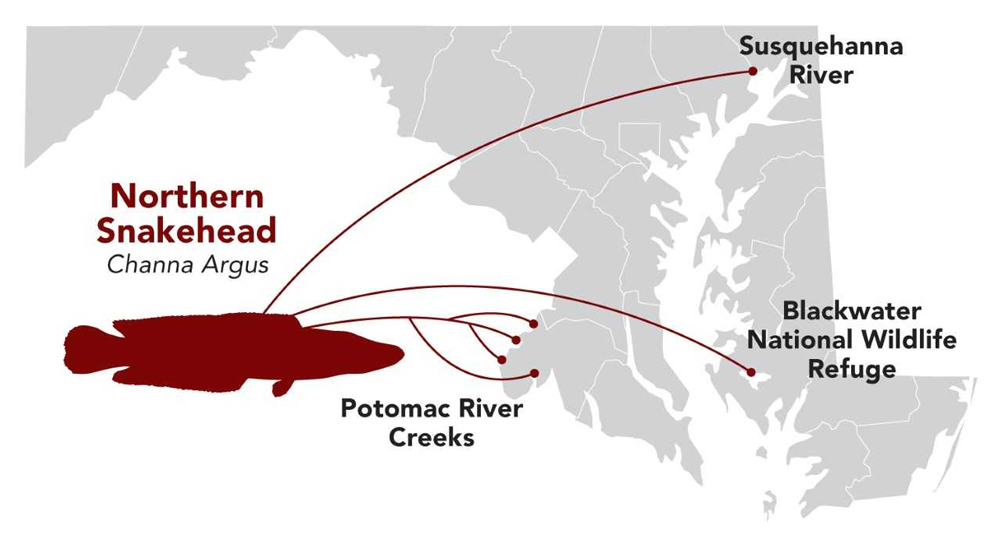 ---
Enemy of the State
As an invasive species, the authorities don't think kindly of snakes. They've always encouraged anglers to catch and keep 'em, and even added them to the short list of fish you can legally hunt by bow-fishing. If you haven't tried this method yet, trust us, it's a hoot. You stand on the bowdeck of a shallow-draft boat after dark, bow drawn, as lights illuminate the water and the boat creeps along. When a snake gets spotted you let the arrow fly, and if your hit your mark, chaos breaks loose as you "reel" the rudely awakened fish in.
Yes, this does require a boat with some special rigging, which is why many people will want to try it with a guide or at least a well-equipped friend before attempting it on their own. That said, hunting snakes with a bow in daylight is also do-able, if slightly less effective. In fact, this method has become quite popular particularly in the creeks of the Potomac (more on them later).
Snakeheads are also quite susceptible to standard-issue angling gear, including surface lures like plastic frogs and topwater. Prowling the shallows watching for fry-balls – schools of baby snakeheads, which the parents guard – and casting to them is highly effective. Also effective is tossing out a fat bull minnow, lip-hooked to a dart.
Snakeheads attack violently, and fight dirty. As a general rule of thumb the same tackle and tactics you might use to target largemouth bass often apply. But you may want to up-size your gear to make up for their below-the-belt tactics. Snakes will run into grass and weeds and often snarl the line with vegetation, adding a ton of weight and water resistance to their own heft. Heavy lines and stiff rods are often helpful in quickly yanking them out of the aquatic forest before they can foul the line. Be sure to check out "Fishing For Snakeheads: A New Look," to get more tips on how to target them with rod and reel.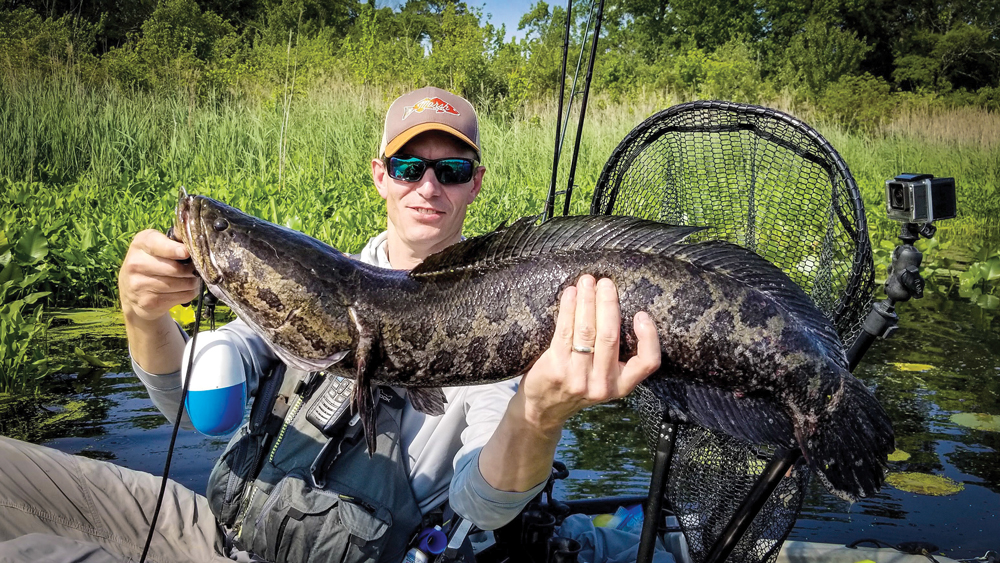 ---
Free State Free-For-All
If you've decided it's time to set aside the same-old, same-old and engage in some Maryland-style angling mayhem, now that the snakes have expanded their range you have a number of different areas to choose from. We're going to break down the top three: The creeks of the Potomac, the Blackwater River system, and the far reaches of the Upper Bay and lower Susquehanna.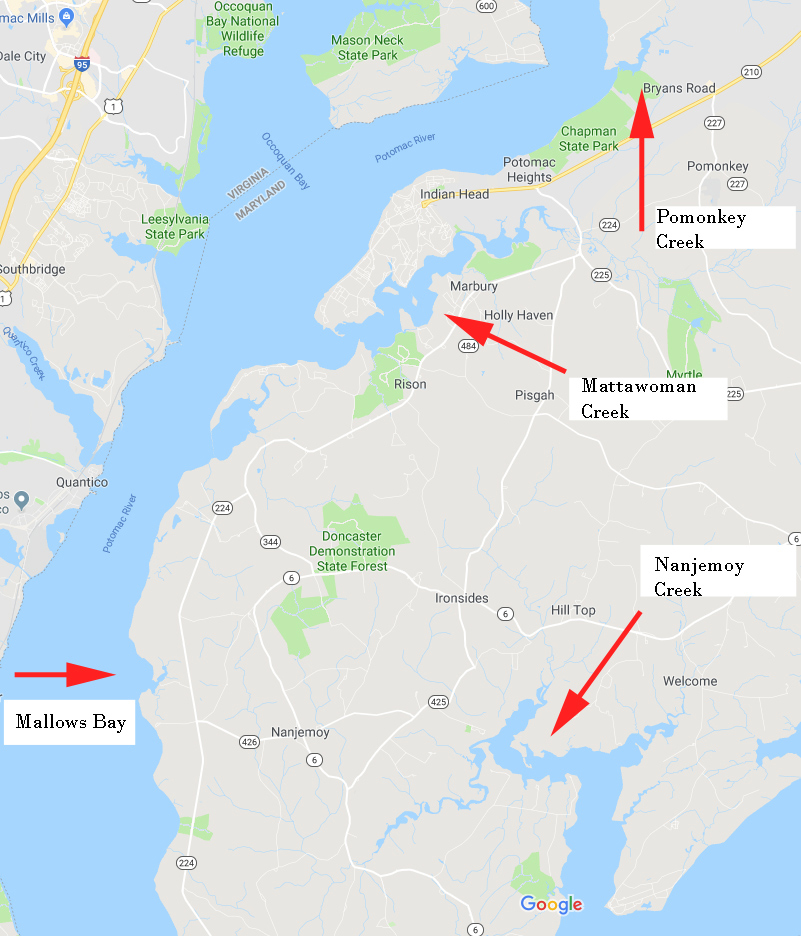 ---
Creeks of the Potomac: Pomonkey, Mattawoman, Mallows Bay, and Nanjemoy
Just south of the nation's capitol and east of Waldorf and La Plata, MD, the creeks of the Potomac River were some of the first snakehead hotspots to make headlines. To many people they represent ground-zero for this fishery. This is also one of the few bodies of water which has been studied by the Maryland DNR (in a cooperative effort with the U.S. Fish and Wildlife service, plus Virginia and D.C. agencies) for snakeheads in specific, with an electro-shocking and tagging study performed from 2009 through 2012. You can find the detailed report at the U.S. Fish and Wildlife Service's website, but a survey of the results expose a few interesting trends.
First and foremost, snakes grow fast and multiply rapidly in the Potomac. One fish was a mere 8.3 inches when tagged, and upon its recapture a year and a half later, measured 26.9 inches. The first year of the study their (standardized survey) efforts produced 442 snakes for tagging, but just two years later almost double that number – 827 – were zapped to the surface. The study also showed that these fish move around a bit more than one would expect. Very large numbers of snakeheads were encountered at Chain Bridge, way up the river, in the spring and up until mid-June. But beyond this point in time, snakeheads disappeared from the area. The report theorizes that the snakehead may be following the migration of prey species up the river, or they could be responding to seasonal increased waterflow. But whatever the reason, the lesson here is that a spot which is loaded with fish in May could be more or less devoid of them in August, and vise-versa.
Pomonkey Creek – Pomonkey is small, but loaded with snakes. It's more remote nature and the lack of a ramp on the creek may account for less angling pressure and thus higher snakehead numbers. Look for the thickly-vegetated areas of the small feeder-arms and the creek's headwaters.
Mattawoman Creek – This creek is perhaps the best single body of water known for snakeheads and is extremely popular. Both anglers and bowfishermen say that as a result, the fish's numbers are down from what they once were here. However, since they've been established in Mattawoman for so long, this is also where true lunkers are found. The proof: just last spring a new Maryland state record was set here by bow fishermen Andy Fox, when he skewered a 19.9 pound, 35 incher.
Nanjemoy Creek – Nanjemoy didn't have much of a snakehead population early on, but it's been growing rapidly in recent years. Head up-creek from the ramp at Friendship Landing (to the right), go past the second sharp bend, and probe the mouths of the numerous feeder-creeks cutting through the marsh.
Mallows Bay – Mallows Bay is another popular area with good access, a boat ramp, and protected waters. Like Mattawoman it gets a lot of pressure, but is known for large fish. Added bonus: while there you can check out the ship graveyard, where the remains of over 200 wood ships can be found.
---
The Blackwater River System
The Blackwater River and its tributaries just south of Cambridge, MD, seem to offer countless snake-heading opportunities – because they do. Once the snakes got here they expanded their range with magnificent efficiency, possibly because these endless shallow, weedy waterways have always been more or less devoid of finfish apex predators. Snakeheads are, naturally, quite happy to fill that void.
The entire area is so riddled with snakeheads that they can even be found in roadside canals and drainage ditches. Any area which has six inches of water, weed growth, and is connected to the larger waterways, holds potential. Some anglers fishing such spots have reported catching a dozen or more snakes – while standing in a single place.
Consider getting a bucket of bull minnow if you plan to head into this area. Possibly because the minnow are so prevalent throughout the creeks and cuts of the Blackwater, snakeheads can seem hyper-focused on them here. Anglers have also reported that using bull minnow in the Blackwater complex, it's possible to catch snakeheads during every month of the year (though spring is still prime-time, followed by summer).
---
The Upper Chesapeake/Lower Susquehanna
When anglers think about Havre de Grace, Perryville, and North East, MD, they likely picture catching stripers on the flats, yellow perch in the holes, and catfish in the channels. Today, you can add snakeheads to that list. This is the newest of the hot snake-zones, with the first verified report going back about seven years, the species being encountered with some regularity a few years ago, and now present in numbers large enough to target them with consistent success.
The first snakeheads in the area were caught in the same waters those trophy stripers frequent, on the shallows of the flats. They showed up about the same time in the North East River, and although they've popped up from the Sassafras to the base of the Conowingo dam (nearby Octorara Creek is rumored to be a hotspot), the flats and the North East remain two of the best places to find them. Generally speaking, as in the other snakehead-rich waters the best places to fish or hunt for them are in shallow areas with thick weed growth.
Are we going to celebrate the fact that yet another invasive species has found its way into our waters? Heck no. Would we hope it happens again? Of course not. But as with other invasives like the blue catfish, flatheads, and even the vaunted largemouth bass (first introduced to Maryland in the mid-1800s), snakeheads are here to stay. So we say it's time to visit one of these three snakehead-rich waterways, and get in on the action.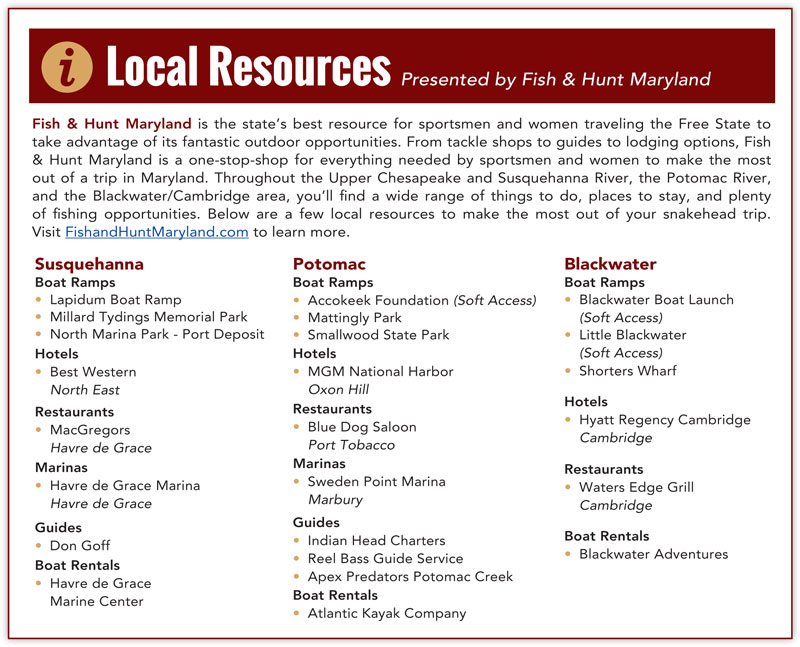 Sign up here to get the weekly FishTalk Chesapeake Bay and Mid-Atlantic fishing reports in your email inbox, every Friday by noon.