You're looking for a freshwater fishing spot on the DelMarVa Peninsula that's protected from gusty winds, has easy to access with small boats or from shore, and is open to the public? You want to go home with a cooler full of crappie, perch, and pickerel? Or, maybe you just want to catch largemouth bass for the thrill? Sounds like it's time for you to go pond-hopping.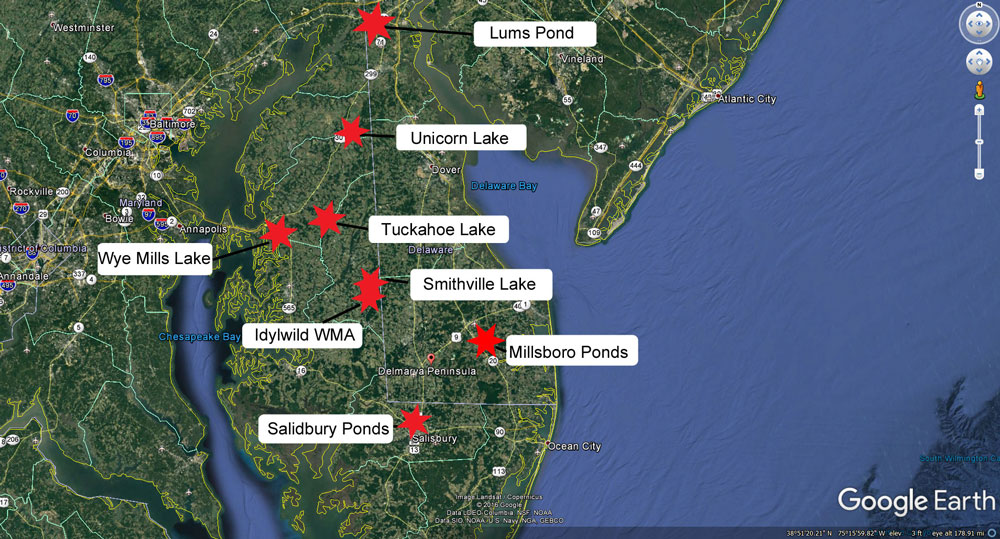 There are millponds scattered across the eastern shore, and most of them hold decent numbers of fish. They're small and often you can fish the entire pond in a matter of hours, but these ponds are also within short drives of each other. So whether you walk the shoreline or launch a jon boat or kayak you can fish through one, pull up stakes, and then head for another and then another. All of the ones mentioned here have public access and are protected enough for canoes and kayaks. Let's start up north, and work our way south.
DelMarVa Freshwater Fishing Hotspots
LUMS POND
In Bear, Delaware, Lums Pond is the largest freshwater pond in Delaware. Anglers who don't have boats will be happy to know that in addition to shoreline fishing, canoe and kayak rentals are available (call 302/368-6989 for details). Lums is best known for bass, and despite being highly pressured, does hold a good number of big largemouth. Thanks to all the traffic here they're spooky, though, so you need to be in stealth mode to catch 'em. Also note that the water here is often rather muddy or tannic. As a result dark color lures like root-beer and reds or purples commonly do better than whites or chartreuse. Make sure to try the channel along the north shoreline, which drops all the way down to eight or nine feet in some spots.
UNICORN LAKE
Near Millington Maryland, off Rt. 313 a few miles north of the 301/544 junction, Unicorn Lake is quite shallow. On top of that the ramp here is extremely steep and narrow. Kayaks, canoes, and small car-toppers will work best here. Pickerel, crappie, bass and yellow perch can all be caught in Unicorn but pickerel fishing here can be insanely good, often over the mid-lake weedbeds. You'll find bass hanging around the deeper water near the dam and around the channel edges. Work your way up-lake to the point on your right, and the hole just above that point is often full of crappie. This is also where you'll pick up a few perch. Hit this lake with live bull minnow or shiners, or cast small Beetle Spins, two-inch twister tails, or marabou jigs.
TUCKAHOE
The pond in this state park, about a half-hour drive time from Unicorn, is also quite small. But the ramp here is excellent, and will make launching any craft a breeze. Most of the lake is three feet deep, with the deeper water found under the bridge near the parking lot, running along the shoreline closest to the lot and ramp, and up to the stream that feeds the lake. You can poke up into that stream with a kayak or canoe, casting as you go. Shoreline anglers can hit a fair amount of turf here, too, though bank fishing is limited by the areas that aren't covered with brush and overhangs. You'll encounter plenty of crappie, bass, and pickerel here. Pay close attention to the stumps and fallen trees collected in the small pocket of open water half way between the ramp and the stream; put minnow suspended under bobbers near this timber, and you can make catches of a dozen crappie in the one spot if you're lucky. Working along the weedline on both shores is also effective. Make sure you fish right under the small bridge back at the lot, too. Crappie will hang out near the bridge supports, and bass like to hunt on the corners of the cement walls on either side.
WYE MILLS POND
On Rt. 662, within a mile or so of the Rt. 404/Rt. 50 junction, Wye Mills also has a good ramp but you'll have a tough back-up job heading uphill and around a curve, to get the trailer wet. And there's not much of a drop-off, so your boat must be light enough to shove off the trailer manually. Once you're out on the water you'll discover that bass and crappie are the name of the game, and a few yellow perch may be mixed in. The lake has more surface area than the others that are near-by, maybe 35 or 40 acres. It also has more depth, with an average of four or five feet but eight feet in the channel running from the bowl-shaped part of the lake you launch in, to the open back section. Fallen trees line this channel, and you'll pull nice largemouth from them. Crappie can be caught here with one of two methods. Either pull your boat right up into the trees overhanging the shore and dip minnow in right next to the wood—crappie here don't seem to want to move one inch away from the cover—or fish the edges of the weedbeds in the back section of the lake. Casting a minnow under a bobber and drifting it along the edges is often productive. Bank anglers are somewhat limited here, as there's private property along much of the shore, but casting right around the spillway is effective at times.
SMITHVILLE LAKE
To the east on 404, then down Noble Rd, is another pond best accessed with a small boat or kayak, Smithville Lake. From the ramp, look to the far shoreline and to the left and you'll see several trees hanging over the shoreline and laying in the water; cast spinnerbaits near them to score bass. Pay special attention to the small point that sticks out into the lake along this shoreline and cast minnow or Beetle Spins to it for crappie. Pickerel can be found farther up near the dam, and in this area, try drifting across the middle of the pond with a minnow suspended under a bobber for both pickerel and crappie. For some reason most of the crappie seem smaller here than in the other near-by ponds, but that's not true of the bass and pickerel.
IDYLWILD
Right along the Maryland/Delaware boarder near Federalsburg, this park is a stone's throw from Smithville and is a shoreline angler's dream. The wildlife management area has numerous ponds which are accessible only on foot, unless you want to carry or wheel in a canoe or kayak. Parts of the Marshyhope River are accessible here, too, but the ponds are riddled—and we do mean riddled—with pickerel. Crappie and bass are also in all these ponds. There are some ponds within a five-minute walk of the parking areas just off noble Road, but the farther you walk the better the fishing is going to be, as the ponds deep in the woods get less pressure. Take a peek at it on Google Earth, and plan your hike in accordingly.
MILLSBORO
This town has several fishable ponds, starting with Millsboro Pond itself. There's a small ramp so launching is easy but since most of the surrounding shoreline is private property, walk-ins are limited to the launch area off Gravel Hill Road. This is a relatively shallow lake filled with fallen trees and stumps, with decent bass and pickerel fishing. There are also crappie in attendance, but most are on the small side. Betts pond, literally right next to Millsboro, is smaller but has a reputation for better fishing… and is surrounded by private property. Just another short jump across Goodwin School Rd, however, is Ingrams Pond, which has an excellent launch facility and land access. Bass is the dominant species, along with some pickerel and crappie. Be sure to probe to the head of the pond, where the streambed channel splits and creates some deeper water brushing up against the shoreline.
SALISBURY MILLPONDS
Farther to the south, the millponds here include Leonard's, Johnson's, and Schumaker ponds. All of these ponds are located right in Salisbury, within a few minute's drive of each other. All of them have good numbers of bass, pickerel and crappie, and sometimes you'll encounter yellow perch as well, but big fat crappie are the highlight. These ponds also have houses along the shorelines and some have docks—be sure to cast by the pilings. One of the best ways to fish the Salisbury ponds for crappie, especially in the early spring, is to simply cast a bobber with two feet of line and a chartreuse, yellow, or white 1/16-oz. marabou jig with a small minnow on the hook, out into open water. Let it drift about in the middle of nowhere, and you'll be surprised at how often it gets hit.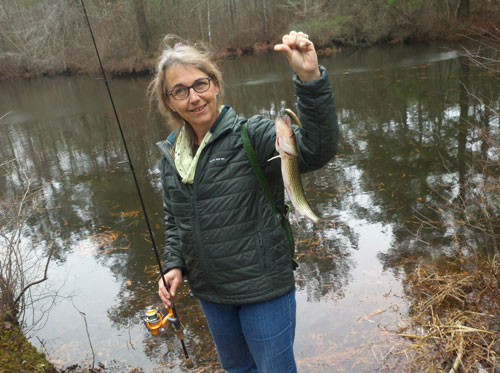 So—are you ready to enjoy some millpond madness? The next time you're not sure where to go freshwater fishing, try checking out the DelMarVa millponds. You can hit one after the next after the next, and enjoy diverse scenery and diverse freshwater fisheries—all in the same day.
Sign up here to get the weekly FishTalk Chesapeake Bay and Mid-Atlantic fishing reports in your email inbox, every Friday by noon.