If you want an inexpensive little boat you have plenty to choose from (be sure to check out 10 Top Center Console Fishing Boats Under $20,000, to check out a few), but the Edgewater 170 CC is not among them. This boat, instead, is intended for those who want a small fishing machine that's built rock-solid with top-notch quality. Far too many builders focus on price-point when it comes to center consoles under 20 feet, but this is one 17-footer that's built with quality in mind. See what we're talking about, in this short boat review video:
Wait a sec – this isn't a very new model, so why are we digging into the 170CC in the first place? Try Googling "Edgewater 170CC review." You'll find no in-depth reviews of this boat, and you'll learn virtually nothing about it. Bigger models get all the headlines. But when we were walking the docks at the Bay Bridge show the 170CC was the model that stopped us in our tracks – because despite its small size it utterly reeked of quality.
The first thing you'll notice about it is the over-sized pipework of the Bimini. Most on boats of this nature are rather flimsy, but these pipes are thick and stout. Then glance at the swing-back cooler seat. It's not one of those prefab roto-molded plastic units you see all the time, which the builder can buy for a few hundred bucks and bolt into place. Instead the 170CC has a custom-built seat with a beefy stainless-steel frame and a locking mechanism, so when you swing it in one direction or the other, it stays put. Now bang your fist against the console grab rail. Does it move and vibrate like most would? Heck no – it's solid as the proverbial rock.
It's when you take an even closer look, however, that you spot details which expose just how thoroughly well-built this boat is. Open up the forward casting deck locker, for example. The hatch is a closed-mold infused piece, which means it's as light but as strong as possible, and is fully-finished on both sides. Same goes for the entire boat, which is not only infused but is infused with vinylester resin, which is less water-permeable than common (and cheaper) polyester resin. And the hull and its stringer grid are infused at the same time, so they bond together into one single solid structure.
This type of construction process is about as good as it gets in the production boat world, except in one regard: price. Depending on how it's rigged you're likely to pay in the neighborhood of $40,000 plus or minus for a 1700CC, which is pretty steep for a boat of this size. Remember, the key word to keep in mind here is quality, and as is usually the case, you get what you pay for.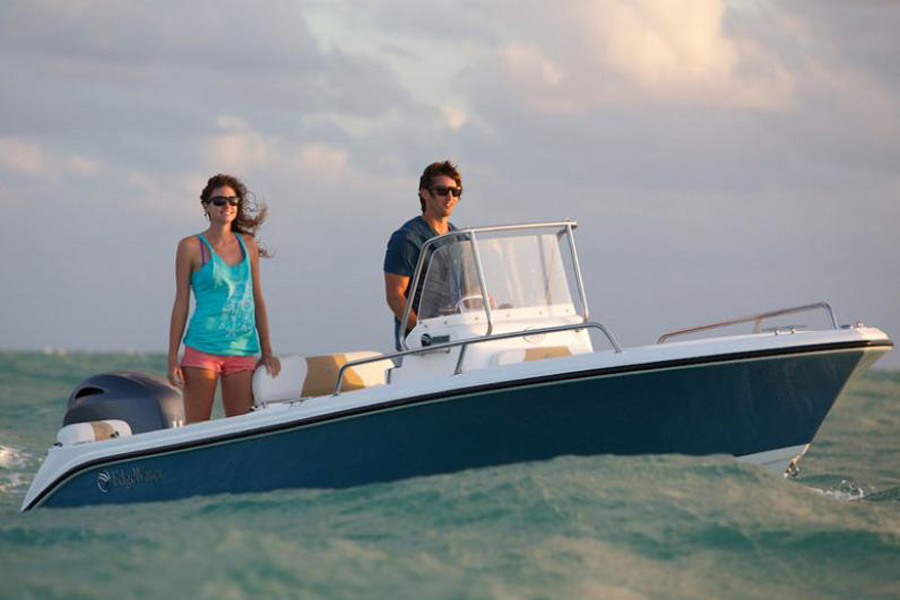 Another example can be found in the seat cushion upholstery. On most small boats (certainly those with the mass-produced swing-back seats) you'll find 24- or 28-ounce vinyl that looks good at first, but weathers rather quickly and is prone to mildew staining. But the cushions on the 170CC are made with top-shelf 34-ounce vinyls which are treated with anti-microbials to ward off mildew and mold.
As far as fishability goes, there's not a ton of stuff to talk about. As one might expect with a boat this small the options are rather limited; the fishing package offered with the 170CC includes a 17-gallon livewell, a raw water washdown, an extra pair of gunwale flush-mount rodholders, console rodracks, and a (small) tacklebox in the stern. In our humble opinion, you'd be nuts to get the boat without these goodies installed.
Anglers looking for a starter boat (read: inexpensive) will not be best served by the Edgewater 170CC. And capable though this boat may be, folks who want to fish the open Bay when the wind is kicking really should look for a larger platform. But if you want a small center console that's built like a top-notch sportfishing machine, the 170CC belongs on your short-list.
Quick Facts:
LOA – 16'10"
Beam – 7'3"
Displacement – 1700 lbs.
Draft (hull) – 1'0"
Transom Deadrise – NA
Fuel Capacity – 30 gal.
Area Dealers – Annapolis Yacht Sales, Annapolis, MD (410) 267-8181.