The thermometer on the truck said it was literally one degree, when we stepped out onto the parking lot at Lake Marburg to try some ice fishing. Could there be a better way to test a pair of cold-weather fishing gloves, like the Fish Monkey Tundra Mitten Glove? We think not. And we even captured the experience on film, to prove it.
After spending the entire day ice fishing (hey, it did get up to a balmy 21-degrees in the afternoon), just in case the point didn't get across, we did think these might be the best pair of ice fishing gloves we've ever used.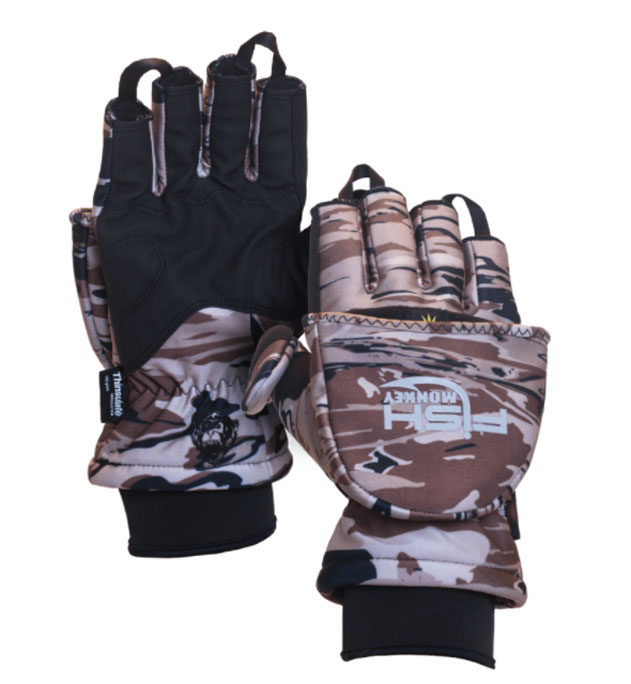 The fold-back mittens give you access to your fingertips, for chores like baiting hooks and setting tip-ups. When you need even more dexterity to tie a knot, you can also fold back the thumb-mitt. There's a dedicated pocket for your hand-warmers in the top of the mitt section, and easy-pull finger-straps facilitate quick removal. On the inside they feel great, thanks to a lining of Polar Fleece. The exterior is waterproof, and rugged enough that we didn't puncture it while baiting and un-baiting tip-ups and jigs several dozen times. Neoprene cuffs to seal the cold out. Construction-wise, we have no beefs.
Where we do have one minor beef is in the way the mitts secure open, which is with snaps. There's an up-side to snaps in that they may last longer than the alternative (which is commonly Velcro pads). But they are a bit harder to manipulate, and while we found it possible to snap them in place, we might be willing to trade the longevity for easier operation; it's a judgement call.
One other potential gripe: these glove-mitts are pricey, at $69.95 Then again, for icy-cold weather fishing they really do beat anything we've ever tried before. Period. Visit Fish Monkey Gloves to learn more.