Epic angling awaits fishermen heading down Route 50, which you could follow into Maryland all the way from Sacramento, CA, if you so desire. Stop number one is Annapolis, then it's on to the Choptank River in Cambridge, and finally we'll reach Ocean City, MD. Ready for a rowdy road trip? Let's hit it!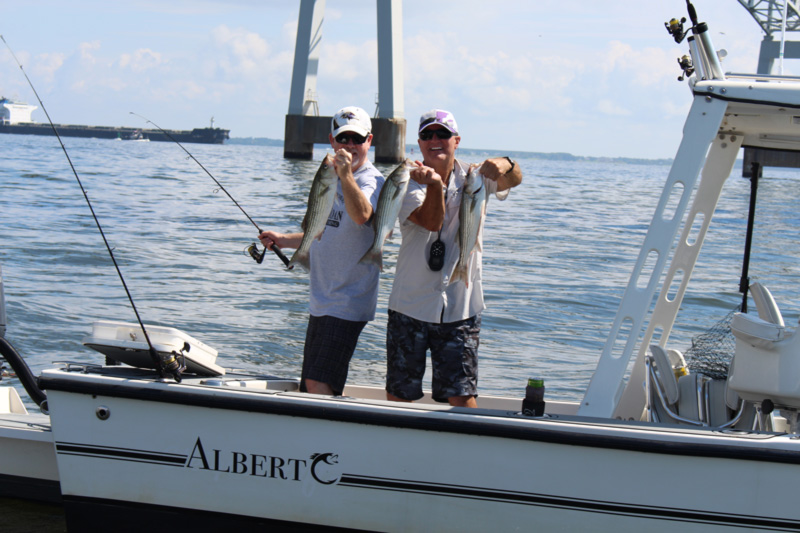 Annapolis, MD
By Land – Considering that some call it a "city" (we say it's more like a town), Annapolis and the surrounding areas have some very good opportunities for shoreline and pier anglers. Jonas Green State Park and Fishing Pier, sitting in the shadow of the Naval Academy Bridge, is an excellent starting point. This is the remnants of the old route 450 bridge, a portion of which was left standing purely to enhance local fishing opportunities. There are restrooms on-site, and this spot has been declared a license-free fishing area. Fishing from this pier you'll catch plenty of white perch, catfish, and during the summer months spot or croaker as well, and you even have a shot at hooking into a rockfish. Bloodworms, grass shrimp, and minnow are all good baits to try for mixed species here; cast out cut fish or chicken livers if catfish are specifically on the menu. Fishing Tip: Don't forget that you can also fish the shoreline. Often, solid catches are made by anglers casting out under the pier as opposed to fishing from atop it.
A great option for freshwater anglers will be Waterworks Park, which a century ago provided Annapolis with its drinking water. Today it's a recreation area (note that permits are required and are available at the Pip Moyer Recreation Center, on site). Since it's catch-and-release fishing only, the bass action here can be rather spectacular. Fishing Tip: Spinnerbaits and four-inch paddletail swimbaits will get largemouth on the line.
Despite the fantastic angling opportunities these places provide, the king of all shoreline fishing spots in the Annapolis area is unquestionably Sandy Point State Park. Located just across Route 50 off exit 32 less than 10 miles from downtown Annapolis, Sandy Point offers access to the open Chesapeake with dedicated fishing areas including shoreline, jetties, and a pier in Mezick Pond (by the boat ramps). Particularly in the spring and fall anglers can catch rockfish casting into the Bay, and perch and catfish in the pond. In fact, trophy-sized stripers get caught from Sandy Point every year. Fishing Crabbing Tip: The pier in Mezick Pond is also a great place to go chicken-necking for crabs. Just tie a chicken neck to a piece of string long enough to reach bottom, wait for a feisty crab to latch on, pull it in slowly, and then scoop 'em up.
By Sea – Bring a boat to Annapolis and all of the Severn River — actually, all of the Chesapeake Bay — is within reach. Launch facilities inside the river can be found at Truxton Park, but again we have to call out Sandy Point as the main attraction. With 22 boat ramps, six piers, all the facilities you'll need (there's even a marina store with bait and tackle), and the monster fish-attracting structure that is the Bay Bridge just moments away, tens of thousands of anglers begin and end their day of fishing here every season. Plus, you don't actually need to haul a boat to Sandy Point to get out on the Bay because they even offer boat rentals (in season, subject to weather). Fishing Tip: While the bridge gets the most attention from area anglers, don't neglect the mouth of the Severn and Whitehall Bay. Quite often the ledges and drop-offs hold rockfish and plenty of panfish, and the past few seasons Spanish mackerel have been common just outside the river during the summer.
By the Way – Be sure to make time for a stroll through the Annapolis historic district. It dates back to 1695 and is rich with history to say the least; the locals like to call it a "museum without walls." It's also home to a wide variety of shops and restaurants, the Annapolis Maritime Museum in Eastport (be sure to say hi to their resident catfish Kate!), and several art galleries, all within walking distance.
Travel Tips
There's no shortage of hotels, B & Bs, restaurants, and amenities in Annapolis. But be sure to try the local crab cakes, because many people would call it criminal to spend time here without giving them a shot.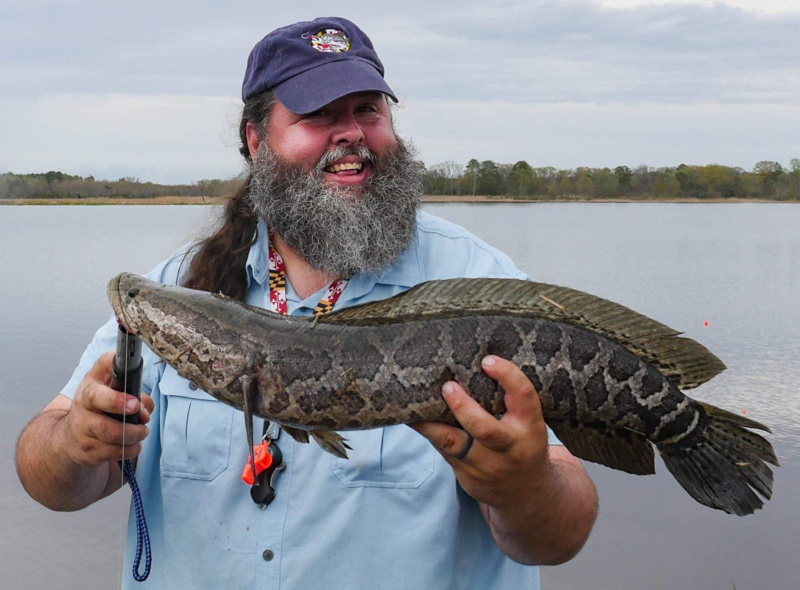 Cambridge, MD
By Land – Pull out of Annapolis, head east on Route 50, and in just over an hour you'll reach Cambridge. This is the location of one of Maryland's largest fishing piers, the Bill Burton Choptank River Fishing Pier. This retired bridge used to be a critical link in Route 50 itself. Today, however, it's about 1.5 miles of angling territory. You can walk out on either the Dorchester or Talbot County side (there's a gap between the two) and cast for virtually every species caught in the Middle Chesapeake. Bottom fishing is usually the most productive method here, and often results in nice catches of perch, spot, and catfish plus a striper now and again. And while the bridge is too high off the water to scoop crabs, you can drop pull-traps to the bottom and catch plenty of them. Fishing Tip: Bring two rods, and after catching a spot in the four- to six-inch range put it on an 8/0 circle hook rigged to your heavier rod and toss it right back into the water — that's your best bet for picking up keeper-sized stripers from the bridge. Plus, note that there are reef balls off the end of the pier that attract plenty of predators. Double-Tip: Try dropping a line straight down and fishing right next to the pilings. While it's tempting to always cast out from the bridge, sometimes the fish will be hiding right by the structure.
Shoreline anglers can also cast into the Choptank from Great Marsh Park and Long Warf Park, both located right in town. Long Wharf Park is another license-free fishing area.
By Sea – Two boat ramps can be found at Great Marsh Park, a small ramp is located off Cambridge Creek on Trenton Street, and there's a larger facility with six ramps and restroom facilities at the end of Franklin Street in Cambridge. All of these put you onto the Choptank River, where stripers abound. An 11-mile run takes you to the Cook Point reef where in the summer you'll find a wide mix of species including black drum, croaker, spot, and flounder. And another four or five miles heading west you'll be in the open Chesapeake. Fishing Tip: Early in the morning and late in the evening try throwing topwater to the points, riprap, and shorelines of the river, and you'll likely be rewarded with explosions from striped bass and on occasion even speckled sea trout.
By the Way – Cambridge has a special Arts & Entertainment District in the historic downtown area, with live music events, antiques, and handcrafted jewelry. There are also a number of special events in Cambridge ranging from a seafood festival to a skipjack race. Go to visitdorchester.org for more information.
Travel Tips
While the "city" of Cambridge is small, it has all the amenities a travelling angler needs ranging from inexpensive hotels to uber-luxurious resorts. Anglers heading this way should also note that Cambridge is the closest jumping-off point with full amenities for accessing the Blackwater National Wildlife Refuge and the epic Blackwater watershed snakehead fishery. It's only about 20 minutes down Route 341, but there are very few services between Cambridge and Blackwater, so make sure you get everything you need before leaving town.
Ocean City
By Land – While Ocean City might be famous for the huge charter fleets of bluewater sportfishing boats, there's a wide range of opportunities for anglers who don't want to step off of dry land. Starting at the north end of town, Northside Park (at 125th Street) offers a shot at panfish, an occasional flounder, and plenty of crabs. There's a public pier at the end of Ninth Street and bulkhead fishing available down to Fourth to Second streets, where there's another license-free fishing zone. All along this stretch can be good for flounder, croaker, and panfish through the warm months of the year plus a shot at tautog in the early spring and late fall. Another top flounder spot is the Route 50 bridge, which has a walkway for anglers extending off the south side. At times bluefish, croaker, striped bass, and other species get caught here as well. Fishing Tip: If you want to catch flounder during low and outgoing tides cast into the channels and fish the deepest waters you can reach. During flood tides, however, try up on the shoals and the edges right next to channels. Often the flatties move shallow as the water gets high.
There's also a privately owned pier, the Oceanic Fishing Pier, jutting out into the inlet. You'll need to pay an entry fee ($10/day), bait and tackle are available on site, and they also offer rod and reel rentals for $10. Note also that the pier is licensed so you don't need your own fishing license to cast from here, and you'll have a shot at any of the species that show up in the inlet: flounder, stripers, bluefish, drum, and more. Or, you can park at the Inlet Park and walk right over to the inlet itself to cast from above the rocks. Although you have to plan on losing some rigs to snags, this is a top choice for targeting fish that prowl along the huge rip-rap boulders, like tautog and sheepshead. Fishing Tip: When fishing close to the rocks try crustacean baits, like crab and sand fleas. Species that feed close to the rocks are often hunting for them.
On top of all these options, there's surf fishing available all along the Maryland beaches. The city of Ocean City itself places some restriction on the activity (you can't fish within 50 yards of anyone between 10 a.m. and 5:30 p.m.) and the beaches are generally quite crowded here, so most anglers head for Assateague Island. There, you have miles and miles of beach to cast from and (if you have an appropriate vehicle) can even get an Over Sand Vehicle permit and drive down the beach to your own personal hotspot. Fishing Tip: While far casts into the ocean are sometimes the ticket to a bent rod, always be sure to try close in right behind the breakers, too. Many species, particularly kingfish and pompano, like to feed in the wash and it's easy to over-cast when fishing for them. See our Surf Fishing How-to Guide if you don't have much experience casting in the suds.
By Sea - Ocean City is a gateway to both inshore and offshore action. Public launches can be found at West Ocean City (just west of the Route 50 bridge; six ramps plus restroom facilities) and up the bay at 64th Street. In the bay most anglers will spend their time either drifting the channels or the Thoroughfare for flounder, or fishing around the inlet for species like rockfish, bluefish, sheepshead, and (during the cooler months of the year) tautog. Many seasons you'll also do well casting around the pilings of the Route 50 and 90 bridges for stripers and blues. Fishing Tip: If undersized fish are constantly nipping off your baits (a common problem in the bay), try jigging with GULP! Swimming Mullet or Jerk Shad. The larger predators will strike them with abandon, and the undersized sea bass and bottom fish will for the most part leave them alone.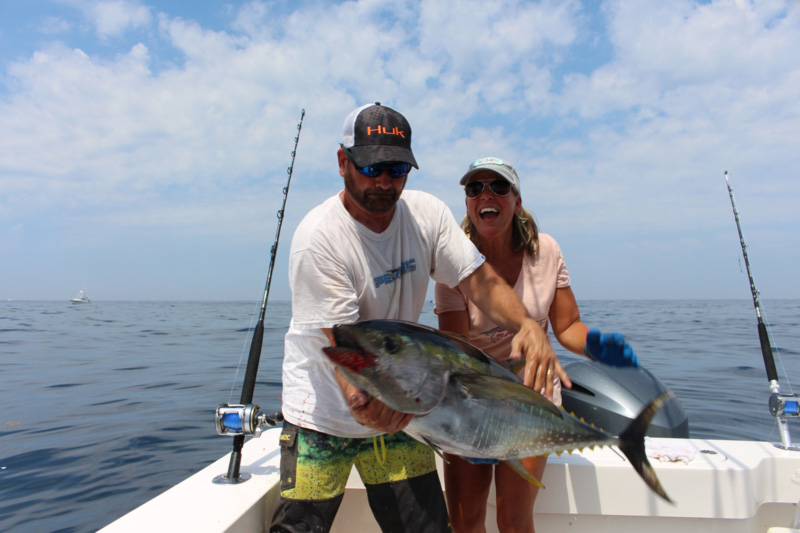 If your boat can handle the ocean, a new world of possibilities opens up. Wreck fishing for the likes of sea bass, tautog, triggerfish, and flounder is excellent at numerous inshore wreck and reef sites anywhere from a mile outside the inlet to 25-plus miles out. And if your boat isn't up to the task it's not a problem, because Ocean City has several party boats, like the Judith M out of Bahia Marina (22th Street) and the Morning Star out of the OC Fishing Center (West Ocean City). These boats allow you to step aboard and fish for a half or full day at very reasonable rates and fishing from them is a great way to learn the ropes. Critical Fishing Tip: If you're fishing from your own boat go to ocreefs.org, join the OC Reef Foundation, and get one of their chartbooks. It will provide you with GPS coordinates for literally hundreds of fishing spots where the Foundation has created reef sites using everything from barges to cinderblocks, and is the number-one way to enjoy immediate success when wreck fishing out of OC.
Anglers with very seaworthy vessels may well want to point the bow east and run for 40, 50, or 60 miles — or more — to fish for pelagics like tuna, marlin, and wahoo. They don't call OC the "White Marlin Capital of the World" for nothing, and at certain times of year the offshore fishing here is absolutely world-class. Success offshore does, of course, take a lot of knowledge, the proper gear, and significant preparation. If you want to do battle with the big oceanic beasts and you're not 100-percent confident in trying it yourself, it's time to book a charter. Fortunately, Ocean City has several large, competent charter fleets. Visit the OC Fishing Center (ocfishing.com), Sunset Marina (ocsunsetmarina.com), Bahia Marina (bahiamarina.com), M. R. Ducks (mrducks.com), or Fisherman's Marina (ocfishermansmarina.com) to see some of the options — like we said there are plenty! Fishing Tip: If you want to take your own boat out to the deep blue, visit FishTalkMag.com and plug "offshore" into the search box. We have a huge number of articles and videos that will help anglers who are new to the offshore scene find success.
By the Way – Ocean City, MD, certainly has no shortage of amenities and hotels. In fact, it's one of the busiest family seaside resorts on the entire East Coast. No matter how diverse the interests of your crew may be, you can bet that whatever type of activities, luxury levels, foods, or entertainment venues they may want will be close at hand in this town. Visit ococean.com for more information.
Travel Tips
Make hotel or campground reservations and book your charters with plenty of lead-time. Most summers the hotels here fill up well in advance and the best charters will have limited dates available. And as you drive down Route 50 be sure to obey the speed limit, as this stretch of the road usually has significant speed enforcement.
Okay: ready to pack up the bags, sort out the gear, and/or hitch up the boat and hit the open road? Head on down Route 50, and whichever of these three ports you visit you'll be in for some truly epic angling.
Fishing Licenses and Regulations
Be sure to check out all the specific fishing rules and regulations before you cast a line; the DNR COMPASS system is where you need to go to get your license. Remember that even at license-free areas, you still need to sign up for the (free) Maryland Saltwater Angler Registration, also on the COMPASS system.
Sign up here to get the weekly FishTalk Chesapeake Bay and Mid-Atlantic fishing reports in your email inbox, every Friday by noon.