Over the years I've used my kayaks to fish on lakes, creeks, rivers, and of course for Chesapeake Bay fishing. I've even fished off the coast of Maryland in the Atlantic Ocean out of a kayak. But not all fisheries have easy access to launch a kayak.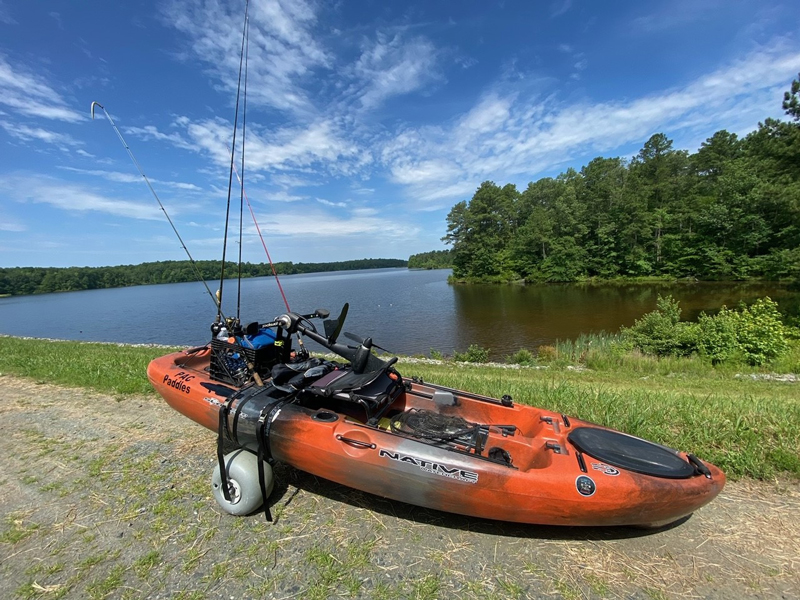 An example of a difficult soft launch that most of us on the Western Shore side of the bay know about is the launch at Beachwood Park in Pasadena, MD. UGH! What a location. The Magothy has some great fishing, but the launch could hardly be less desirable to say the least. It's a football field length to the water from the road, and it's at the bottom of a hill to boot. Going down is easy. You'll see the water off in the distance, feeling your heart pounding in your chest as you anticipate your catch of the day. But after fishing, your heart will be pounding for another reason. Pulling that kayak loaded up with your gear will require some extra effort and stamina, as you work to get back up the hill.
A good pair of wheels make the trek much easier.
Wheels come in various shapes and styles. Well okay, wheels are all round… but they are either made of hard rubber, solid plastic, or they are inflatable. Hard wheels tend to work best on hard terrain like parking lots or hard-packed trails, while inflatable wheels are best for going over sandy or uneven ground. Inflatable wheels also absorb some of the bumps and cushion your kayak as you tow it, while hard wheels transmit all the vibration and bumps. Of course, hard wheels also can't go flat. Your brand of kayak might have a specific wheel platform designed for it that you may wish to use. They might be designed to fit into the kayak's scuppers, on a rail system, or you may opt to use one of the varieties of cart platforms.
So, what style of wheel transportation should you choose? I settled on a good quality kayak cart with inflatable beach wheels. I own more than one style of kayak and a cart can accommodate most different types. And after witnessing fellow kayak friends using hard rubber wheels and seeing them get bogged down on soft ground, sand, and mud, I landed on the beach wheel. But that's me — you may find that your needs are much different than mine.
Some of my friends haul their kayaks in the bed of their trucks and transport it with the fish finder, rod holders, crates etc. already installed. They will then either install the wheels or lower their kayak onto a cart, then off to the ramp or soft launch. I also have friends that car-top their kayaks, lowering them off the top of the car and placing them on the wheels or cart, and then rigging up before heading off to the launch. Some only fish areas with improved launches while others seek out remote areas to hunt their prey. You need to choose the type of transportation depending on which type of kayak angler you are.
-By Eric Packard