Do you think you know the facts about monofilament versus braid fishing line? Fishing is one of those topics where opinion and conjecture are often debated as though they were fact. But accepting such opinion and conjecture as fact can lead to gear failure, lost fish, or a skunk in the box. And if the debate following a flubbed fishing trip becomes heated, it can even lead to barroom brawls. Worse yet, plenty of unscrupulous fishing tackle manufacturers make claims that are just as impossible to debunk as they are to confirm. You've seen the ads: It triggers a genetic response! Rattles produce the ideal frequency to call in fish from afar! Better than live bait! Truth be told, when you want to gather some cold hard data on the characteristics of fishing tackle, you're often best off doing it yourself.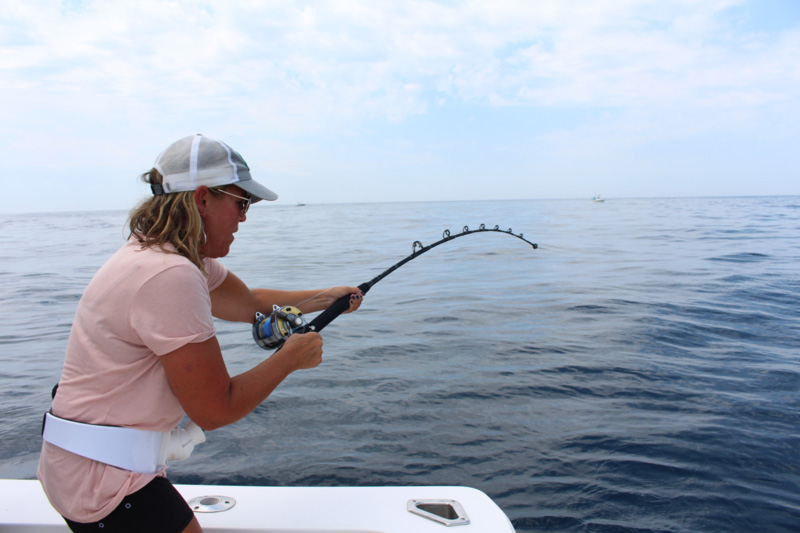 Fishing lines are a perfect example of critical fishing gear that's marketed with a lot of suspect verbiage. If I see "the most sensitive, longest-casting, most abrasion-resistant line" stamped on a spool one more time, I'll be tempted to switch back to monel purely out of spite.
For years my BS detector went off whenever someone mentioned how monofilament was more abrasion-resistant than braid, yet no one on the face of the planet seemed to know exactly how much more abrasion-resistant it was, or how said resistance might vary between different brands and sizes. That particular issue led to an afternoon experiment rubbing dozens of different lines against a rusty old grappling anchor, and then measuring the breaking strength of each to assign some cold, hard, factual numbers to the claims. You can look up the procedure we used and see the results in Best Fishing Line: Monofilament Versus Braid. And you'll also see a short section in that article addressing the characteristics of each type of line, including stretch.
After rediscovering this article a short while back, I realized that I had unwittingly accepted some other claims made by the line-makers, specifically about stretch. Any seasoned angler knows darn well from experience that mono does in fact stretch a heck of a lot more than braid. But… just how much more? Do lower test lines stretch more than higher tests? By how much? And, just what effect might this have on fishing, in the real world?
Lest you think such information can be found on Google, dear reader, think again. I tried sorting through many pages of the 1,330,000 results that popped up when I tried, and mostly found claims made by line manufacturers (monofilament stretches up to 25 percent more than braid) or guesses and assertions made by learned anglers like Ultimatebasskiller3699, someone whom I don't think I want to debate in a dark barroom. One seemingly unbiased testing-based comparison did show up, but it was between different monofilaments and only tested 12-foot lengths of eight-pound test. Thus, an experiment was born.
Fishing Line Testing,1. 2. 3.
To perform a sort of science-ish experiment, we used two light-tackle rigs and two heavier trolling-sized setups. One of the light rigs was spooled up with 15-pound Power Pro braid, and the other with 14-pound Berkley Triline XT (which doesn't come in 15-pound test). The heavier rigs had Power Pro and Triline in 30-pound tests. We then scale-set the drags to real-world-use levels of one-third the line's rated breaking strength. Next, we stretched a tape measure across the yard, used an old prop to clearly mark off 50 feet, and a tip-up (flag deployed!) to mark off 100 feet. Right tools for the right job, and all that.
One by one, I held each rod parallel to the ground to eliminate their flexing as a potential confounding variable, with the reel right over the zero-mark, while my trusty assistant Ryan centered the end of the line — taunt but with no additional pressure — on the tape measure at 50 feet. Then, he pulled to stretch the line until the drag began releasing line. We tested each line three times and recorded the average amount of stretch, went on to the tip-up at 100 feet, and then moved on to the next rod and reel.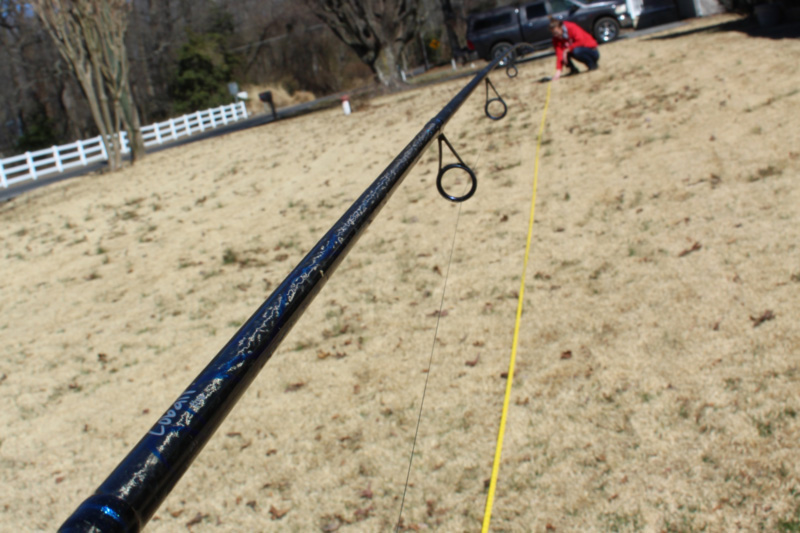 After testing all the lines we repeated the process, but instead of measuring the amount of stretch we simulated a hook-set at the different distances with the end of the line attached to our drag scale. While we didn't have a machine at our disposal to apply a 100-percent equivalent setting motion every time (nor can we guarantee that each drag released line identically), I did my best to set the hook exactly as I would in the real world, with equal speed and power. We repeated three times with each rig, and then averaged the results. Thus, we measured any change in power delivered over distance due to the corresponding line stretch.
Fishing Line Stretch Test Results
Here's what we found, in a very scientificalish-looking chart form:
Line              Stretch at 50'            Stretch at 100'                 Hook-set lbs. at 50'     Hook-set lbs. at 100'
| | | | | |
| --- | --- | --- | --- | --- |
| Light braid | 4 inches | 10 inches | 7 lbs | 7 lbs |
| Light mono | 12 inches | 31 inches | 5 lbs | 4 lbs |
| Heavy braid | 8 inches | 12 inches | 14 lbs | 14 lbs |
| Heavy mono | 41 inches | 105 inches | 5 lbs | 3.5 lbs |
The biggest takeaway comes while looking at the hook-set figures. With braid it was possible to not only apply the drag's full potential hook-setting punch, but also to go well beyond it. To figure out what's going on here you need to dredge up your memories of those physics classes you sat in years ago, regarding the relationship between acceleration, force, elasticity, and elastic force. Or actually, leave them buried deep in the gray matter — as an angler you probably already understand that speed and force work together to punch the point of your hook through the jaw of a fish. Or if you're trolling, it's a combination of the fish's speed and the forward motion of your boat. Either way, the stretchy nature of mono clearly negated that force, or acceleration, or whatever the heck Newton would have termed it after the apple bopped him on the head and he looked up, noticed that his bobber was gone, then gave his rod a jerk.
Whichever terms you want to use, it's clear that with the light mono line at 100 feet we weren't able to utilize the full up-too-drag hook-setting pressure. In fact, we measured a 25-percent-ish loss in the punch due to stretch. And with the heavy line it was tough to generate even a third of the hook-setting oomph. We also must note, however, that this difference may be mitigated to a variable degree when trolling. If you're towing an umbrella rig, a lipped plug with lots of water resistance, or a heavy lure, any mono lines you have deployed are certainly going to be stretched or partially stretched by the pressure already present on the line when a fish strikes.
We also learned that, as expected, the mono lines stretched significantly more than the braid — to the tune of three times as much, and up to 8.75 times as much. But, wait a sec! Why did the heavy mono stretch so much more than the light stuff? Remember, we had set the drags to release pressure as they would in a real-world scenario with the specific gear. So, the heavy mono was subjected to twice as much force, and naturally stretched a whole lot more.
Yes, we could have gotten more sciencey and bench-tested these lines for their stretch up to breaking strength, but that would tell us a whole lot less about how this stretch relates to real-world on-the-water use. Just for the sake of argument, however, we did try eliminating the drag factor and tested stretch to the breaking point. And as expected it was quite different; at the 50-foot mark, for example, the light mono stretched a whopping 8.2 feet (versus our one-foot stretch on the five-pound drag), or 16 percent, before snapping. That's not the 25-percent so many manufacturers talk about, but they do usually say "up to" 25 percent and one should expect that different brands and types of lines will show differing results. Plus, in effect we were testing the knotted breaking strength, not the line's rated breaking strength. Still, unless you're trying to break a snagged line free, in a real-world fishing situation you shouldn't ever see that full measure of stretchability. When you're actually out there trolling a line or casting a jig, the drag-applied measure is the amount of stretch (or thereabouts) that you'll have to deal with. And in that real-world scenario with your drag set properly, here are the percentages of stretch you'll actually be experiencing:
Line                      Percentage at 50'                                 Percentage at 100'
| | | |
| --- | --- | --- |
| Light braid | 0.7 | 0.8 |
| Light mono | 2 | 2.5 |
| Heavy braid | 1 | 0.8 |
| Heavy mono | 7 | 8.75 |
In plain English, using light mono you'll experience two to three times more stretch than you would with braid. And using your heavier rigs you'll experience more like seven to 10 times as much stretch. But all things considered, if you set your drags properly and fish like any normal human being, you're not likely to ever encounter anything like the 25-percent line stretch figure that we see bandied about all over the place on the internets.
Now, would anyone like to go out to a bar, sit down, and discuss these results farther? I'm game — just promise me you won't start a fight.
-By Lenny Rudow