Here's how I discovered that Costa Rica is a fishing paradise: the phone rang one cold winter day, and it was Captain Josh Ruskey. He was running the Penguin, a 48' Viking fishing out of the Los Suenos Marina in Costa Rica, prowling the waters off Playa Herradura. Josh extended an invitation to fly down and experience what many anglers swear is the best world class fishing available – it did not take long to pack!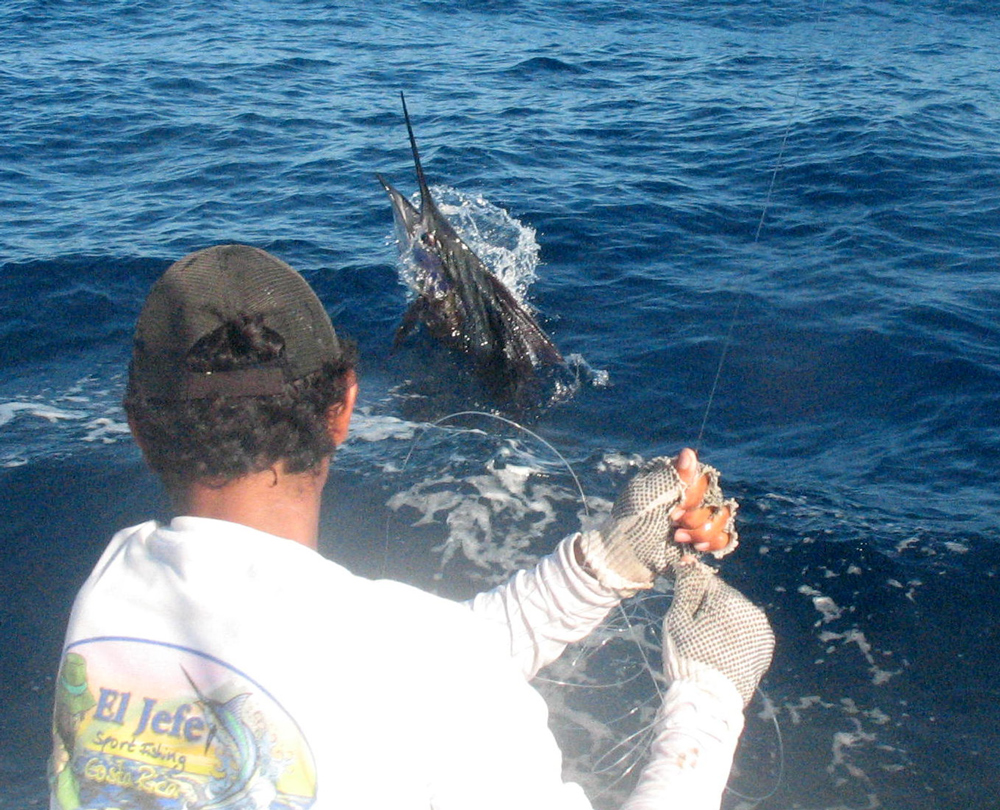 Josh's mate was Carlos (Charlie) Coronada, who has fished Costa Rican waters for the past 14 years. I consider myself adequate in the pit with over 40 years of offshore experience, however, I more then met my match with Charlie, who after sharing a pit for three days gained my respect for his tireless work and fishing knowledge. Mating with tournament-winning captains and running pits on boats such as the Cookie Monster and Dealer's Choice tells you Charlie's degree of talent. He was a gracious host and upon arrival suggested a friendly competition between us. Despite the snickering and laughter of the crew, I accepted the challenge. We would each run one side of the pit and count billfish hook-ups and misses.
Let the Games Begin
A beautiful first morning dawned while eating breakfast at The Hook Up, the restaurant overlooking the marina and an incomparable fleet of fishing platforms. My impatience to get on the water was apparent, since Josh advised me to slow down and actually taste my food. There was no need to hurry, it was a mere 20 mile run from the slip to the hundred fathom line. Soon afterwards, the Penguin's twin C-18s, each producing 1015 horsepower, effortlessly jumped us on plane as we headed for a white rock outcropping clearly visible 25 miles to the north known as Cabo Blanco. Charlie and I sat in the pit rigging ballyhoo and discussing fishing strategies, while up on the bridge the crew (my son John and Tom and Ray Rainier) listened in on radio chatter. Unlike fishing most of the Atlantic seaboard, information in Los Suenos is readily shared. Fishing tourism dollars are important to the economy and everyone works as a team to ensure that success is found on every boat – which keeps anglers smiling and all but guarantees repeat business.
As the throttles were pulled back two flat lines, two rigger lines, and a shotgun from the bridge were set. In addition, four teasers consisting of two squid daisy chains and two 12-inch chuggers were in the spread. Near each transom corner was a TLD 30, rigged with medium ballyhoo on a circle hook with 100-pound wind-on, ready for the bait and switch. Sailfish made up the bulk of the catch during this trip and the 30s would be more than adequate for taming these acrobats. However, a Tiagra 50 outfit was rigged with a large skirted ballyhoo and sat ready as well, just in case a marlin made an appearance.
Within five minutes of setting the spread, a blue marlin appeared on my side behind a squid daisy chain. Charlie jumped into action and enticed the fish to the transom, while I pitched the bait. The blue immediately found the ballyhoo and switched off the teaser. I freespooled, but slight nervous thumb-pressure caused the leery blue to drop the bait. Almost instantly, it then popped up behind Charlie's rigger rod. Charlie was on it and freespooled, demonstrating a classic hook-up procedure. Thirty minutes later the first blue of the trip was released, to the sound of cheers.
Fishing Doesn't Get Any Better
That afternoon the sailfish action was fast and furious, with 25 to 30 pound Dorado mixed in the bite. Around 3:00 the bite slowed and Josh suggested we spend the night on the boat in the protected cove of Carillo, about a 10 mile run, and fish out front again in the morning. That also gave us a chance to do some spear fishing in the Pacific's crystal-clear water, which was on the list of things to squeeze in on this trip. Once Charlie declared the anchor secure, John and Tom wasted no time and successfully speared a few fish. Meanwhile, Josh prepared a delicious dinner of grilled Dorado using his own "secret" recipe. As the sun shimmered the last of its crimson light upon us, we toasted to our first day of fantastic Costa Rica fishing.
Overcast skies prevailed the second morning and the bite slowed. Still, the crew released several sailfish, put a few mahi in kill box, and a 300-pound blue marlin threw a hook. Around lunchtime, Captain Josh suggested running back down south to Los Suenos to rest up before our last day of fishing. Josh's idea of "rest" started with a delicious dinner overlooking the Pacific. But as darkness fell and tequila flowed, fireworks in the sky over the marina indicated that real rest would be in short supply. The party atmosphere slowed down around midnight, when the band stopped playing and everyone reluctantly dispersed for a couple hours sleep.
A typical Costa Rica dawn broke on day three with light winds and a balmy 80 degrees. Charlie did his best to nurse the crew back to the living with a pot of coffee as Josh fired the engines and headed towards "The Corner," a popular fishing location 25 miles to the southwest, where currents push bait out of 1000 fathoms and up on a 100 fathom edge. Once again, Josh made the right call. Although we failed to come tight on a marlin this day, the sailfish and dorado were more than cooperative and provided action throughout the day.
After three days of fishing the crew caught and released 31 billfish. How did I fair in the competition? I hooked a respectable 50-percent of my billfish. Charlie? Well, let's just say I was out of my league – he hooked-up an amazing 68-percent.
On site at the marina is Costa Rica Dreams Sportfishing, with a fleet of boats available for charter. Accommodations and fishing packages are available in private condos onsite or at the Marriott's Los Suenos Ocean and Golf Resort. Be sure to tack on a couple extra days of vacation, just in case you want to take a break from fishing (like that will happen!) to enjoy the 18-hole, 6000-yard golf course offering beautiful views of the Pacific. Monkeys, toucans, iguanas and over 250 other species of wildlife give you plenty to keep an eye on beside your ball. Also, the Zipline, Monkey, and Crocodile Tours are activities the whole family surely will enjoy.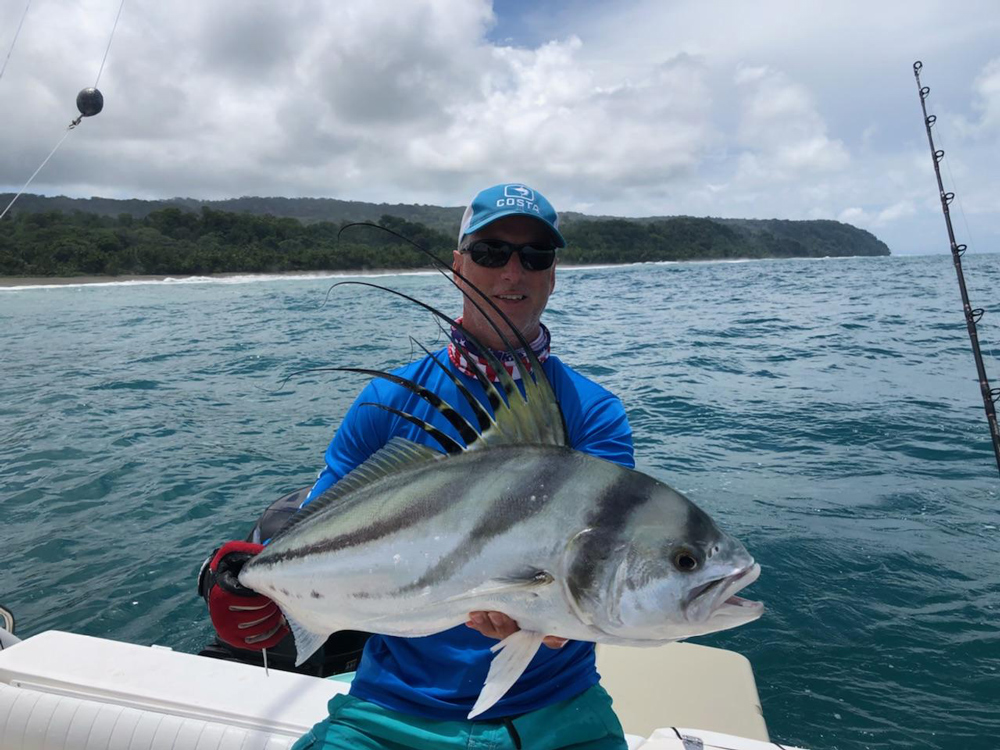 Timing Your Trip to Costa Rica
There is no wrong time to fish Los Suenos, and most people will want to head south during the cold months of the year. Fortunately, travel to Costa Rica is relatively easy (usually flying through Fort Lauderdale or Miami) and there's still plenty of time right now to plan a trip this winter. However, depending on your preferred pelagic, plan your trip around the following prime months:
Sailfish                        December through March
Blue Marlin                 August through December
Black Marlin               October through December
Striped Marlin             January through April
Yellowfin                    August through November
Dorado                                    November through January
Roosterfish                  Year-round
Cubera Snapper           Year-round
- By John Unkart, author of "Offshore Pursuit" and "Saltwater Tales."