The best thing about many of the Western Shore tributaries of the Chesapeake is that they're almost like microcosms of the Bay itself, offering a range of Chesapeake Bay fishing opportunities from freshwater to salt and a range of species from largemouth bass to striped bass. This is true of no trib more so than the Rappahannock. No matter what month of they year it may be or exactly where on this river you launch, you can always be sure there are fish of one sort or another within shooting distance – so let's take a look at a few of the hotspots that make this river so great.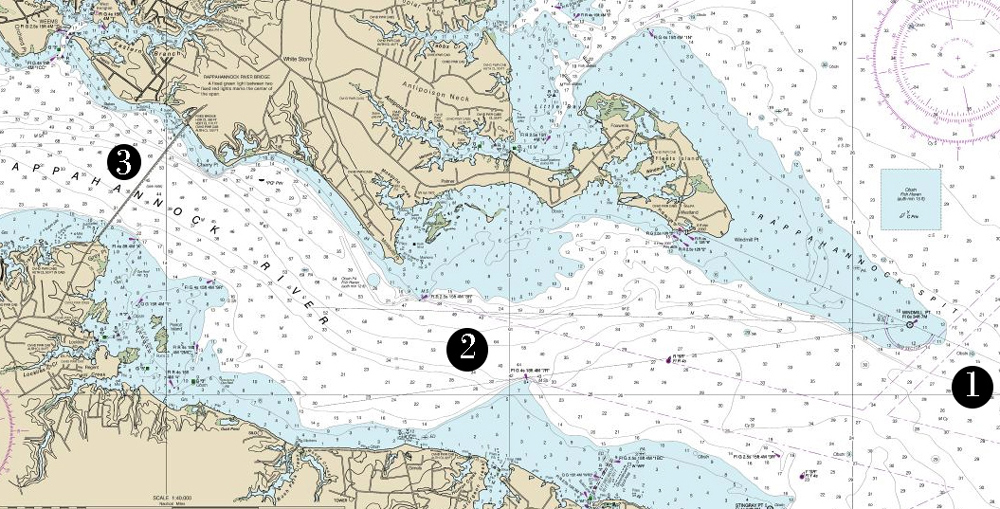 Hotspot #1 - The waters from Windmill Point down to Stingray Point can be rather epic. When it comes to striper fishing this zone often sees working birds and breaking fish, particularly late in the fall and early in the winter. During the warmer months of the year flounder often set up shop along the drop-offs on both points and can be caught by drifting Fluke Killers baited with minnow or by jigging with Gulp! Bottom fish including croaker and spot will also make their presence known here many seasons. But perhaps the biggest deal here – especially when it comes to sheer size – is the cobia fishing. Chummers anchored in 20 to 30 feet of water on the edges here (particularly off Windmill) who put live eels and bunker chunks on bottom often score of multiple cobia, from early through late summer.
Hotspot #2 – This mark is made to denote the channel running from the 8R to 6R markers. There's some extremely deep water through here which, once upon a time, held weakfish. One day perhaps they'll return. In the meantime, trolling the channel edges often produces snapper blues in the summer and stripers later in the year.
Hotspot #3 – The Rt. 3 bridge creates gobs of structure, which as you all know, attracts fish – and fishermen. Any pilings can produce fish, but the best areas are often on the northern side, where the main channel meets the drop-off. Casting jigs and trolling alongside the bridge are the most common tactics employed here.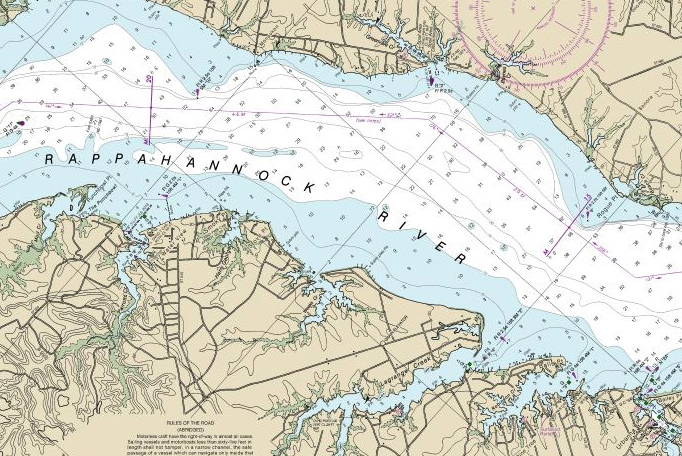 The stretch of the river from Urbanna up to Punchbowl Point is an important one to note, because there are multiple oyster bars in this zone which were replenished by the Virginia Institute of Marine Science (VIMS). Just what sort of life they'll hold can vary tremendously from season to season, but depending on the year you might encounter anything from flounder to speckled trout prowling the bars. Try casting four-inch Gulp! Jerk Shad in chartreuse or white, on half-ounce jigheads, which just about any species will attack with abandon. And during years of strong croaker runs, dropping bloodworms or peeler crab on bottom rigs here after the sun has set can lead to banner catches.
Note: VIMS has replenished a number of bars not only in the Rappahannock but throughout the lower Bay. A visit to VIMS online (look at the VIMS viewer of oyster stock assessment and replenishment map) can be quite beneficial to anglers in this area, as they've published maps of these bars as well as maps of pre-existing oyster bars. And anywhere you have live bottom, you have a good shot at finding predators that will put a bend in your rod.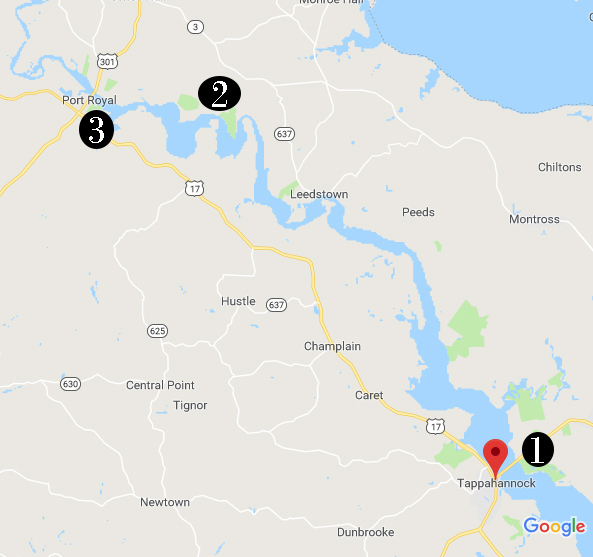 Hotspot #1 – Like the bridge at Rt 3, the bridge at 360 (Tappahannock) also creates structure that draws and holds fish. This tends to be a good striper spot when the fish make their way up-river, often holds good numbers of catfish, and perch congregate around the pilings at times as well. Note that this bridge serves as the official dividing line between fresh and saltwater as far as the state is concerned; that said, there's still a significant tidal flow and some seasons saltier species like croaker can be caught here.
Hotspot #2 – The sharp bends and turns in this portion of the Rappahannock have carved out extremely deep holes and channels. But they've been filled in – by catfish. Pick a channel edge, fan-cast chunks of cut gizzard shad, menhaden, or chicken livers on 10/0 to 12/0 circle hooks, and hold on tight, because there are some massive catfish prowling these areas. The biggest fish will come when you find a snaggy spot (a tree laying on bottom is catfish gold) or an extremely sharp drop.
Hotspot #3 – Port Royal is an important spot to note for shoreline anglers. There's a public pier here just below the bridge, which gives you access to good catfish fishing (even better at night) and at times, decent perch fishing. The perch-jerking tends to be best in the late winter/early spring timeframe, as these fish prepare to make their spawning runs. Cast cut bait on circle hooks for the cats, and use bottom rigs with grass shrimp or minnow for the perch. There's also a put-in on the other side of the bridge for trailer-boaters, which puts you within shooting distance of countless good catfish spots.
Head farther up-river from here, and you'll encounter freshwater species like largemouth bass, sunfish, and pickerel. In April, shad will run up the river. Keep on going (way) upstream and you'll enter an excellent smallmouth fishery. But whichever section of the Rappahannock you're heading for, one thing's for sure: this river offers amazingly diverse potential, and you really never know just what you'll hook into.
Sign up here to get the weekly FishTalk Chesapeake Bay and Mid-Atlantic fishing reports in your email inbox, every Friday by noon.