Fishing for trout is a rite of spring. It happens every year, somewhere between mid-March and early April when the trees bud out, the weather patterns warm, Easter flowers bloom, and the decades-old tradition of springtime trout fishing begins. Whether on opening day or shortly thereafter, the early spring trout gig usually signals the start of another fishing season for thousands of anglers in the Mid-Atlantic region. It can range from native brookies in the high-country trickles to established rainbow populations in well-managed streams, but for the vast majority of trout scouts, the best of the action involves the catching and consuming of the stocked rainbows, browns, and coveted golden trout provided by state DNRs and local agencies.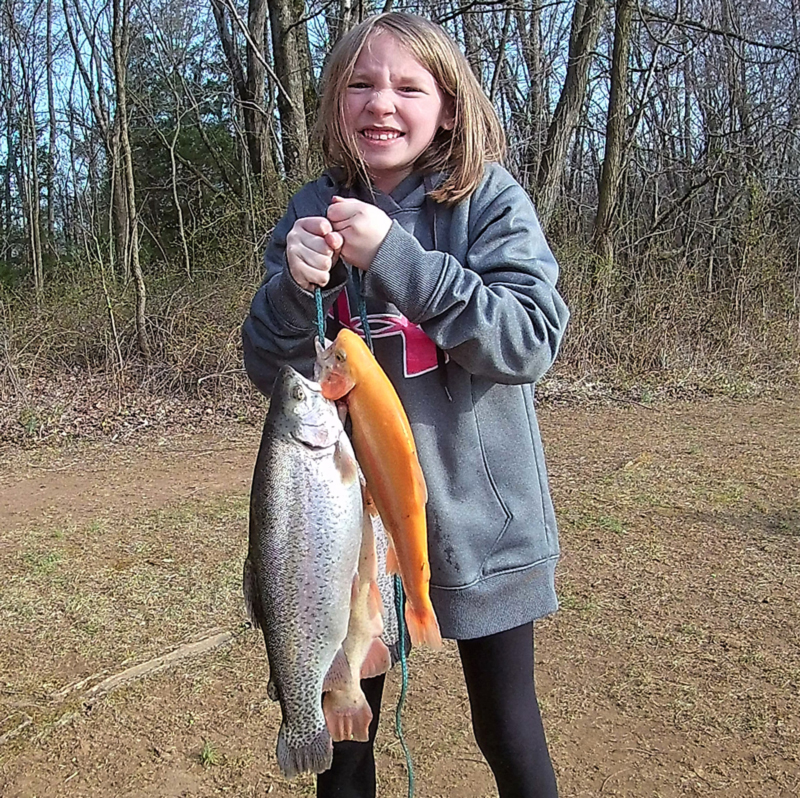 Indeed, this is not the same experience you might expect in Montana, Colorado, or even prime Pennsylvania streams. But it does provide us with a wealth of 10- to 13-inch fish that are willing to take a variety of baits and lures and give us a great ultralight tussle along the way. Throw in some harvest of tasty trout fillets and the chance for a hatchery giant, and this is what many of us have grown up knowing as "trout fishing."
Many anglers view the early trout gig as the initial rite of spring kicking off their fishing season. Others fish year-round in open waters that provide catch and release action during the winter. But to me, the spring trout gig is a chance to veer from those early hit-or-miss yellow perch runs, chain pickerel sessions, or the early panfish bite at warmer climes. Here is a game plan for success when and if the stocked trout are your target.
Trout Fishing Tackle
Unless you expect to encounter trout that consistently exceed the 20-inch benchmark, most of your fishing can be done with ultralight spinning gear. In most creeks and small rivers, a five- to six-foot rod will do. Teamed with a smooth-dragged 1000 series reel you can cast to most reaches of smaller, moving water. Lines are often a matter of choice, but we use Trout Magnet SOS four-pound mono in light green for most of this work. Trilene extra limp four-pound mono in clear or Yo-Zuri Hybrid are other good options. A quality limp, castable line makes for more accurate casting and will propel small spinners, spoons, or other lures the distance you'll need to catch fish.
Over the years, I have found that while the shorter ultralight rods tend to work best in the confines of small streams, longer sticks shine where trout are stocked in community lakes or larger reservoirs. Currently, I like the eight-foot Wally Marshall Crappie Rods teamed with a Lews 100 Series Speed Spin for reaching stockers that tend to roam far from the shorelines of some lake venues. For greater distance on the cast I like Yo-Zuri Super Braid in 10-pound test. For a leader any quality, clear mono testing six or eight pounds will do the trick. This is a great rig for long distance casting with float rigs or delivering spoons or small crank baits.
Although many trout fans like to fish manufactured dough baits of various kinds, I prefer to cast either hardware or tiny panfish-sized jigs on bobbers to coax feeding fish. As far as hardware goes, the standard issue of Kastmaster, Super Duper, and Little Cleo spoons continue to catch their share of trout just about everywhere you go. Don't overlook the Swedish Pimples of ice-fishing fame as a "straight-retrieve" option for stockers. We've had our best success with tenth to eighth of an ounce spoons with gold, silver, and rainbow trout patterns showing the best results.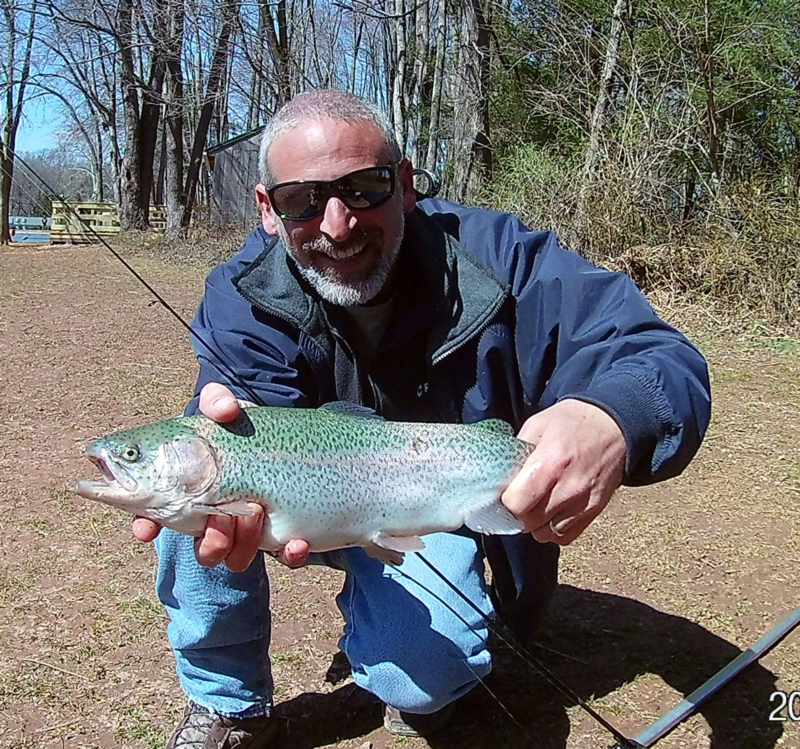 Small spinners are another metal option. Mepps, Panther Martin, and the time-honored Joes' Flies head the list. Sizes range from number-zero to number-two and gold, silver, and black blades again shine and attract these hatchery fish. Don't be afraid to try an odd polka-dot or striped pattern as some days they will pound something offbeat. Additionally, we have found that bigger blades don't necessarily attract bigger trout. Most trophy fish tend to choose a smaller lure than a large one, perhaps due to being conditioned to feeding on tiny, high-protein pellets at the hatchery.
Which leads to my favorite artificial selection: micro jigs. I actually stumbled upon the efficiency of these tiny lures several years ago when recently stocked fish refused those traditional offerings. As a last resort, I tied on a 1/64th ounce brown hair jig and suspended it three feet below a tiny bobber. It was literally almost like magic, as one two-pound trout after another buried the bobber out of sight and followed up with twisting, high-flying acrobatics that those stocked rainbow trout are famous for. Crazy results after a disappointing earlier effort, I couldn't help but wonder… did the miniscule hair jig resemble a feeding pellet from the hatchery?
I'll never know for sure. But truly, I have caught more quality-sized trout on micro-jigs than all other options combined. Favored sizes are 1/80th to 1/32nd of an ounce. We also look for jigs that have heavier gauge hooks than the thin wire varieties. Big trout can writhe and open up thin gauged hooks. We like to suspend them below small oval floats made by Plasti-Lite or the Rocket Bobbers in 3.75 and 4.75 inches. Traditionally, the fish will be in the top three to four feet of the water column, looking for insects or remaining conditioned to pellet feeding.
Stocked Trout Fishing Tactics
When still water ponds and lakes are initially stocked, fish tend to hold in the release area but then spread out over time. In community lakes it pays to be mobile and stay on the move until you locate fish. At other times the trout will be on the move themselves and you may catch more fish by staying put. By utilizing a variety of lures locating fish should not take too long, and keep in mind that the majority of these fish are going to be active feeders.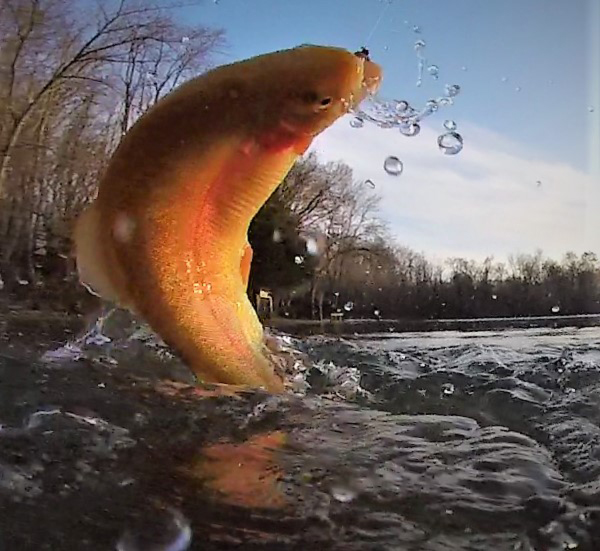 Some anglers prefer to settle in and fish Power Bait or salmon egg options on a slip-sinker bottom rig. And it is undeniable as to the effectiveness of this tactic. However, keep in mind that almost all bait-caught trout swallow those hooks and are not eligible for release. Unlike catch and release fishing with barbless hooks, when you reach your allotted limit, your fishing day is over. But then, for many anglers that's what put-and-take trout fishing is all about anyway.
Most bait anglers use number-10 or number-12 baitholder hooks and bury them in a small doughball of Power Bait, fishing them on the bottom. The scent and varied color combinations of these baits are great attractors to hatchery trout and remain a time-honored favorite for the catch-n-cook crowd.
Yet another technique is to drift any variety of synthetic or preserved baits on floats along with the wind to cover water and pinpoint active fish. Our standout for this pattern is the Berkley Power Trout Worms in pink or orange. Using a 1/64th ounce Trout Magnet head, simply thread the two-inch worm wacky-style and suspend it below your favorite panfish bobber. Allow the wind to push your worm throughout open spaces and nooks and crannies for those hungry stockers.
Almost all of the Mid-Atlantic states all have an abundance of stocked trout water, both lakes and streams, to provide anglers with a six week or longer period of bountiful harvest and fast action. Check each of the state websites by clicking these links, for specific opening or stocking dates.
Then, key in on some of the fastest action of the year.
- By Jim Gronaw