The good news is that kayak fishing is exploding in popularity, and during my day-job as a middle school teacher I've had students agree with me more than once when I remark that fishing is cool again! Now, in my opinion it was never uncool. But alas, kids these days… The bad news, depending on your point of view, is that more people fishing means more people sharing the same bodies of water.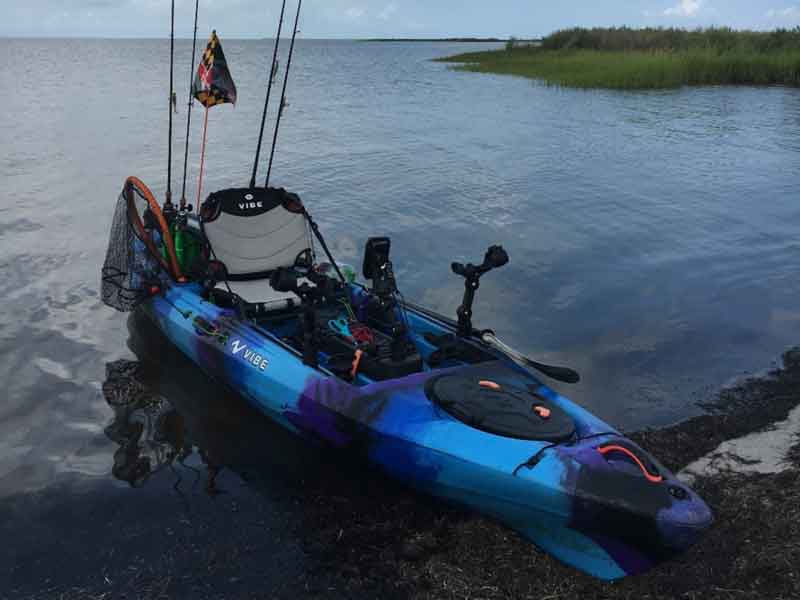 However, despite this growing popularity if you fish from a kayak you're still in the minority compared to those on shore or fishing from powerboats. It's clear to me, and to others in the "Plastic Navy" that kayak fishing provides a unique experience, coupled with some oft-overlooked, kayak-specific advantages. Below are five spots which, while fished by many, offer kayak fishermen and women a unique ability to get away from the rest of the crowd and catch the fish that others miss.
Centennial Lake- The middle of the Ellicott City suburbs might not seem like an auspicious place to drop a line, but hear me out. I've been kayak-fishing the 54-acre man-made lake in Centennial Park for nearly a decade, and there just aren't that many folks who fish it from anywhere other than the shore. Home to bass, crappie, trout, and panfish, Centennial can produce a solid day of catching for those who take the time to learn its features. There are even rumors of 30-inch-plus tiger muskies in here, though my best attempts at finding them have come up empty. Pay the $5 boat permit fee, and head right from the boat ramp down towards the dam. You'll have your best luck in the spring and fall, or by using topwater on a rainy summer day. Put in the time, and you'll find there are some surprisingly large bass in here.
Big Annemessex River- Do you like road-trips? How about road trips which bring you to the beautiful lower Eastern Shore waters and offer the chance to swing by RAR Brewing in Cambridge on the way home for lunch and a cold, well-earned brew? That's what I thought. For those living on the western shore, the Big Annemessex River is two-plus hours away, but it's well worth the gas money. There are a couple of boat ramps along the southern shore of the river, and where you go from there, the choice is yours. This beautiful, isolated part of the Bay offers kayak fisherman a unique chance to get back into shallow, grass-lined coves where many boats can't go. Troll small paddle-tails along grass-beds and near inlet mouths and you have a shot at speckled trout, puppy drum, and rockfish. During one trip to the Annemessex, I landed rockfish, speckled trout, bluefish, and even a cutlass fish. You don't know until you go, and you should definitely go check this place out.
Pomonkey Creek- Sliced into the eastern shoreline of the Potomac River, Pomonkey Creek is a daunting four-mile paddle south from the Marshall Hall boat ramp. For powerboats this is nothing, but for peddled or paddled kayaks, I urge you to only consider this trip if the forecast is for nearly non-existent wind. With wind in the picture, the Potomac can turn deadly. Assuming the forecast is favorable, you will likely find yourself arriving at Pomonkey after a tiring paddle only to find yourself among many other fishermen. Fear not! This is where your little plastic boat can get you away from the competition. Head back – way back – into the spatterdock and grass where the motorized vessels can't go, and start casting. Use topwater frogs like the Stanley Ribbit, or a Savage Gear Lily Ninja, and get ready for some heart-pounding blowups. You'll find plenty of largemouth bass and some monster snakehead in here, and when you realize that the day is ending and you still have to paddle four miles back to the ramp, you'll do so with a big old grin on your face.
Hunting Creek Lake- From the shoreline to the mountains we go. If you're in the mood for a paddle around a relaxing mountain lake, this is a worthy pit stop. Hunting Creek Lake, up in the Catoctin Mountain region (in Cunningham Falls State Park), provides a welcome reprieve from urban impounds and saltwater boat traffic. You'll find sharp drop-offs and a rocky dam here, where trout, bass, and panfish are more than willing to whack your lure. This is another location often fished from shore, and thus kayakers can take advantage of some hard to reach, juicy lay-downs and lonely overhangs just waiting for a jig or spinnerbait. As an added bonus, Hunting Creek Lake is well-shielded from the wind by the surrounding forest, so kick back, relax, and take in the foliage as you explore this isolated locale.
Tuckahoe Creek North- You've probably heard of Tuckahoe Creek, which runs from Jumptown, Maryland all the way south to the Choptank River. This is one of my favorite spots to escape for a great chance at a multi-species day. I'm calling it Tuckahoe Creek "North" because if you head upstream to the north from the launch off Main Street in Hillsboro, you'll soon need to navigate underneath a broken down train bridge. Once you get up-river from there you're going to find yourself in waters where larger boats can't go and where shoreline fishermen are rare. These tree-lined shores provide ample cover for bass, pickerel, and perch that call this meandering creek home. Try a ned rig next to trees, a popper near some weed beds, or a crankbait along current breaks, and you should have some luck. If the fish are fickle, switch up your lure choice often, as the variety of species here mean that you'll eventually (hopefully!) throw something they like. A short trip from the Bay Bridge, Tuckahoe Creek North is a fun and peaceful place to spend a day on the water.
These are just a few of my favorite places to take advantage of some great kayak fishing. Give them a shot and best case scenario, you have yourself a banner day. Worst case scenario, you went fishing and found some new-to-you waters!
-By Matthew Stone