Like most of you who own a boat I love my fishing maching but I always want it to be a better boat, so when it was showing its age last year, I decided to haul it over to Pasadena Boatworks for some serious restoration work. They have a team that specializes in refurbishing and upgrading outboard-powered boats, including stem-to-stern rebuilds. Fortunately I didn't have to repower – my decade-old Suzuki 90s have always and still do run flawlessly (knock on wood!) even after thousands of hours of running time. That left a good bit of budget for upgrades. And after getting the boat back and then fishing it hard this season, I've come to the conclusion that these five upgrades have proved to be fishability improvements, in completely unexpected ways.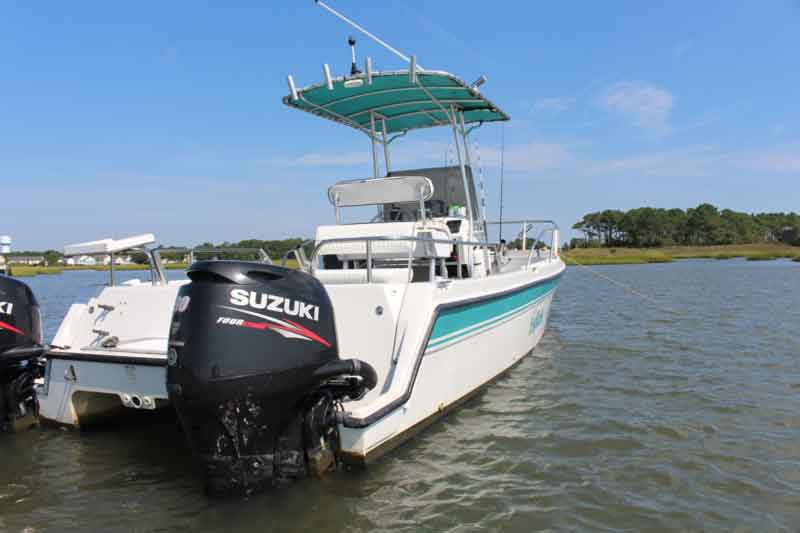 Steering – The old cable system was completely replaced with a SeaStar hydraulic steering system. I used to have to fight the wheel non-stop to maintain a steady course, and now all it takes is a fingertip on the wheel. How does this help me catch more fish? First off, I can steer a straighter course and thus reduce running time between hotspots. Meanwhile, I'm a lot less worn out after long cruises. Net result? I can fish longer and harder than before.
Autopilot – I'm not going to spend a lot of time talking about the upgrade with a Si-Tex autopilot here, because we just went into the details in Techno-Fishing. They key element is that when trolling, I can now press a button and dart back into the cockpit to set out lines or crank up fish. Another big benefit is that the slow, controlled turns I can make via autopilot have reduced tangles, thereby increasing the amount of time I have my full spread out and set effectively.
Foam Decking – How many times have you fought an aching back, exhaustion, and sore feet to remain out on the water just a little longer? How many times has that last cast resulted in the fish of the day? Although it doesn't seem like a fish-enhancing feature at first, adding a layer of SeaDek to the topsides noticeably reduces fatigue, and lets me stay out on the water for longer periods of time. I'm just making a best guess here, but I'd say it reduces physical wear on my back and body by 15 to 20 percent. Added bonus: when someone drops a weight, thermos bottle, or pliers onto the deck, the foam absorbs the impact – and prevents those loud fish-spooking noises.
Deck Illumination – Night fishing isn't for everyone, but if you do it, having significant deck illumination is a huge leap over wearing a headlamp – much less trying to clamp a flashlight between your teeth while you try to tie a knot or land a fish. Adding an LED Imtra Cockpit & Deck Light to the back of my T-top has proven invaluable. On top of that, after a late return to the dock it makes cleaning the boat a heck of a lot easier.
New VHF, Pumps, and Wiring – Part of the rebuild included replacing all of the boats' pumps, giving it a new wiring job, replacing all the switches, and replacing the VHF with a new DSC-active unit. Sure, that stuff is important for safety reasons, but how in the heck does it help you catch more fish? Simple: I used to run the boat offshore regularly, but a couple years ago when it began having issues like pump failures and dead switches, I swore off trips through the inlet. In order to make those oceanic voyages a boat really needs to be in 100-percent reliable tip-top shape. When I got back the new and improved boat, after a month or so of confidence-building in the Bay I was ready to point the bow for the horizon and plug in the coordinates for the Jackspot. The net result? Coolers full of mahi-mahi, king mackerel, and other species I hadn't targeted from the deck of my own boat in several years.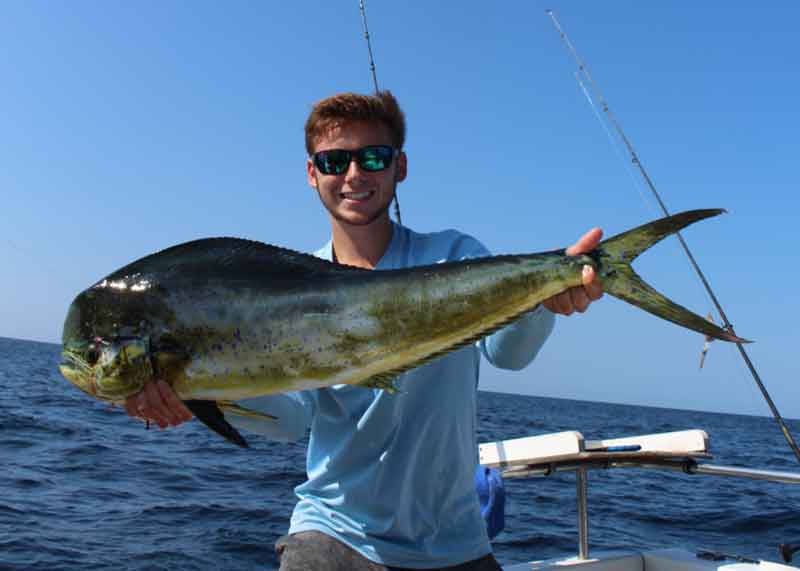 Timing is Everything
Why are we printing this article now, in December? Wouldn't spring be a better time to consider getting work done on your boat? Heck no. In fact, I dropped my boat off at Pasadena Boatworks late in February in order to be ready for the next season and it was already too late in the game to make the early spring. Most shops like this which do upgrades and rebuilds during the winter also sell new boats, and you have to recognize that as soon as the weather begins to turn, prepping and delivering those new boats will always be a priority. So the best time to initiate communication and schedule work is right now. Then when winter really sets in, the shop will be ready for you and can complete the job while you're out ice fishing.
Fishability-Focused Upgrades to Consider
Though I didn't need these, some more traditional fishability upgrades you may want to consider for your own boat include:
New Electronics – If your MFD is more than five years old, it's sadly out of date. Do you have side-finding abilities? Self-charting? Radar? Are you satisfied with screen size? The speed of chart re-draws? If the answer to any of these questions is "no," you should consider an upgrade.
Rod Holders – Is there ever such a thing as enough? Um, no. Give extra consideration to adding "kingfish" style holders (which are angled out to the sides) to a T-top, as these can help you increase trolling spreads when planer boards aren't in use, and most boats don't have 'em.
Bow-Mount Electric Trolling Motors – more and more Chesapeake anglers are discovering what Floridians and bass anglers have known for years: these things give you a serious boost in fish-catching ability. Virtual anchoring functions like Spot-Lock, the ability to automatically follow contour lines, and stealth in the shallows are all significant features you'll enjoy.