If your regular method of fishing for speckled trout is not working one day, don't be afraid to reevaluate your strategy and step outside the comfort zone. On days when it's tough to generate a bite, the odds will be more in your favor if you're not afraid of changing things up a bit—and learning these tactics can be a real game changer.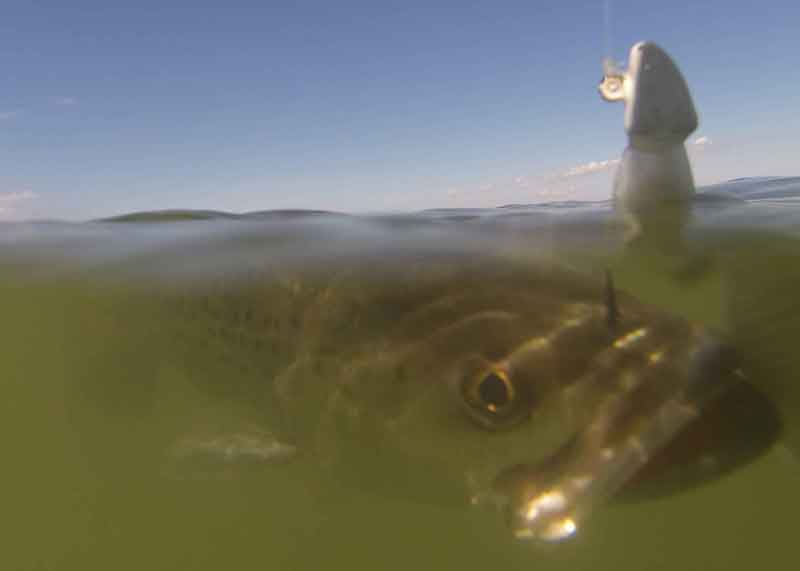 Casting Soft Plastics
Using a simple lead-head jig (the best weight to choose depends on your water depth and wind and current speed, but remember that less weight is better to avoid getting hung up in the bottom) with a four-inch mullet-style, twister, or paddle tail plastic and casting it out towards jetties, grass lines, or inside inlets, is probably one of the most familiar ways to fish for specks. To rig up, attach a 20-inch, 12-pound fluorocarbon leader line to your braid mainline, secured with a double uni knot. Next, tie the leader line directly to the lead head. (Tip: You'll have to trim down the leader and re-tie the jig head often when nicks and abrasion appear; to avoid having to retie the leader as often, make your leader a little longer in the first place).
When applying a curly-tail, take the hook and run it straight down through the 'nose' of the plastic, then as it starts to curve push the hook out through the back. Presentation matters, so when using longer tails remember it's important that the plastic remain straight on the jig. If it's not straight, it will spiral in the water and the bait will not be as effective. Also, make sure your hook size matches your tail size. For example, if you're using a longer six-inch tail you would need a 4/0 size hook, not a 2/0 like you might use for a four-inch tail.
The speed of the retrieve is a big factor and may vary throughout the day depending on depth, current, feeding pattern, and water temperature. Add a double-twitch and or a pause, and occasionally change the pattern if need be until you find something that works. If its windy, keeping the rod tip closer to the water is helpful.
Two staples to always have on board are GULP! white and chartreuse-yellow Swimming Mullet. Once you find a school of fish with the GULP! you can continue to use it, or you can convert over to casting less expensive, tougher twitch-baits or rubber tails. Soft plastics work great in the spring, and shads work great in the fall.
Casting Hard Plastics and Twitchbaits
Using a seven-foot medium-action rod with 20-pound braid, attach a 24-inch leader of 15- to 20-pound fluorocarbon. Then attach the hard bait with a small quick-clip, or tie a loop knot directly to the lure for a more natural presentation. When fish are feeding in the middle or lower part of the water column or when fishing deeper waters, use a sinking twitch bait such as a 3 5/8-inch, half-ounce MirrOlure MR -52, a 3 5/8-inch TT 18 or TTR-28, or a similar hard plastic plug that sinks about a foot per second. Since this style of lure doesn't have a lip, you have to incorporate slight rod twitches into the retrieve to give these lures some life. These lures work best when fishing in several feet of water or more.
Casting Suspending Lures
When you see the trout hitting near the surface or the bite is happening in shallower waters, then switch to a suspending twitch bait. Ones like the MirrOLure MR-17 or Paul Brown Fat Boy work great, especially during the warmer months on days with clear skies and water. Proper techniques for using suspending lures involves casting them out then counting two or three seconds before reeling, to allow the lure to slightly start to dip just under the surface of the water. Then begin the twitch-reel-twitch-reel pattern. This gives the lure a swimming action similar to walking the dog, but you're doing it slightly under the surface of the water.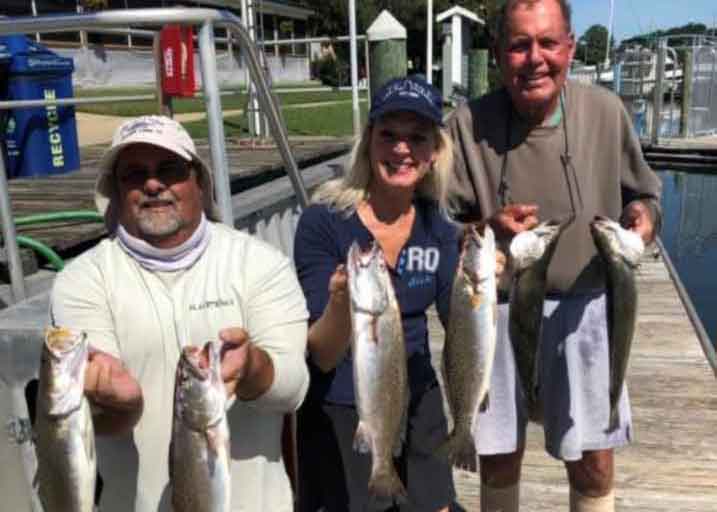 Trolling for Speckled Trout
Trolling can be a very rewarding method for not only finding schools of trout but also for hooking up multiple fish at the same time. Rig up for trolling by attaching a crane swivel to the main braid line with a Palomar knot. Use about 30 to 36 inches of 15- to 20-pound fluorocarbon leader, and then tie an improved clinch or a loop knot to the lure.
There are many lures you can choose to use on the troll. Four- and five-inch curly tails create an irresistible wiggle; lipped crankbaits work well, too. Colors with white, silver, and green or chartreuse with black specks are great options. Also consider shiny lures that have iridescent qualities, which do favorably in murkier water as the flash can entice a bite. When selecting a color remember to match the hatch, and when faced with darker or muddier waters, pick the color that is more visible especially on an overcast day.
Trolling speed for specks is commonly about 1.2 to 1.7 knots, and speeding up and/or slowing down periodically will also be helpful in generating a bite. To maximize your productivity when trolling, locating holes is very helpful and allows you to present your lures at ambush points where big "shouldered" specks can be hiding in hopes of grabbing a quick snack. Speckled trout like water with higher salinity, especially in the spring when they're spawning, so keep this in mind especially after a heavy rain when trying to locate the best areas to troll.
Live Baiting
A slip bobber is a very effective rigging method to use when live baiting for trout, since it allows you to slide the bobber-stop up and down to adjust tide and depth conditions. For example, if you're catching fish with bobber-stop set at six to eight feet during low tide, you may want to then adjust it to 10 to 12 feet during high tide. This is key for consistently catching fish once you've found the depth they're biting at. When using minnows or gudgeons, hook the minnow through the mouth (in through the bottom, out through the top), using a snelled 1/0 or 2/0 J-hook with a two-foot 20-pound test fluorocarbon leader and a one-ounce or smaller inline or egg sinker above it.
Of course, there are plenty of other tactics, like fishing topwater at daybreak and sunset, that may be your personal favorite. But learn the five described here, and you'll always have plenty of tools in your box when stepping outside of your comfort zone.
Speckled Sea Trout Fishing Tips
The colder the water the slower the retrieve.
Trout have relatively soft mouths, so you can easily rip the hook out when setting it; resist horsing these fish in.
Trout prefer quiet—keep this in mind especially when anchoring.
Pink is usually another pretty consistent producer for trout.
For enticing larger trout, switching from four-inch to five-inch tails will sometimes do the trick.
- By Beth Synowiec