I'm not ashamed to admit it: I cried, I bawled like a baby, I caterwauled like a child, and I wailed like a wimp the day a gust of wind blew a car door closed on four of my favorite jigging rods. In one fell swoop I went from a well-armed angler to a frail shadow of a fisherman. To any die-hard Bay angler, choosing a set of jigging rods is as important and as personal as choosing the perfect spouse. (I can only get away with saying that because my wife doesn't read the magazine. To those of you who know her: SHHHH!) Still, what's ideal for you is not necessarily what's ideal for me, so before we dig into the details, remember that this is to a great extent a matter of personal preference. For a start let's hear from Captain Tom Weaver, of Fish With Weaver, and learn about his personal choices as we spend an afternoon fishing with him aboard a red-hot new Caymas 26 HB with the crew from North Point Yacht Sales.
Now remember folks, there is no right or wrong. If a rod or reel feels great in your hands, choose it. But as you hit the tackle shop to gear up for jigging remember these key points.

Jigging Rods and Reels
Rods
Most anglers would agree that having a fast-action rod (which bends more in the tip than the middle or butt of the rod, as opposed to a slow action rod which bends more or less in a parabola from tip to butt) is advantageous for making the quick hook-sets jigging demands. Most would also agree that going with a high-sensitivity graphite rod gives you a leg up since you can feel the gentle take of a slow-moving or lethargic fish. That said, remember that graphite is also more brittle than fiberglass. If you're choosing a rod to hand off to inexperienced guests or kids, you're accident-prone, or you have a bad habit of leaning rods against cars with open doors, you may want to prioritize ruggedness over sensitivity.
When it comes to length, the trade-offs are just as straightforward. Longer rods cast farther, but again, are more prone to damage. The normal length range will go from six feet to seven and a half. Those with cramped boats and large T-tops will be well-served by sticking with shorter rods and accepting a shorter casting distance, while those who usually enjoy more elbow room often opt for a bit more length. One caveat: when buying jigging rods for young kids remember that the long the rod, the longer their Arc of Destruction will be when they cast. Minimizing a child's rod length will also minimize the number of ear, shoulder, and scalp piercings you endure as they learn how to cast.
When it comes to guides, those on most medium to high-end rods have inserts to reduce friction and line wear. Look for high quality guides like the Fuji SiCs if possible, which have the fastest heat-dissipating ceramics and frames that won't corrode. Once more, however, note that when it comes to the lower-end gear you'll hand off to inexperienced anglers or children, you may want to consider a rod with stainless-steel ring guides. They don't do nearly as good a job of preventing line wear, but they are more or less indestructible and can be bent back to shape when stepped on or crushed.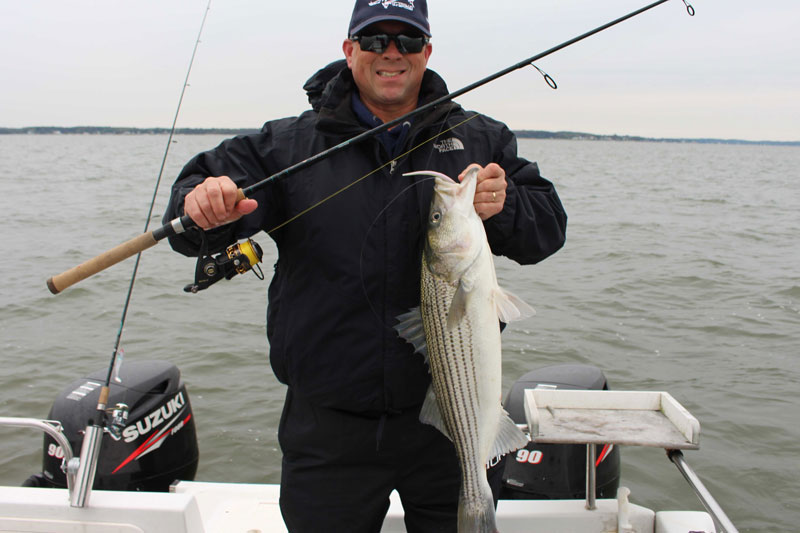 Reels
The biggest question here is usually whether to go with a baitcaster or a spinner. IMHO for most anglers spinners win hands-down, since they're easier to use, less apt to tangle, and often have a higher line capacity than baitcasters of a similar size. One exception: if you do a lot of pin-point casting to structure or shorelines the increased accuracy of a baitcaster should be a significant consideration, because in this regard they definitely top spinners.
Drag smoothness is another paramount consideration. When tackling fish that weigh more than your line's pound-test, no other feature of a reel is as important – a jerky, erratic drag will lead to broken lines and lost fish, period. You don't need to spend big bucks to get a reel with a smooth drag, and there are plenty of options in the $50 to $100 range that will do the trick for a while. But these generally aren't built with the best parts, can be expected to corrode when used in the Bay much less the ocean, and usually don't perform well after a couple of seasons. Plan to spend something in twice the aforementioned range to get a quality reel has a decent drag and will last for years.
Some final points: remember that the higher the gear ratio the more line you'll crank up with each revolution of the crank; more ball-bearings is generally considered better but shouldn't be the basis of a final decision; torque the crank and foot of the reel a bit to look for flex (not good); and when you're considering a reel always mount it on the rod you plan to fish it, with to get a feel for how they balance out prior to purchase.
Line and Lures
Fishing Line
For general all-around Bay jigging most anglers (myself certainly included), favor braid in the 20- to 30-pound test range. The absence of stretch and increase in sensitivity as compared to mono makes it much easier to feel the take, and set the hook. Most anglers also like to add a short length of mono or fluoro leader in the 20- to 30-pound range to increase abrasion resistance and allow you to grab the line and swing in fish without risking a braid cut on your hand.
Editor's note: Some anglers may remember that in the past I've suggested omitting the leader, since the line-to-leader knot adds a potential failure point and the fish don't seem to care one way or the other. However, after running abrasion tests on multiple monofilaments and braids, my thinking on that topic has evolved. With jigging-sized tests the mono leader generally increases abrasion resistance by 15 to 20 percent – so today I do add it.
Jigging Lures
Again, personal preference plays a huge role here. The modern classic for Bay jigging are paddletails like the Bloody Point Baits Shad Tom talks about, or the six-inch soft plastic BKD in white, pearl, or chartreuse for bright conditions, and in avocado, black, or other dark colors for low light conditions. When going specifically for 30-plus-inch fish or winter fish, the 10-inch Boss version comes into play. We love the BKDs mostly because they just plain catch fish, but also because they're inexpensive and (hey, who are we kidding here??) because Bass Kandy Delight is a FishTalk supporter.
Jiggers should keep a range of head sizes in the tacklebox, from a quarter-ounce to two ounces. In most cases you'll want to use a head large enough that you can reach and feel bottom, or reach and maintain the depth the fish are holding at. It's also a good idea to have a selection of metal jigging spoons for use in very deep water, vertical jigging, and casting to toothy critters like bluefish or Spanish mackerel.
Again, we must stress that choosing jigging gear is a personal affair. That said, every time I write this type of article and don't specify my own favorites, folks give me a load of grief. So here it is: a six-foot, six-inch medium-light-action St. Croix Premier with a Shimano Stradic FJ or C3000, spooled with 15-pound Power Pro braid and capped off with a uni-to-uni 20 pound fluorocarbon leader. That's not necessarily my "ultimate" rig but it's my favorite taking everything from sensitivity, to longevity, to price into account. Most folks would consider it abnormally light for jigging stripers up over 30 inches – and maybe they're right. But this rig feels natural in my hands, and that's what counts the most. That, and remembering not to lean it up against a car with an open door.