True story: Heavy winds were supposed to die down around midnight, but when we reached the Ocean City inlet at dawn the Atlantic was still so churned up we decide to cancel our trip and turn around—we can see there are still six to eight foot seas crashing around out there. After seeing off our guests and unloading the gear, we decide to give the 2665 a serious hard-core test, and try popping that inlet. We charge through at 30 MPH, and keep on going. There are no slams, no bangs, no hard impacts. I look at my mate, and say "Shoot, we should have gone fishing!"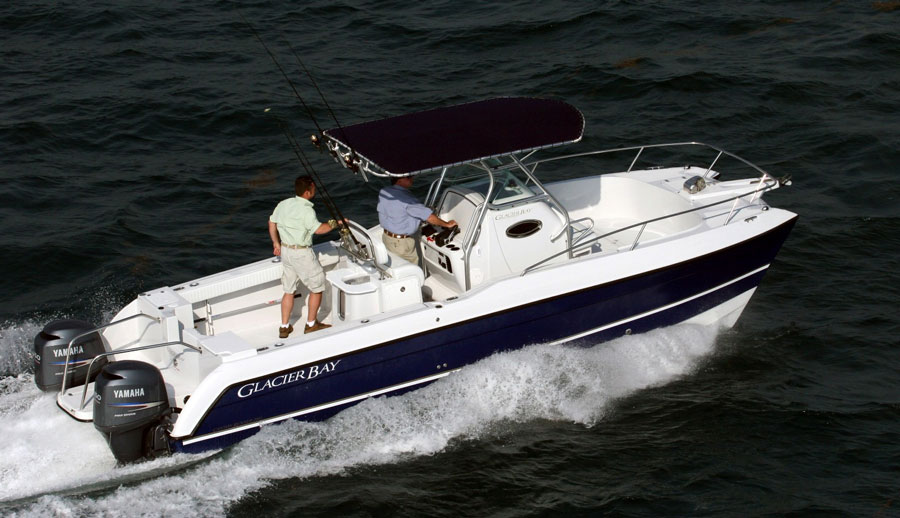 Power Catamaran Cushion
Put 260 hours on a boat, and you get to know it pretty damn well. And after spending an entire season running Glacier Bay's 2665 Canyon Runner, I can say one thing without hesitation: this is the smoothest running boat of its size I've ever been on, period. That said, yes, cats in general and this one in specific do have down-sides, too. In this case it's a snap-roll that rocks the boat quickly when boat wakes hit on the beam. Irregularly-spaced wind-whipped seas don't have the same effect, though, and the snap roll only hit us a handful times all season. Is it a worthy trade-off for the super-smooth ride? Me and my bad back think so, but that's a decision you have to make for yourself.
Here's another down-side: the 2665 is no longer in production. If you want one you'll have to look to the brokerage market, though if a dual-console or cabin model is more your style, you can still get the same hull underfoot in the form of the World Cat Glacier Bay Edition 2740 Dual Console, 2770 Cuddy, and the Hardtop 2780.
What about fishability? Offshore, it's utterly awesome. Cats can raise billfish just as well as monohulls, contrary to popular belief. The season I ran the 2665 we released 16 whites and three blues in 16 offshore runs. What about the tunas? This boat makes bagging them easy, with an aft cockpit that's bigger then those many found on 30-footers plus an extended platform running aft between the outboards which makes it possible to work fish around the props with ease or gaff 'em off the transom. Fishing accouterments include a 32-gallon lighted livewell with viewing port, rig holders, a cutting board, a swing-out stowage drawer and slots for three medium-size tackle stowage trays on each side. Four larger tackle trays fit in the transom, under another cutting board with rig, knife and pliers holders. Racks under the gunwales hold an additional four rods or gaffs and mops. Gunwale bolsters line the sides, and there's a freshwater shower at the transom. The raw water wash is potent, too, and it comes rigged with a self-coiling hose that's behind a pie plate in the side of the console. Mounting it in the console puts it far enough forward that you can wash down both the bow and stern areas of the boat when the blood starts flying. Our test boat also had a "buggy seat" crow's nest on the top, which gave us an elevated platform for spotting flotsam, lobster buoys and the like. Surprise—it's comfier than you'd think up there, and several times people rode up top for 40-mile-plus cruises.
Plugging the Fishbox
Then, there are the fishboxes. They're truly coffin-sized, with excellent insulation and hatches that ease up and down on gas-assisted struts. One day we had four 50- to 70-lb yellowfin tuna, 22 mahi-mahi between five and 10-lbs, a handful of triggerfish, 120-lbs of ice and a 48-qt. cooler full of food and drinks, all packed into one fishbox. There was still room for more. I am NOT making this up. 
The second fishbox is rigged with rodracks and has a locking hatch. It's not the best for long-term rod stowage, though, because these boxes sit lower than the waterline and pump out with bilge pumps; there's always some level of moisture in them, and when I left rods in the rack mold grew all over the place.
While the 2665 isn't a speed demon by any stretch of the imagination, with Twin Yamaha F150 four-strokes you'll have a 4500 RPM cruise of 30 MPH in just about any sea conditions. And when six footers are crashing around, that means you'll leave most other boats in your wake. You don't believe it? I don't blame you. But try putting 260 hours on one—you'll find out for yourself.
Cool Glacier Bay Bonus: Time and time again porpoises swam for long distances in the tunnel between the two hulls—for some reason they're definitely attracted to it. Lay out on the bow and hang your head over, and you can hear their whistles and chirps.
Quick Facts:
LOA – 26'1
Beam – 8'9"
Displacement – 4,200 lbs
Draft – 2'4
Transom deadrise – NA (it's a cat, remember?)
Fuel Capacity – 180 gal
Water capacity – 10 gal.
Max HP – 300
Area Dealers – Taylor Marine Center, in Milford DE and Ocean City, MD.
- By Lenny Rudow