You want to enter the bluewater zone without ever leaving the comfort zone? You want a center console big enough to handle any reasonable sea, without being so large that it requires triple engines and a monstrous slip? You want a boat that has a slew of family-friendly features without sacrificing fishability? If you answer yes, yes, and yes, then what you really want might just be a Grady-White Canyon 326. We had the opportunity to take one for a sea trial, and shoot this brief video of some of the boat's highlights:
The 326 slides nicely into the slot between Grady's 306 and their 336. That might sound like a pretty narrow slot, but in fact, there's quite a bit of difference between the models. The 306 isn't quite wide enough for a triple-wide helm seat like the one found on the 326, nor does it have as much room in the bow and stern cockpits. The 336, on the other hand, adds a couple feet of LOA, almost a foot of beam, and with triples gets about a third of a mpg less at a 30-mph cruise than the twin-engine 326. That's not a huge difference in efficiency, but it also means that you're dealing with fewer powerheads and lower units to maintain and service.
Lest you wonder if a pair of Yamaha V-6 Offshore F300s is sufficient power for the boat, note that top-end is darn near 50-mph and on nice days when you can cruise at 4500 rpm, you'll be running for the deep in the upper-30-mph range. Optimal cruise comes at 3700 rpm and 30-mph, when you'll be getting 1.6 mpg. And those are real-world numbers; when we ran the Canyon 326 we had full fuel and six people aboard.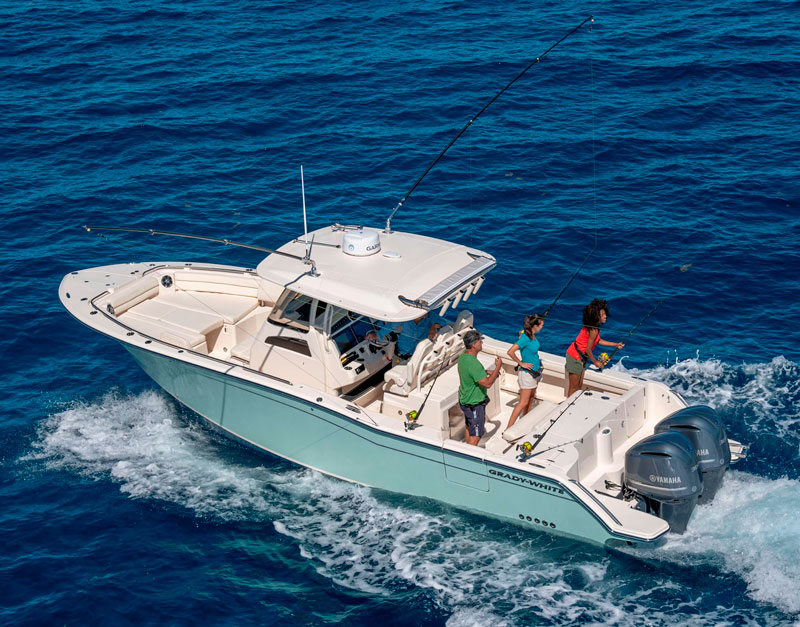 Those are solid numbers for a boat over 30 feet, but if you're considering a Grady-White of this size, you're probably just as interested in how comfy you and your passengers will be during that cruise to the canyons. Remember that triple-wide helm we mentioned? The seats have flip-up bolsters, fold-down armrests, high padded backrests, and footrests both under and forward. If there's a helm with more and more comfortable resting points out there, we haven't seen it. Additional passengers can flip down the folding aft bench seat in the transom, plop down in the double-wide forward console seat, or on pleasure cruises sit in the bow seats or add the filler insert to kick back on a sunpad.
You and I, of course, would probably prefer to pull up all those bow cushions, leave them at home in the garage, and instead enjoy having a forward casting platform. Other fishy features include three insulated overboard-draining fishboxes with a total 678-quart capacity, a monster 32-gallon lighted livewell with full column water distribution and a 1100-GPH pump, nine flush-mount rodholders plus eight rocket launchers, under-gunwale rodracks, dual fore and aft fresh- and raw-water washdowns, cockpit coaming bolsters, a rigging station with a sink, and dedicated tackle stowage. "Armed to the teeth" is an accurate description, and the only option you'll need to consider is adding the outriggers.
Yes, of course the boat also has a kickin' stereo system (Bluetooth compatible, with six integrated speakers), and a cherry-trimmed head compartment in the console. You can also get a retractable ski-tow pylon (if you must), and you can trade out a chunk of the rigging station for an electric grill (heathen!).
One more note about that head compartment: we were psyched to see that Grady-White included vertical rodracks inside there, so you can stow and lock your big guns safely inside. We were also happy to note that Grady has designed in an aft hard-top sunshade that doesn't require you to forgo the rocket launchers, a common downside to getting an integrated aft sunshade on many other boats.
Wait a sec – no boat's perfect, so what are the downsides to getting a Canyon 326? You could point to the long reach to get a rod tip around the outboards, a trade-off made due to incorporating the big fishbox and livewell in the transom, but you could make the same beef about 80- or 90-percent of the outboard center consoles of this size in existence today. Truth be told, the only valid knock we can see is the boat's expense. Grady-Whites don't come cheap, and although it's true they maintain resale value better than the vast majority of their competitors, you'll still need to pony up around $283K to park a Canyon 326 in your slip.
Of course, if money isn't an object and you want to hit bluewater in a comfortable boat that's just the right size with the family amenities you need, right about now you're probably thinking "yes, please. Yes, yes, and yes."
Grady-White Canyon 326 Base Specifications
LOA – 31'2"
Beam – 10'9"
Displacement – 8500 lbs.
Draft (hull) – 2'0"
Transom Deadrise – 20 degrees
Fuel Capacity – 327 gal
Max HP – 700
For other Grady-White reviews, see The Biggest Grady-White Ever: The Canyon 456, and Grady-White Freedom 235 Review: Room to Roam. If you think a dual console might be more to your liking, see PropTalk's review of the Grady-White Freedom 285.