Here's how you'll know if a HCB (Hydrasports Custom Boats) 53 Suenos rigged with quadruple Seven Marine outboards is the right center console for your needs: You say you want a center console fishboat that carries an Earth-shattering 2,508 horsepower. One that has a teak-trimmed cabin larger than those found on most 30-foot cruisers. One that also has goodies like multi-color underwater lights, under-gunwale accent lighting, strip lighting integrated into the outboard cowls, and stereo speakers that flash and change color with the beat of the music. And please don't forget about the on-board wine chiller, joystick controls, and triple-MFD helm display. Ahhh, and some silly people still say that money can't buy happiness… they clearly aren't familiar with the HCB Center Console Yachts 53 Suenos.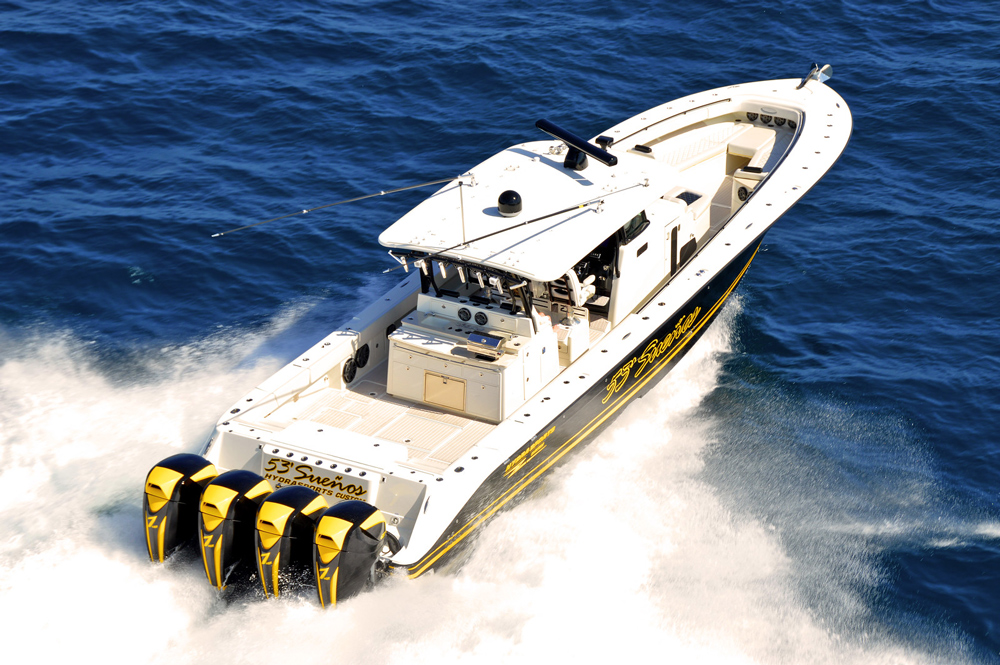 True, the Suenos will set you back a cool 1.5 million. No, it won't quite break the 70 mph barrier with a mere top speed of 69 mph. And yes, at the cruising speed of 51 mph you'll only be getting around 0.4 miles to the gallon. But on the bright side the hard top can be ordered with optional integrated solar panels, reducing your carbon-footprint by 0.0000000000000001 percent.
The Suenos was the biggest center console ever built when it was introduced three years ago, and for this season it's undergone a number of changes and re-tooling that justify calling the boat "new," ranging from a redesigned cabin to a completely different helm. Yet that wasn't enough for HCB – they've begun construction on the 65-foot Estrella, which will be powered by not four but five 627 hp Seven Marine outboards. Stay tuned.
Quick Facts:
LOA – 52'11"
Beam – 13'0"
Displacement – 28,323 lbs
Draft (hull) – 2'0" (engines up)
Transom Deadrise – 23 degrees
Fuel Capacity – 1000 gal.
Max. Power – None. Seriously.
Area Dealers:
Chesapeake Yacht Center, 2780 Lighthouse Point E, Baltimore, MD 21224, (410) 823-2628