I'll never forget the first time I laid eyes on the HCB Speciale, at the Fort Lauderdale International Boat Show. The 1400 horses hanging from the transom left me with an ear-to-ear grin that I had zero prayer of wiping away. (It's true –the video proof is on boats.com). Yet HCB quickly rolled out the 65 Estrella, following up on the 53 Suenos introduction and eclipsing their "smaller" offerings by consecutively building the largest center consoles in the world, one after the next. There's just one problem: what if you want the best of the best of the best, but have a waterfront home with a pier, lift, or depth that make HCB's largest offerings out of the question? Or, what if you already have one of their center console yachts and you want a smaller boat for your summer home? In those cases, the Speciale may soon hold a special place in your heart. (And we really, really hope we get an invite to come fishing with you asap!)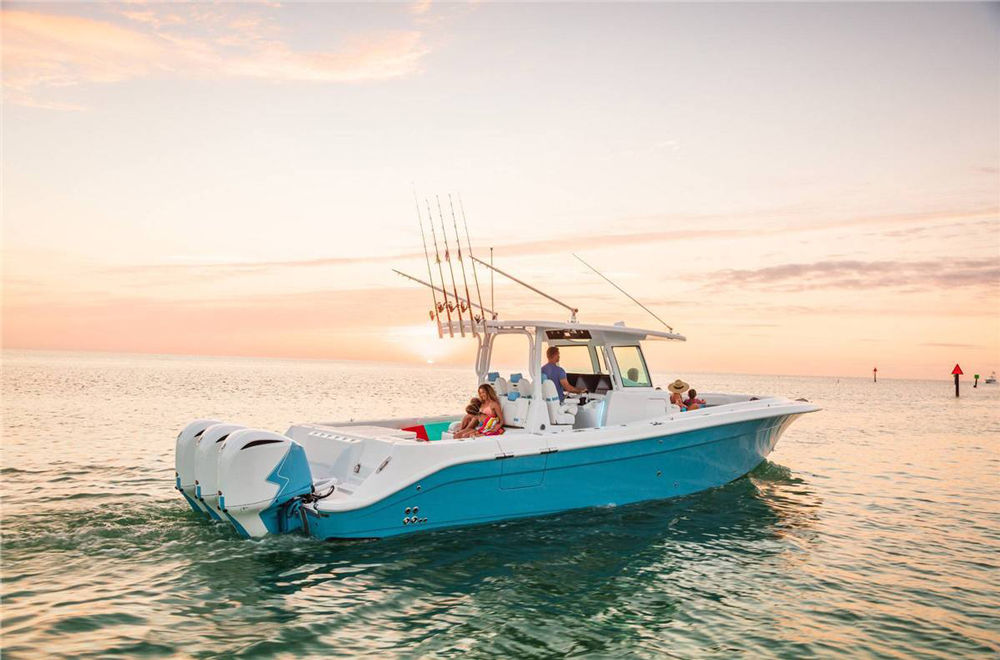 Though it can take quad 300s on the transom, triple F350s or 400s make an excellent power choice and speeds in the 60-mph range are what this rig commonly attains. Yet while performance is a priority, an even bigger one on these boats is comfort. We don't mean Lay-Z-Bay-style comfort, we mean royalty-style comfort. Jump into one of the three fold-down bolstered, arm-rest equipped, diamond-stitched chairs facing the dash, and you'll immediately discover what we mean. Ever sat at a more comfortable center console helm station? We didn't think so.
Luxury abounds in the bow cockpit as well, with a pair of flanking full-length loungers on either side and a monstrous double-wide lounger in front of the console. That's definitely a design more inclined towards entertaining than fishing, however, HCB leaves the center of the bow cockpit clear so you can walk all the way forward to cast, and each of those loungers houses giant-bluefin-sized stowage compartments. But set all that stuff aside for the moment, because the boat we saw was just one incarnation of the Speciale. Remember, the "C" in HCB stands for custom. And they mean it – if you'd rather place more emphasis on fishability and do away with those forward loungers, it's no problem. If you'd like to add to the 26 gunwale-mount rodholders (or even subtract from them, though we'd say banish the thought) they can do it. And if the twin 45-gallon livewells in the stern – which are fed by dual-pump sea chests – don't have enough live-bait capacity for your tastes, you can add even more. The bottom line? If you can imagine it and it fits into the boat's footprint, chances are HCB can make it happen.
One custom touch we spotted in the cabin which we'd recommend for any serious angler was the rod stowage system. What could be set up as a stand-up shower (naturally there's a head compartment down there, along with a forward berth plus tackle stowage) can be rigged with vertical rodracks. These are incredibly convenient, since at the end of the day you can simply load your rods into the racks and turn on the shower, to give them their freshwater rinse-down.
The real beauty of the Speciale is that it finds a balance between fishing, performance, and luxury, while allowing a demanding angler to make his or her own custom touches leaning more this way or that as desired. The down-side? It'll cost you. While the Speciale doesn't go into the same multiple-million range as its larger siblings, exact pricing is tough to nail down until you've decided exactly how you want this custom creation outfitted and laid out. Then again, if you already have that summer home with the lift, you're probably less concerned with cost and more concerned about making sure that ear-to-ear grin never goes away.
Specifications:
LOA – 38'11"
Beam – 11'6"
Displacement – 19,000 lbs.
Draft (hull) – 2'0"
Transom Deadrise – 23 degrees
Fuel Capacity – 525 gal.
Max. Power – 1400 hp
Area Dealers – Chesapeake Yacht Center, Baltimore MD, (410) 823-2628.