You can stomp on the gas pedal in your truck and hit 85 miles an hour on the highway, so why can't you do the same in your fishboat? Well, there's this little thing called "friction" which your boat's hull encounters with the water. Unless you're running a Hellcat. In that case, there doesn't need to be a whole heck of a lot of boat actually touching the water, and 85 mph is no problem. Think about that for a sec — you could cast the Susquehanna flats for stripers, fish at the target ships for cobia, and then drift next to the pilings of the CBBT for flounder, all in the same day.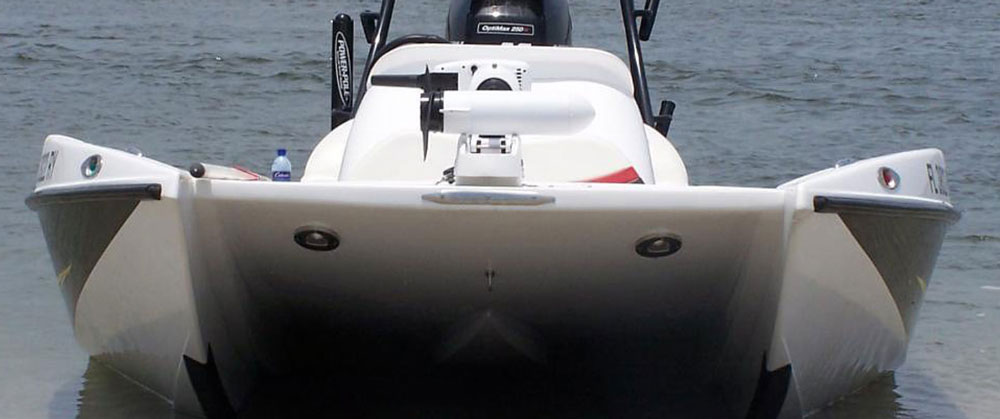 The Hellcat can attain such speeds because it's a relatively small, relatively light catamaran hull which can carry a whole lot of horsepower. That cat hull can also eat up a chop (though we wouldn't suggest hitting warp speeds when there are any serious waves in the way), and has the added advantage of excellent stability. The down-side? Hit too big a wave without the proper throttle response, and you'll go airborne. In a big way.
Though the hullform is designed purely for speed, the topsides of this boat is all about fishing. Fore and aft casting decks are huge (they take up the bulk of the boat, which has a rather tiny cockpit), rod lockers are built into the forward stowage compartments, and there are additional stowage compartments and livewells. Hatches are on gas-assist struts, and the compartments all have raised lips so they stay dry inside. There are four flush-mount rodholders, but they're located amidships and won't be of much use for towing lines. Trollers, this is not your dream-machine. Nor will it be the choice of the timid, the meek, or the boring. But if you want to roar across the water at eye-watering speeds between casts – or have lunch in Lewes and dinner in Norfolk – the Hellcat can make it happen.
Quick Facts:
LOA – 20'3"
Beam – 8'6"
Displacement – 2,340 lbs.
Draft (hull) – 9"
Transom Deadrise – NA
Fuel Capacity –75 gal
Max HP – It's debatable
Area Dealers – None, you have to go right to the factory if you want one of these boats. Visit Hellcat, or call (954) 260-7377.