With the ICAST fishing tackle trade show now over there's about to be a flood of new fishing gear hitting the market. But this summer we found some stuff before the show that shouldn't get lost in the commotion - so check this gear out!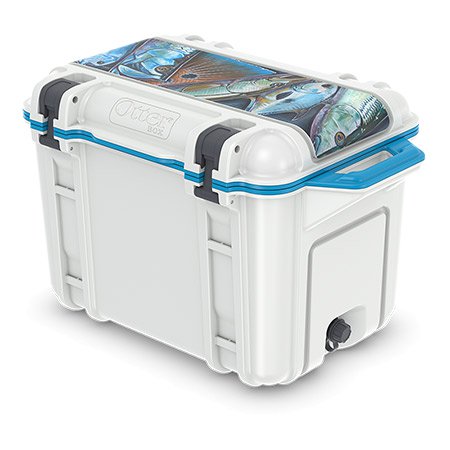 You Otter Try This Out - Yeti, you'd better take a glance back over your shoulder – OtterBox sent us one of their new Venture super-coolers with the DeYoung Salt pattern finish to test out, and this thing is totally chill. The appearance is what grabs you at the first glance, with tarpon, redfish, and other saltwater species decorating the top and a blue/white color combination on the rest of the cooler. But when you start poking and prodding, you quickly realize that this beast is built for serious duty. Everything from the handles to the hinges to the latches (which can be locked down to make the cooler officially certified "bear-resistant"), is blatantly tough. Sitting, standing, and jumping on the Venture will cause zero damage, even if your 300-pound cousin Bubba decides to do all of the above. Insulation is two inches thick, and OtterBox says it'll hold ice for up to 14 days. We frankly didn't have the patience to let this uber-cool cooler sit for that long unused, but we can tell you that after a full day of offshore fishing in the blazing summer sun, there was never more than a dribble of water in the bottom. And if you're a gadget-guy or -gal, you'll love the accessories that fit on the Venture's mounting system. There are cup holders, tables, cutting boards, trays, dividers, OtterBox dry-boxes, and even a set of all-terrain wheels that clip on and slide in. Ventures come in three sizes so you can haul up to 25-, 45-, or 65-quarts of your favorite frigid freight. Price: $299 - $349. Visit Otterbox to scare the snowbound Sasquatch.
Stick To It - Many of us, particularly those with dedicated crabbing boats we run single-handed, utterly love tiller steer rigs. But it's tough to find larger tiller-steer outboards, especially models on the cutting edge. A new one we checked out this summer is the Evinrude E-TEC G2. You may remember that last month, we told you about the new line of G2 in-line-three, 1.9-liter engines. These come in behind the 2.7-liter V-6 that ranges down to 150 horses. Available in 115 HO, 140, and 150 horse models, these new smaller powerplants carry all the same benefits of the new G2 line: efficiency improvements of 10- to 15-percent, gobs of low-end torque, and a five-year, 500-hour period between regularly scheduled maintenance. Added bonus: these new in-line-threes are significantly quieter and smoother than previous models. The 115 HO and 140 horse models, however, can be had with a different twist: tiller steering. What's really unique here is that like the larger G2s, the tiller-steer models are completely digital. When's the last time you saw a digitally-controlled tiller-steer outboard? Yeah, that's what we thought. Here's a peek of the tiller steer on video:
The engine's digital nature means you can dial in tiny rpm changes at the press of a button, mount digital gauges on the boat, and shift and accelerate smoothly, but Evinrude also put a lot of thought into the tiller arm itself. It swings up for steering while standing, and unlike other tiller arms, it has a tension adjustment for arm height. That means you can set it so it won't fall back down when you let go of the arm. You can also adjust the minimum height, and set the tiller to an offset of up to 20-degrees to best fit your boat no matter where the captain's seat is located. Price: TBD. For more information, visit Evinrude.
G. Wiz - You want a rod designed specifically for slamming hefty stripers while casting lures? Us too, so when G. Loomis offered to send us one of their new IMX-PRO Blue rods to test we jumped at the chance – and shortly thereafter, watched the rockfish jump on our topwater plugs. Our test rod was the 844S MF, a seven-foot, moderate-fast-action spinning rod with medium-heavy power, rated for 20- to 65-pound braid. For a moderate-fast we felt it was thoroughly stiff up top, but did have just enough give to walk-the-dog with a five-inch Super Spook. Better yet, when that Spook got slammed the IMP-PRO Blue provided a jaw-jarring hook-set and gobs of backbone. So much backbone, in fact, that it's our intention to sling this stick in offshore chunk slicks for mahi-mahi this summer, a task at which we're guessing it will excel. These rods have cork grips and butts with top-notch Fuji seats, Fuji's new Fazlite K-frame corrosion-resistant guides which are designed for use specifically with braid, and gimbal-butt models are available as are both spinning and casting versions. Lengths run from seven to seven and a half feet. Price: $350 to $385. Visit G. Loomis for more info.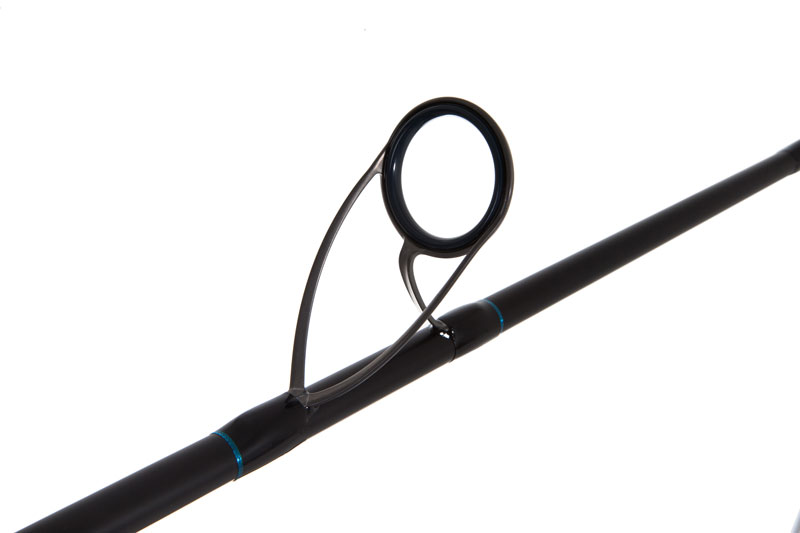 Close Shave - The Fish Razr Flapz Dredge is rather unusual in the world of offshore dredges, as it looks like a bunch of fish silhouettes chopped right out of a truck's mud flaps. Then you glance at the pictures of what this thing looks like underwater, and suddenly making faux fish out of an automobile accessory makes a lot of sense. A single dredge has a dozen 14-inch flapping fish (double dredges and multiple versions are available), and is based on a 36-inch bar rigged with 400-pound test monofilament and swivels. Fish Razrs are also available in combined dredges with a mix of flaps and squid, and these bill collectors collapse easily and stow in an (included) mesh-back carry bag. Price: $279; visit Alltackle, to see the full selection.