Anyone who's been boat shopping during the past year knows that the biggest problem is, well, actually finding a boat you can buy, because between supply chain issues, manufacturing workforce issues, and an epic demand for hot new fishboats, many of us have had to buy build slots as opposed to completed hulls. In some ways, however, this is a blessing in disguise. First and foremost, that demand for new boats means our fishing community is growing, and as it grows it becomes stronger. We anglers have a louder voice, and more sway with the powers that be. We can leverage that influence into a cleaner Chesapeake Bay, better fisheries, and better access to both. We all need to work together to make this our cooperative mission.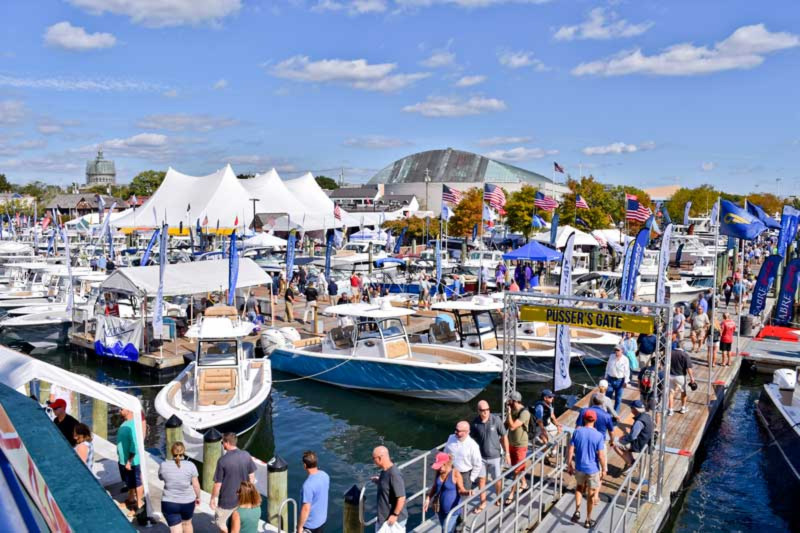 The recent boat shortage can also be beneficial in that if you have to order a boat for future delivery as opposed to buying a stocked boat, you have more flexibility to choose how it's rigged and outfitted at the factory. You won't have to shell out extra cash for a stereo system or a ski tow pylon you didn't really want in the first place, and you can make sure you get all the extra rodholders and integrated tackleboxes you wished were on your last boat.
What does all this boil down to? Just a week or so away come October 7 to 10, many of us will be visiting the US Powerboat Show in Annapolis, MD, to look for a sweet new fishing boat. Considering how quickly boats are being sold these days we can't guarantee you that each and every model we're about to mention will be on display at the show, but we can promise you one thing: there's no better opportunity to get a close-up look at different makes and models ranging from simple skiffs to sportfishing yachts. So as you walk the docks keep your eyes peeled for:

Aquasport 2500 Center Console – The storied builder Aquasport is back, and we can't wait to check out their latest offerings. One that will be of particular interest to Bay anglers who also want the ability to hit the ocean is the 2500 Center Console, which boasts highlights like a 30-gallon livewell, stainless-steel toe rails, blue underwater LED lighting (fish-attracting green is an option), and Kevlar reinforcement in the hull. Added bonus: the 2500 carries a whopping 168 gallons of fuel, which is a cut above most competitors and noticeably extends range.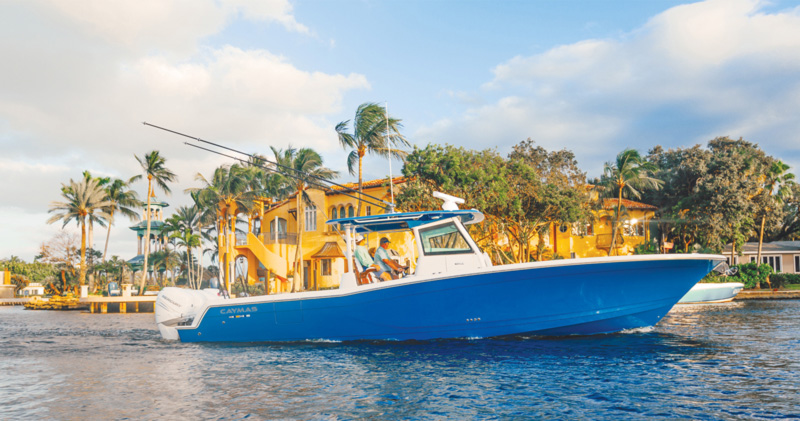 Caymas 401 CC – Caymas has wowed us with one model after the next, and we thoroughly expect the 401 CC to continue this trend. Highlights include the Michael Peters SVVT twin-stepped hull, a Hooker sea chest system with variable-speed pumps and a 5000 GPH capacity, and 36 — yes, 36! — stock rodholders. The 401 CC is also Seakeeper-ready and can run with either triple or quad powerplants up to a potent 1800 horsepower.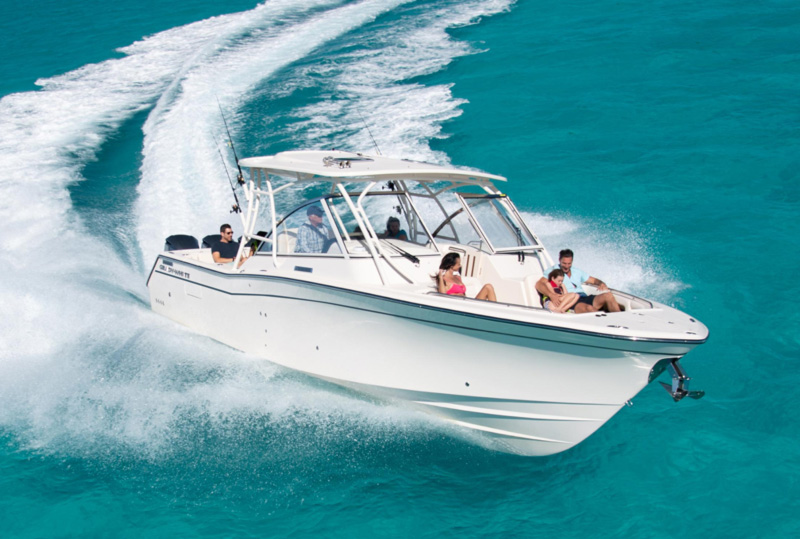 Grady-White Freedom 335 – Dual consoles may be great for family fun, but how many have the beef to also make the fishing grade both inshore and offshore? Not many. The Grady-White Freedom 335 fits the bill, with all the angling must-haves plus a console cabin fit for weekending aboard plus-plus a separate head compartment. Setting all the goodies and gadgets aside (air conditioning in the cabin and at the helm, a 32-gallon livewell, a wireless phone charger, etc. etc. etc.), the comfortable ride provided by Grady-White's SeaV2 variable-degree deadrise is something you have to feel for yourself to appreciate. Sea trial, please!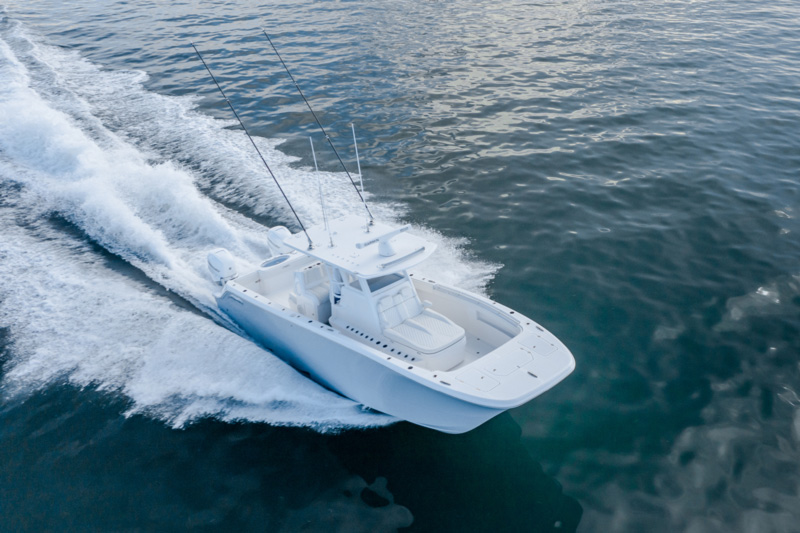 Invincible 33 Catamaran – The latest wave-shredding machine from Invincible is the 33 Catamaran, now the most compact twin-hull offering from this builder. Riding on the Morrelli & Melvin hybrid semi-asymmetrical twin-step hulls and carrying up to 900 horses, the 33 is predicted to break the 70-mph barrier (as we go to press the builder is still tweaking things on hull number one but has already reached the upper 60s in testing). This fishing machine is built with top-shelf touches like vacuum-bagged infused and cored hulls and all vinylester resins, and is rigged to the owner's custom desires. Don't bother checking it out unless you want the best of the best in a 33-foot powercat. Period.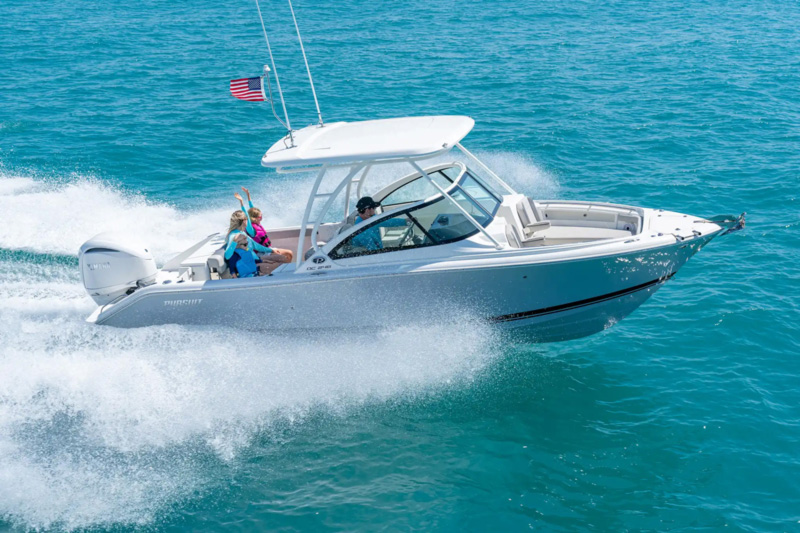 Pursuit 246 DC – The newest addition to Pursuit's lineup, the 246 DC will appeal to anglers who enjoy family boating as well as fishing. Armaments include a 15-gallon livewell, a 31-gallon transom fishbox, four gunwale rodholders, and a fold-away transom seat that opens up the cockpit for casting space. Family highlights feature gobs of fore and aft seating, a console head compartment, an 18-gallon freshwater system, a ski/watertoy stowage compartment, and an optional removable ski tow bar. This is a sporty model, too, with a cruise in the mid-30s and a top end around 45 mph with a single Yamaha F300 on the transom.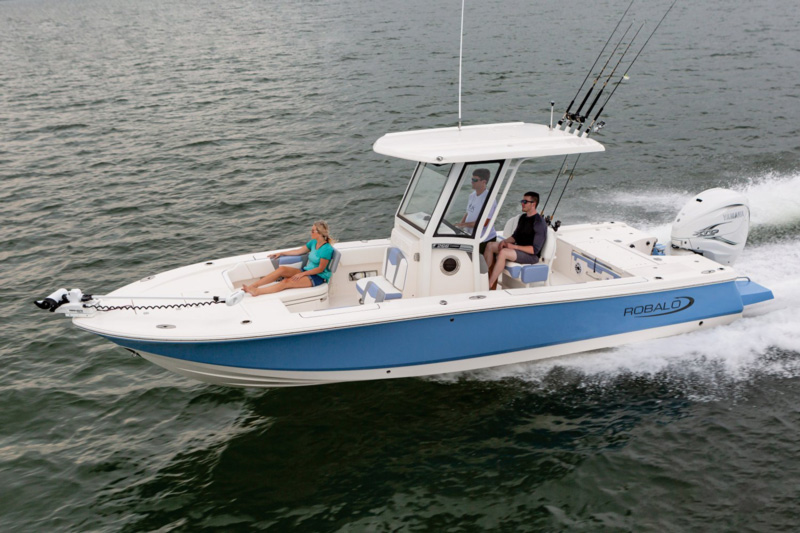 Robalo 266 Cayman – Robalo bay boat fans have been waiting for a newer, bigger Cayman model and it's here in the form of the 266. Along with the extra LOA the 266 gets you big-boat perks in a bay fishing machine, like a helm enclosure with a hard top, powder-coated frame, bonded front and side windshields with an overhead vent, an electronics box, and spreader lights; cockpit coaming tackle stowage; and over 100 gallons of insulated fish-stowing capacity. We're particularly interested to try casting from the foredeck, which incorporates stowage, seating, a drop-down table, a sunpad, a (second) livewell, and an anchor locker along with two different level casting platforms.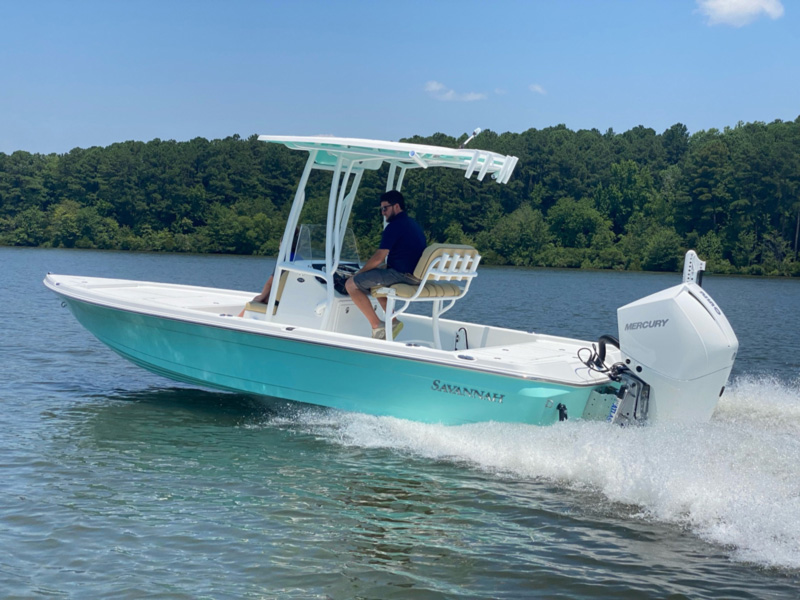 Savannah 22 IS and 19 IS– Those who are familiar with Savannah know them for their skiffs, but now they have a pair of mod-V boats intended for handling choppier seas and inshore angling action. Both models draft a mere 13 inches, come with a standard nine-inch Simrad electronics package, include an aluminum leaning post with four rocket launchers (four more come along with the T-top), and flush-mount gunwale rodholders. The 19 can take 150 horses and the 22 is rated for 250, so performance should be spiffy — we can't wait for the sea trials.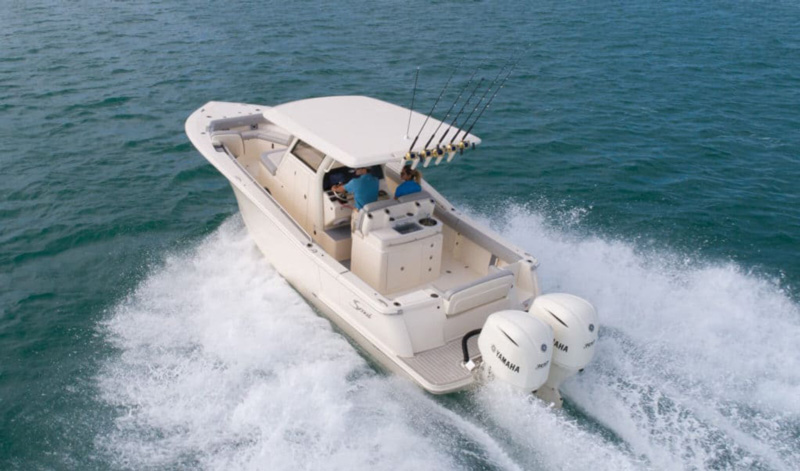 Scout 305 LXF – The Scout 305 LXF has one thing other 30-foot CCs simply can't match: a console cabin with a berth and (optional) air conditioning, turning this center console into a weekender — though we'd certainly rather see that berth put to use for naps between bites on overnight fishing trips. Also of particular note is the integrated bracket/swim platform, which has enough space to walk across the boat's 9'10" beam. Then there's the eye-watering performance to consider: with twin 400s you're looking at a top-end over 63 mph.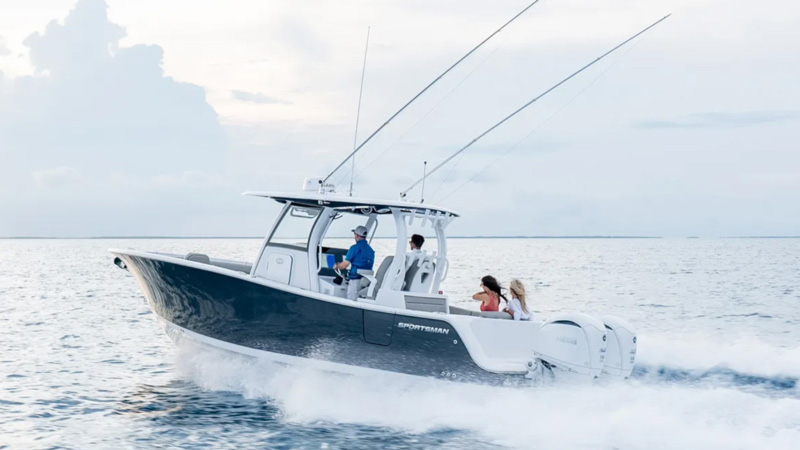 Sportsman Open 302 and Sportsman Masters 247OE – This pair of new models from Sportsman Boats covers both the offshore and inshore bases. The Open 302 is a fresh design that incorporates many of the features found on larger models, like dual side entry doors, twin pressurized 30-gallon transom livewells with viewing ports, and Seakeeper-ready integration. You want a 35-footer in a 30-foot package? Here you go. The Masters 247OE, meanwhile, accomplishes the same bigger boat feeling in a smaller, less expensive package when compared to their much-lauded Masters 267OE. That was the model that brought coffin-box/lounger fish stowage and comfort to the world of bay boats, and now you can get the same advantages in the 24-foot package.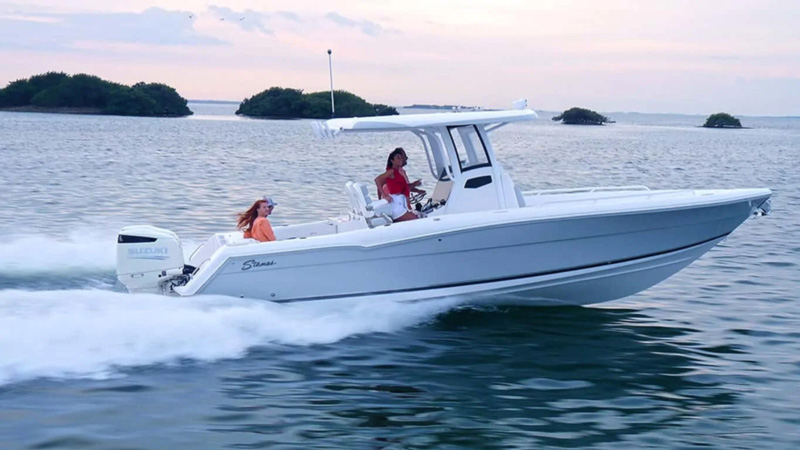 Stamas 31T Aventura – This model was introduced right before the pandemic hit so it hasn't been seen extensively by the boating public, and we've been waiting to get an eyeball on any and all the new Stamas models since they recently expanded their dealership network to once again include the Mid-Atlantic region. The 31T Aventura is particularly interesting, with a highly evolved leaning post tackle station incorporating a livewell with viewing port, sink and rigging station, and locking tackle stowage. The boat comes loaded with standards, too, including goodies like fresh and raw water washes, recessed trim tabs, an anchor windlass, an electric head in the console compartment, USB charging ports, and a bunch more — too much more to list it all out here.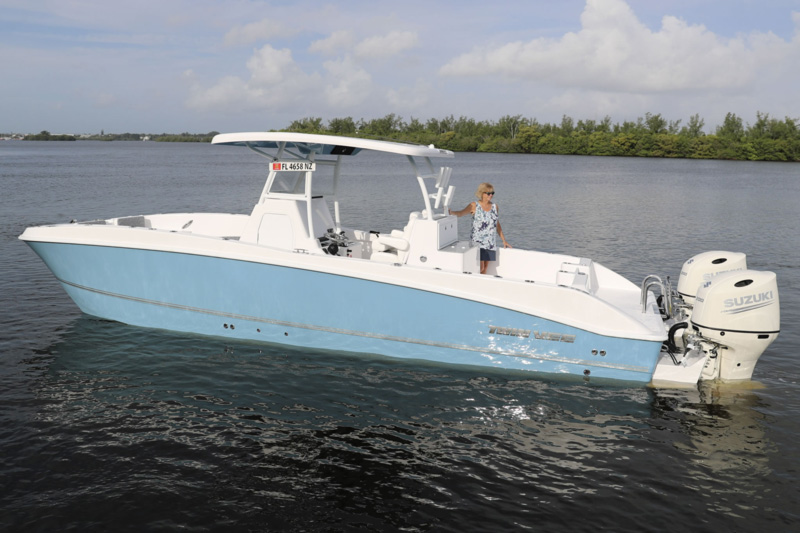 Twin Vee 280 GFX – We got our first glimpse of this potent powercat at the Bay Bridge Boat Show this spring, and we certainly hope to see it in Annapolis, too. The most impressive feature (beyond the smooth power catamaran ride) is this boat's shocking stability. We walked from side to side and the shifting weight had virtually zero effect. In fact, we were so surprised we shot a video of it, which you can see for yourself at FishTalk's YouTube channel.
The Annapolis Angle
The U.S. Powerboat show isn't like your average boat show, and in Annapolis you can expect to encounter bonus features like:
The Demo Dock, where you can take out boats for sea trials.
Free seminars on boating, fishing, and more.
Surprise new fishing features.
World-famous Pusser's Painkillers.
Stop by our Booth and say hi to the FishTalk and PropTalk crew.