Thank goodness 2020 is FINALLY over, and now we can move on to 2021 thinking about Chesapeake Bay Fishing, put our freshwater fishing tips to good use, and apply the art of trolling a mixed spread offshore. And, no matter who you are and where you do your fishing, the new year brings with it some cool new fishing gear. Ready to check out these 2021 goodies?
Humminbird Apex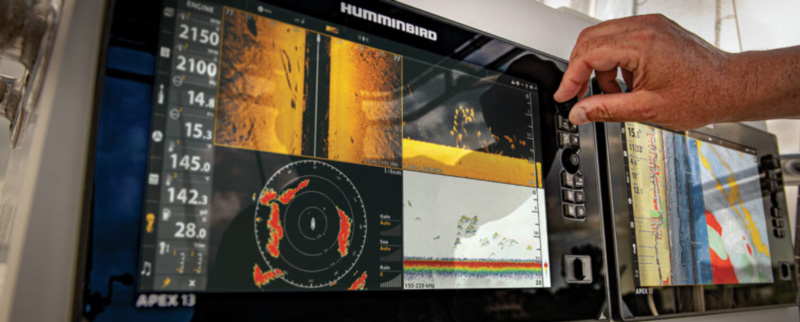 Humminbird fans: stop the presses, hold the phone, and drop whatever you're doing — they've just announced a completely new line of MFD displays. Apex is the name, and these fully networkable, NMEA2000 compatible, CZone digital switching-capable units are Humminbird's new top-shelf offering. With both touchscreen and tactile button interfaces (they call it CrossTouch) you can access the menu in a myriad of different ways, on 13-, 16-, and 19-inch LCDs. And that menu has just about everything you could desire: side- and down-scanning out to 250 feet via MEGA Imaging + on top of down-looking CHIRP to 1200 feet (5000 if you opt for a transducer upgrade); radar, autopilot, and Fusion entertainment system integration; the One Boat Network incorporating Minn Kota iPilot Link motors, Talon shallow water anchors, and Cannon downriggers; and more. Apex units also come with CoastMaster and LakeMaster chartography, offer real-time bathymetric mapping, and are Bluetooth and WiFi equipped. Price: $3699 to $4999. Visit Humminbird to learn more.
Bloody Point Baits Shad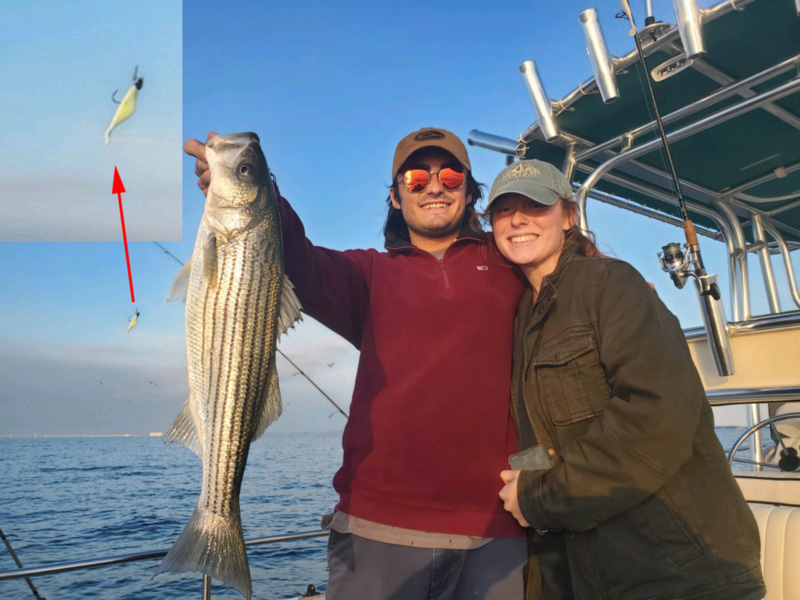 What's so special about the Bloody Point Baits four-inch Shad? In truth it's not so different from many other plastic shad out there, though we do love the fact that it's available through Alltackle, a longtime friend and supporter of FishTalk. We used these paddle-tail lures while jigging for stripers in the Chester this fall, and the rockfish didn't hesitate to snap them up. In fact, Captain Tom Weaver (of Fish With Weaver) told us it was his go-to lure every day of the week. But it's a different factor that pushed us over the edge, and made us decide to put the Bloody Point Baits Shad on the pages of New Gear — you simply can't beat the deal! Price: $14.99/25-pack. Can you best that? Heck no. Visit Alltackle for more info.
Propspeed Foulfree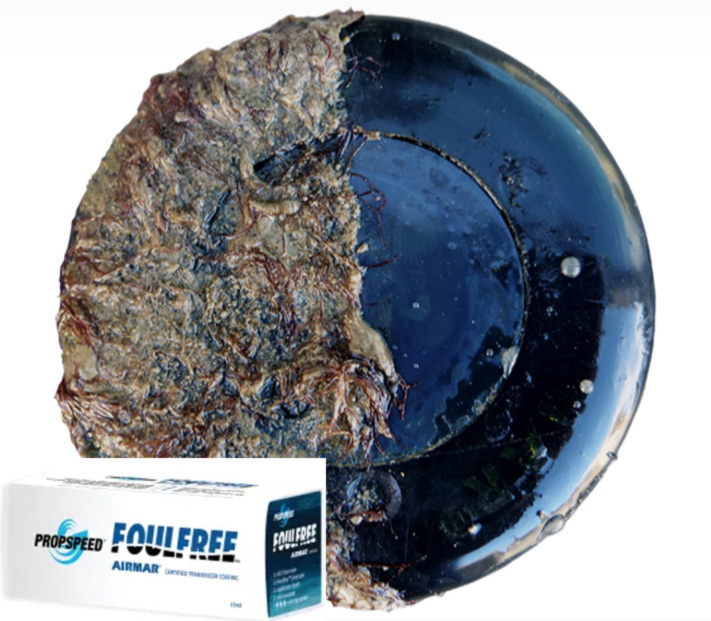 Sick and tired of having your fishfinder transducer get scummed-up, barnacle-ridden, and fouled with growth? That can degrade its performance, so Propspeed has a new transducer coating called Foulfree which will keep surfaces free and clear of marine growth for at least a year after you brush it on. It's a release coating not a biocide, which forms a surface so slick that those aggravating aquatic attachments can't get a grip. Thus, it's more environmentally friendly than the alternatives. Where it really stands apart from similar products, however, is that Propspeed worked with transducer-maker Airmar to have them certify that it results in absolutely zero impact on your transducer's performance. Price: $39.99. Visit Propspeed to learn more.