We try to cover cool new fishing gear as it hits the streets, and as FishTalk reader know, nothing related to fishing is out of bounds. For the upcoming summer of 2022 we have four totally awesome goodies and we're hoping that at least one of these will be of interest to you no matter what sort of an angler you are. Here goes: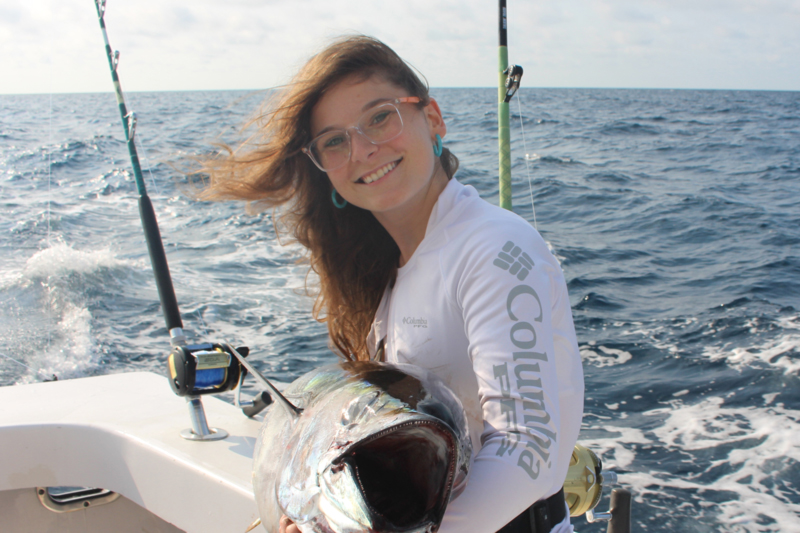 Columbia PFG Shirts and Shorts
The Columbia PFG line makes no false promises — if anything, it overdelivers. Last summer, I tested out some of their gear both on and off the water to see how it holds up. Trying out their Women's PFG Tidal II Shorts, Women's PFG Tidal Tee II Long Sleeve Shirt, and Women's PFG Tidal Tee Hoodie, I stepped onto boats fully outfitted in clothing to fish.
IMO, the most impressive feature of Columbia's gear is how fast it dries. When tuna fishing in the Women's PFG Tidal II Shorts and Women's PFG Tidal Tee Hoodie they got totally soaked in fish blood, then blasted by a saltwater washdown to remove it. The spray removed all the blood, leaving the shorts looking new and dry within 15 minutes. Within 20, the Tidal Tee Hoodie was also totally dry. All of the clothing provided excellent movement and avoided chaffing; scooping crabs off the trotline truly put this to the test. During the scooping the clothes were comfortable, and the shirt cuffs even withstood the blue-crab-claw test. The PFG Tidal II Shorts also have two spacious front zippered pockets, which comfortably held my phone, wallet, and a variety of snacks throughout the day.
All in all, Columbia's PFG line is lightweight, durable, highly functional clothing that'll seriously up your comfort and flexibility on the water. Many of their options, including the ones I tested, offer Omni-Shade UPF 50 sun protection, an absolute essential for time on the water. While made for fishing, I also wore the shorts and both shirts while white water rafting, hiking, running, and generally out and about. I ended summer with a tan line proving how much I enjoyed these shorts — if you pick some up, I reckon you will too. Price: $40 to $60. 
-By Mollie Rudow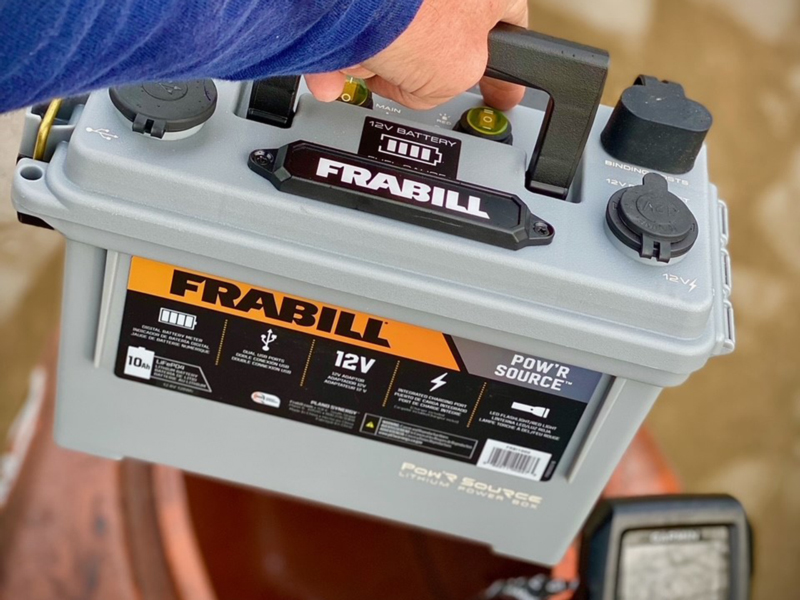 Frabill Pow'R Source
New for 2022, the 12-V lithium battery Pow'R Source from Frabill is sure to power all your camping and fishing needs. The lightweight 10-amp-hour battery is housed in a hardy waterproof case that features two USB ports, a 12-V outlet, and binding ports. Whether you're powering your fish finder, recharging your phone, or using the flashlight feature to tie on a bait, the Pow'R Source is a surefire way to power up your day out on the water. I tested it while kayak fishing and it powered my Garmin Striker fishfinder for four fishing days in a row, without making so much as a dent in the juice supply. Price: $219.99.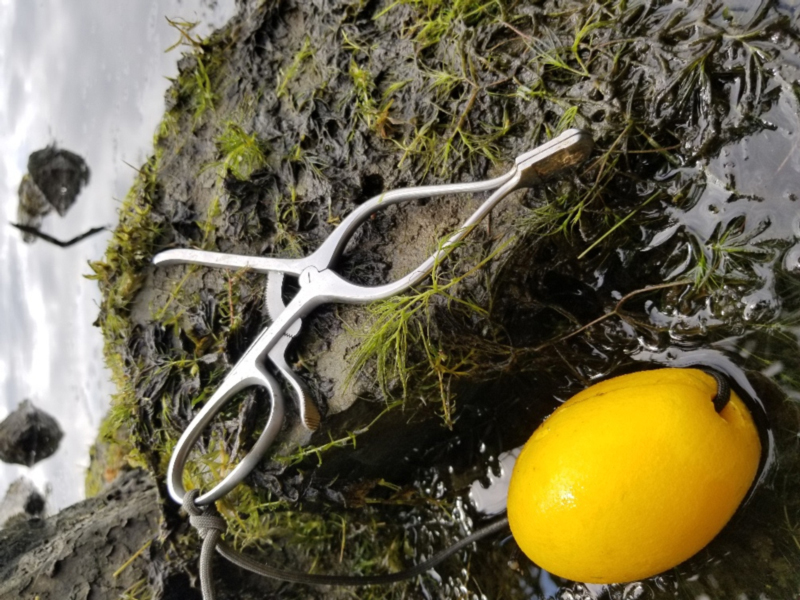 Snakehead Jawbreaker
Prying open the mouth of an angry snakehead is no easy chore, at least it isn't if you don't want your fingers perforated, but you'll have to master the task to retrieve your topwater frog post-catch. Enter the Snakehead Jawbreaker. We spotted this inventive tool while wandering the Pasadena Sportfishing Group's fishing tackle show, and it struck us as the perfect solution to the average snakehead's angry attitude. Slide the bill into the fish's mouth, squeeze the handles, and these reverse-hemostats ratchet open to spread the fish's jaws wide and keep 'em that way. The tool also has a large float attached so dropping it overboard isn't a disaster. Price: $39.99.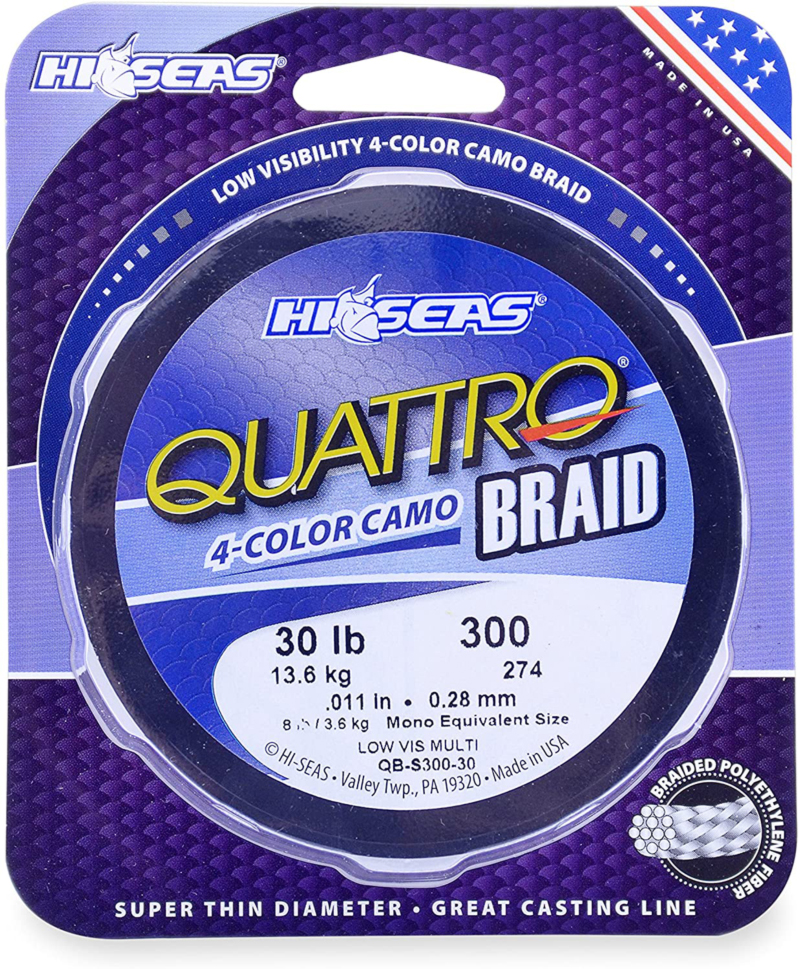 Quattro Braid Fishing Line
Ever wonder what braid line looks like underwater? Well, the fish won't tell us. We can, however, try casting with camo. We did just that after spooling up with Hi Seas four-color camo Quattro Braid in 20-pound test. The concept behind Quattro is incorporating blue, black, green, and red colors patterned in short random lengths, to break up visual patterns in the water. Yet you can still spot this line above the waterline like bright-colored hi-vis lines — without tipping off the fish to your line's presence. This line feels like other braids with zero stretch and sensitivity that mono can't even dream of coming close to. However, made with tightly woven ultra-high-molecular polyethylene fibers, it also offers a bit less diameter than some competitors and measures up at .008 inches versus the common .009 inches. If you like the idea of casting with 20-pound line that has the diameter of six-pound mono and offers a unique way to visually deceive those dwellers of the depths, check this stuff out. Price: $25.99/300-yard spool. 
-By Staff