Garmin VIRB 360
This waterproof, compact, rugged, and fully spherical 360-degree action-cam is now hitting the market. Hang it from an outrigger, mount it on the T-top, or dunk it beneath the surface to get those jaw-dropping fishing shots, because this camera captures video of up to 5.7K/30fps—with four built-in microphones to ensure everything sounds as good as it looks in any direction (above water). The camera has built-in GPS, live-streaming YouTube/Facebook capability, and a 360-degree augmented reality setting. Clearly it's more advanced than your average action cam, and as you might expect, it's also more expensive than your average action cam: price is $799. Visit Garmin.com to learn more.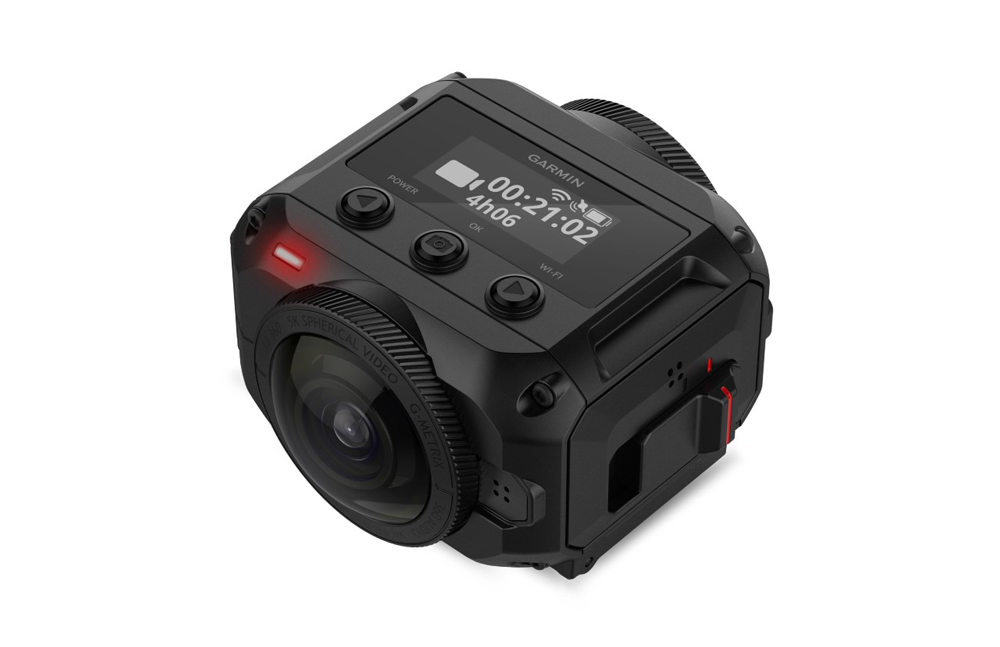 Evinrude iDock
If you haven't yet docked a boat via joystick, trust us, it's a joy to behold. The two problems, however, are that outboard joystick systems cost an arm and a leg, and rarely work as well as pod drive joysticks. Evinrude set out to address both issues with their iDock system—and testing a Scout center console and a pontoon boat rigged with iDock proved that they were successful.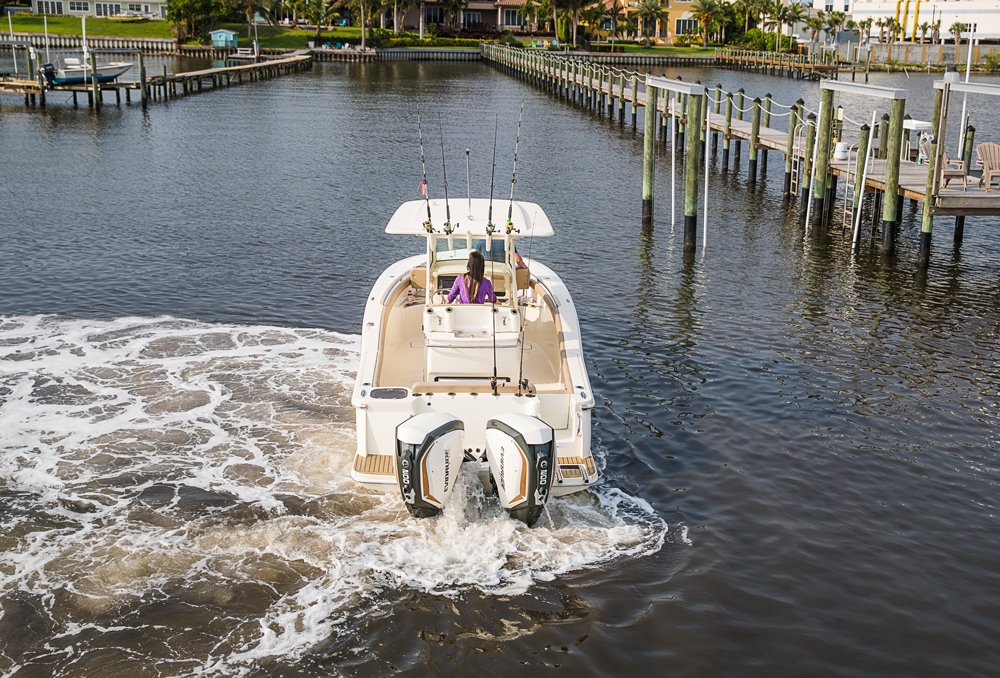 First off, let's consider cost: it'll take $5,999 to get the iDock on a new boat rigged with E TEC G2 outboards. Most systems cost twice or three times that amount, but since the G2's have an integrated hydraulic helix steering system and digital controls, it's easy to add in the stick. As for its effectiveness, Evinrude added a gyro sensor that helps the system maintain direction as pressure is applied to the joystick, regardless of wind and/or current. Does it work? In a word, yes—we could feel the difference maneuvering the boats around the docks--and iDock won an industry Innovations award. Editor's Update: In 2022 Evinrude ceased production of outboards motors and systems including the iDock.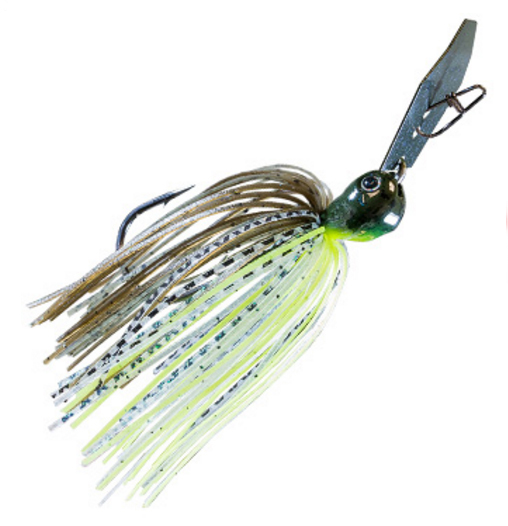 ZMan Chatterbait Jackhammer
Anglers fishing in blue-infested waters love ZMan lures for their tooth-proof plastics, but freshwater guys love 'em for a different reason: their bass lures. A new one hitting the stores is the ZMan Chatterbait Jackhammer, which melds a big blade with the head and skirt to create a lure with a crazy side-to-side vibration. Ten color patterns are available, in 3/8 and ½ ounce sizes. Striper anglers should listen up, too, because the vibrations this lure puts out will make it a winner when the water clarity is poor and you're looking for a fish-attracting lure to cast to shallow water hotspots like piers and rip-rap. Price: $15.99. Check out zmanfishing.com to see more.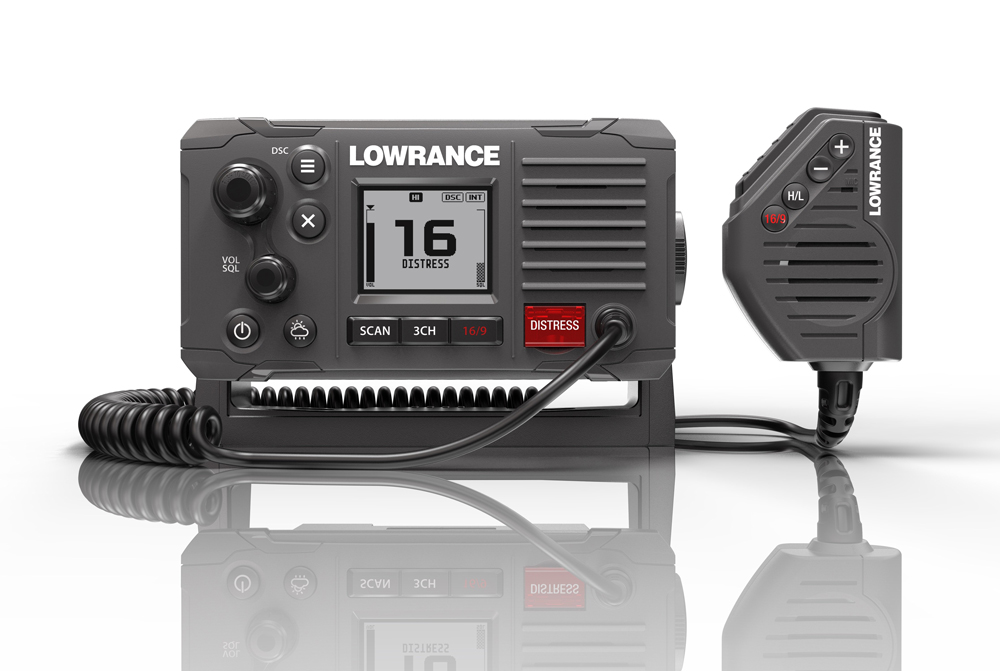 Lowrance Link-6
Lowrance has a new VHF radio to offer, the Link-6. This fixed-mount VHF is good for either flush or gimbal mounting, has a black and white LCD display, rotary dial channel selection, a DSC emergency distress button, and a look that's quite different from previous Lowrance radios. Cost is $189; visit lowrance.com for more info.
Maui Jim Spartan Reef
When it comes to high-quality sunglasses, you usually have to make a choice: get glass lenses and enjoy premium optics but heavier weights, or get polycarbonate lenses and enjoy light weight but do without the best optics possible. Enter, Maui Jim's Spartan Reef sunglasses, with "SuperThin" glass. These lenses are 20-percent thinner and lighter than standard glass, their polarization eliminates 99.9-percent of glare, and the anti-reflective surface blocks reflected light and glare from behind.
That all sounds great, but what does it mean in the real world? When Maui Jim gave us a pair to test, we replaced the old stand-by for three days of fishing in the Florida sunshine. When the fishing was over, the Maui Jims stayed put and the old sunglasses remained packed in the suitcase. The bottom line is that these glasses provide optics that simply can't be matched by polycarbonate lenses, yet they're noticeably lighter than the norm and sit comfortably on your head for hours at a time. We'd give them a thumbs-up, a thumbs-up and a third thumbs-up, but… we have to withhold that third thumb because of cost. If price matters, you'll be a bit bummed at the $239 price tag. For more info visit mauijim.com.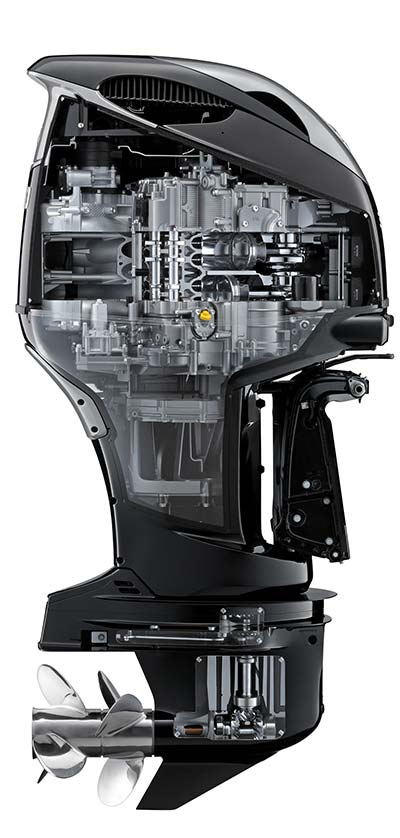 Suzuki DF350A
Motor-heads, here's one we bet you weren't expecting: the Suzuki DF350A is not only the biggest Suzuki outboard ever built, it also has contra-rotating twin propellers. This produces 80-percent more blade area than usual, providing massive amounts of lift as you apply power, improving hole-shot, and enhancing control when operating in reverse. The engine itself is a 727-pound 4.4 liter V6, with 10-hole fuel injectors, shot-peened slipper pistons, and variable intake camshaft timing. WOT range is 5700 to 6300 rpm, but to get "maximum power" the engine requires 91 octane fuel. We haven't had a test-run with one of these just yet, but we can't wait—it should be an ideal engine for large, heavy outboard boats, including triple and quad rigs. Pricing is TBD, but you can glean more details at suzukimarine.com.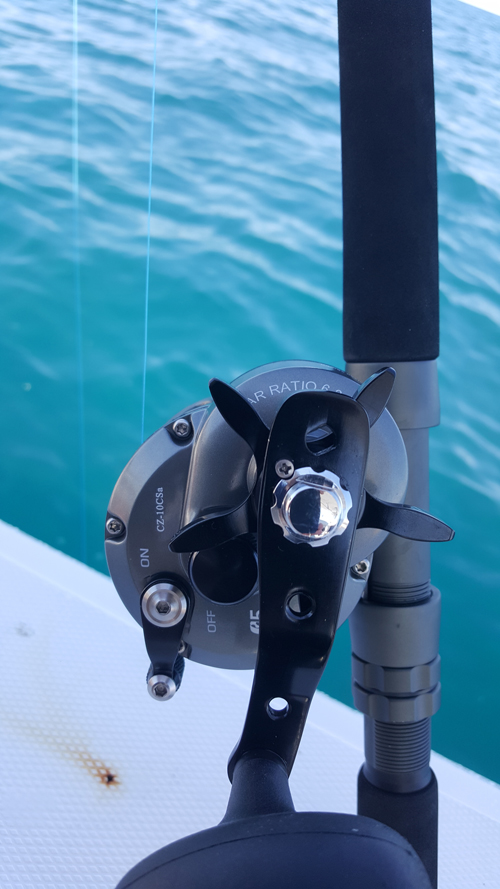 Okuma Cortez Star Drag Reels
The Okuma Cortez is a pretty straightforward reel: it's a relatively simple star drag conventional available in four sizes, has graphite sideplates and an aluminum spool, puts out between 15 and 18 pounds of maximum drag, and will be a perfectly capable trolling reel for Bay and inshore waters. Cost is quite reasonable, in the $120 range for the smallest model and up to $220 or so for the largest.
You'd think a standard-issue trolling workhorse like this wouldn't have any tricks up its sleeve, but as we found out while testing these reels, you'd be wrong. The surprise? The Cortez actually casts quite nicely. We were using the (mid-sized) CZ-10CSa (rated for 350 yards of 20 pound mono) and discovered that we could fling a Savage Gear eel on a one-ounce jighead with no problem whatsoever. Okuma credits their magnetic control system, a type of feature you don't always find in reels that are ideal for trolling. You can gather more details at okumafishing.com.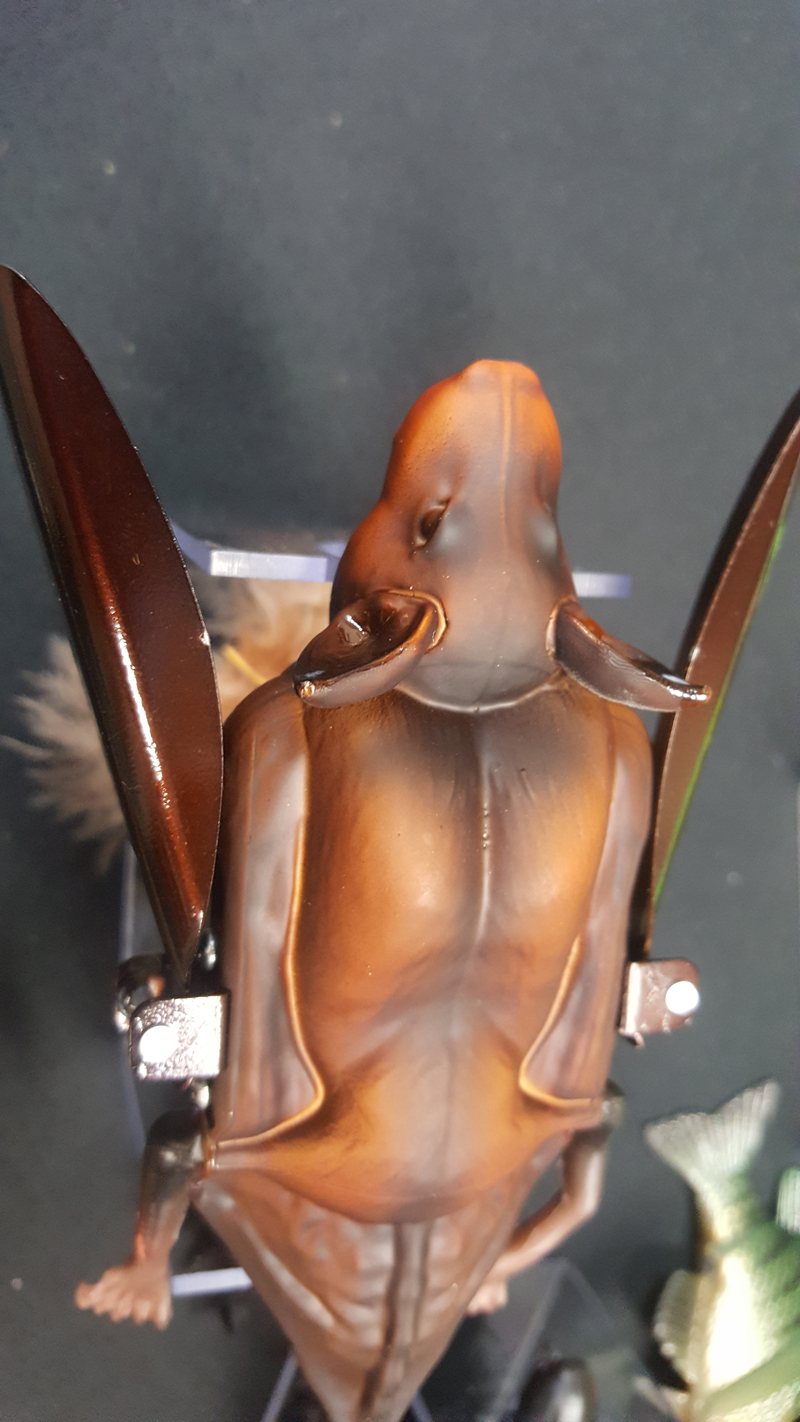 Savage Gear 3D Bat
Yes, this is an actual bat-lure. The wings flap and splash, two treble hooks swing from its belly, and when you cast the bat lure, it screeches (not really). We have no idea if any fish will ever eat this thing—we couldn't test it because the prototype on display at a recent press event was one of only a handful in existence—but the guys from Savage Gear swear it'll take a bite out of the market. For more information, visit a cave.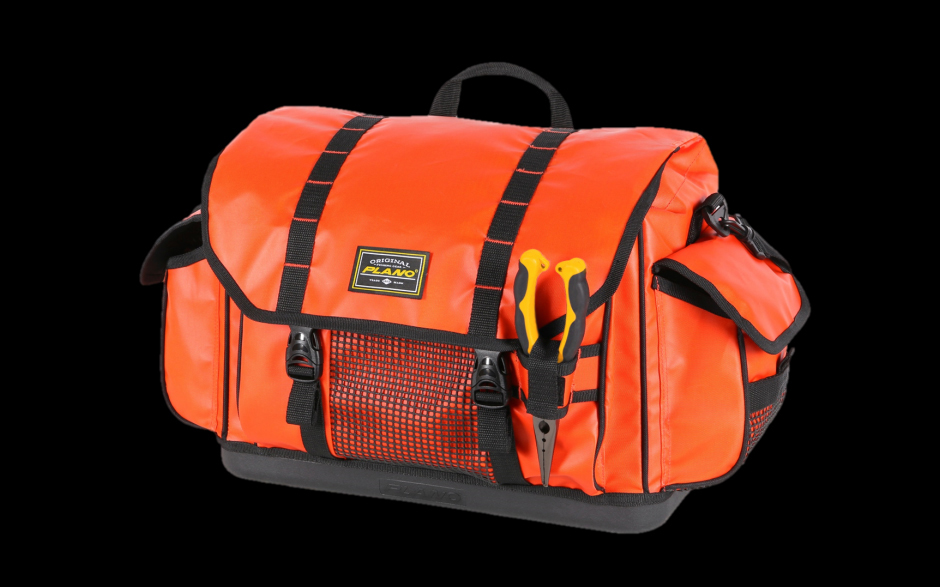 Plano Zipperless Z-Series Tackle Bags
If you've ever had a tackle bag with zippers you've probably had the zippers get caked with corrosion or salt crud, jam, break, stick, and eventually become unusable. It's just a reality of zippers and saltwater—they don't usually mix very well. So we were quite curious about Plano's new Z-series, which has flaps that clip down over the main compartment instead of zippering shut, and side pockets that Velcro closed. We haven't handled one of these yet (at the time of this writing some models are still two weeks away from hitting the stores) so we can't judge whether or not the flaps provide a water-tight enclosure. And if you take your tacklebag out on small boats in saltwater, this could be an important factor. That said, the idea of going zipperless is a good one; keep your eyes peeled for the Z-Series and give one a look-see, before you make any tackle bag upgrades. There's more info at planomolding.com.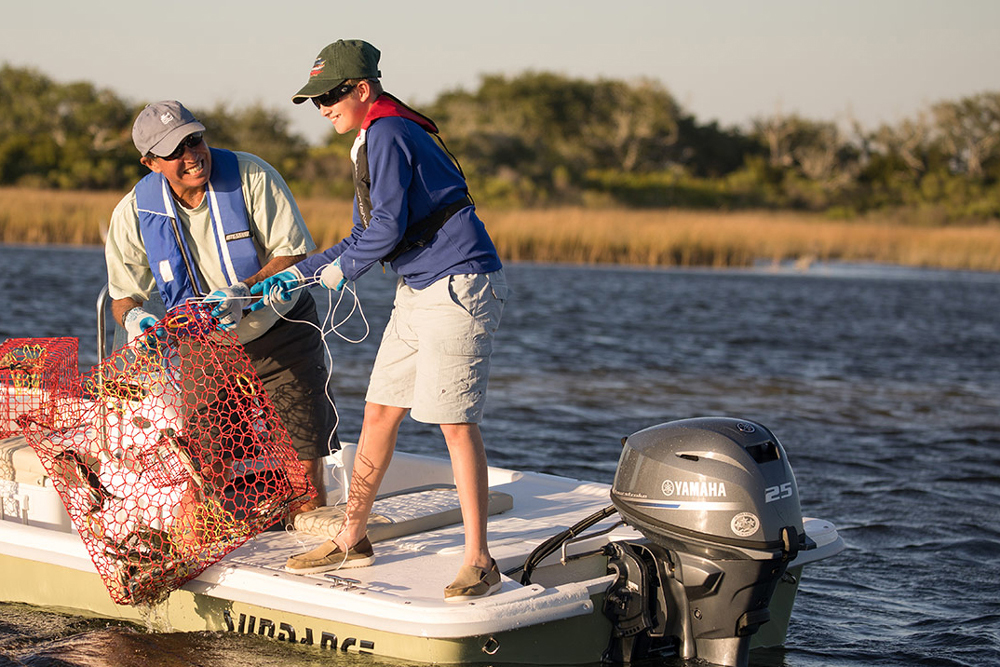 Yamaha F25
The F25, rolled out early this past spring, is Yamaha's latest introduction. And while 25 horsepower outboards may not produce headlines, the F25 is worth some serious attention if you're looking for a portable outboard to power a crabbing skiff, hunting boat, or similarly small craft. The first big perk is weight—at 125 pounds the F25 is not only 25-percent lighter than Yamaha's old 25 horse outboard, it's the lightest motor of this size on the water, period. It has battery-less EFI, which means easier starting, fewer ethanol problems, and more efficient running. And it has a high-output alternator that feeds 16 amps of juice to your battery. Options include electric start, key FOB control, and power trim and tilt. You want the specs? This is a two-cylinder in-line engine with 26.4 cid, max rpm range is 5000 to 6000, it's available in 15 and 20 inch shaft lengths, and pricing ranges from $4,000 and change to around $5,000 depending on options and models. Visit Yamahaoutboards.com for more info.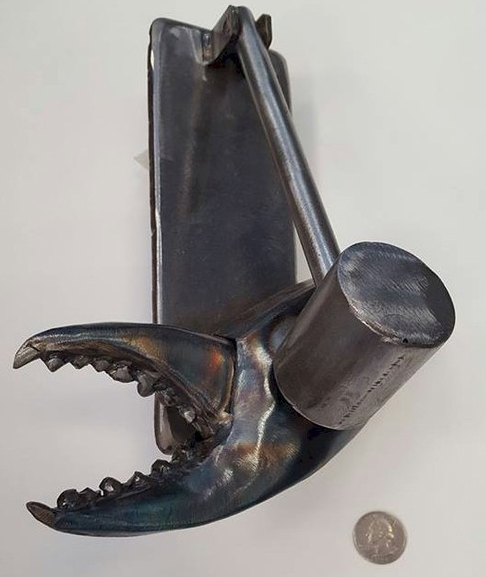 Crab Claw Door Knocker
This item will not help you catch more fish, isn't new, and could be construed as a rather silly purchase. But… but… but… DANG IT'S AWESOME!! When we came across this uber-cool Chesapeake-style door knocker, we just had to spread the word. If you want to have the coolest knock on the block, visit alltackle.com and go to "fishing gifts" under the "accessories" tab—it's hidden among the Maryland Crab hitch covers and the flounder doormats.