With all the recent confusion over Maryland Chesapeake Bay circle hook regulations, a few simple facts have been overlooked. Fact number one: anglers using circle hooks cause less mortality among released striped bass. Some will say there's no science to support this assertion, but they're dead wrong. Way back in 1999 the DNR performed a study in which 1,116 stripers were caught by hook and line, marked to differentiate between those caught on inline (non-offset) circle hooks and those caught on J hooks, then observed in net pens for 72 hours. The bottom line? J-hook caught fish had a mortality rate of 9.1 percent and those caught on circles had a mortality rate of 0.8 percent. (There are some other interesting things that came out of the study, which you can find online by Googling "Maryland DNR circle hook study.") But before we dig any deeper, let's take a quick look at the difference between non offset (inline) circle hooks, and offset circle hooks. Remember, the law calls for the use of non offset, only.
The findings are backed up by similar studies performed on striped bass in Massachusetts (Caruso, 2000), and if you include species like red drum in the mix, multiple studies (Vecchio and Wenner, 2007; Aguilar et al. 2002, ect.), back the data up.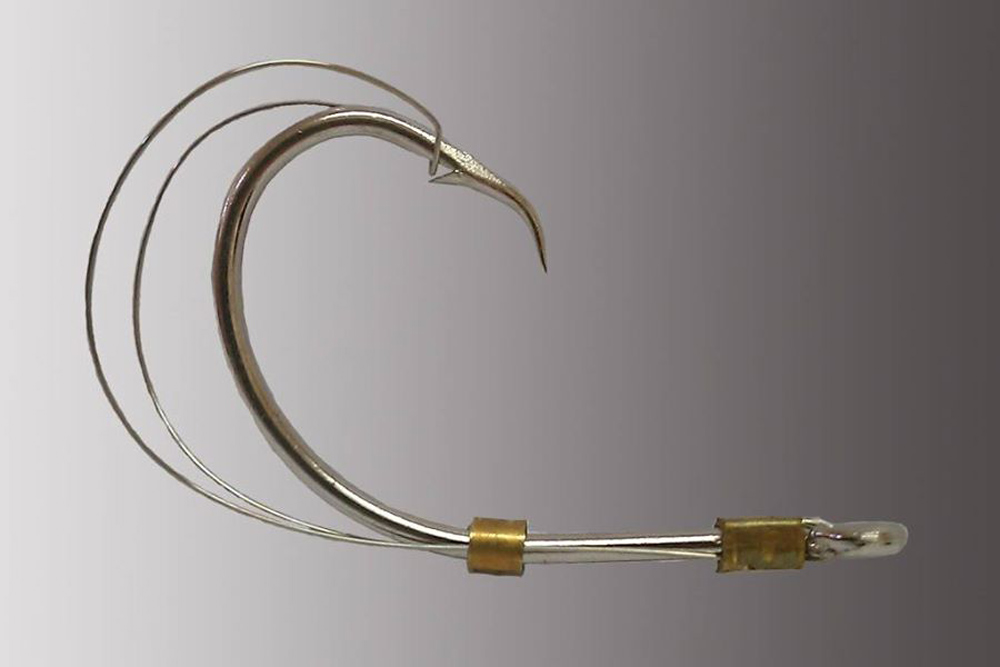 And we haven't even talked about comparing them to the damage created by treble hooks yet…
Fact number two: On the whole, anglers will catch more fish using circle hooks. There are also plenty of studies showing how effective these hooks really are, but we have to offer the caveat "on the whole" because there are also plenty of anglers who have become very good at hooking up fish on J hooks and at least early in the game, they're likely to do worse with circle hooks.
The evidence shows that no matter what the regulations say, using inline circle hooks is a good idea for everyone – especially the fish. So, how are you going to make sure you use them effectively? To find out, we found a Chesapeake Bay charter boat captain, Brian Mayer, who's been using them while live-lining for years and has his systems down pat.
"I like the Bait Saver hooks, which come with a wire and a small gold sleeve you use to tighten the wire down," he explains. "I put the wire through the nostril of the spot, then it slides under the barb of the hook. This prevents the spot from escaping – it's like putting them in spot jail – and it also helps them live longer. Last season I tried wiring one and putting it back in the bait tank, and three days later the spot was still just fine. He went back into the bait rotation."
Mayer says he uses the 3/0 Bait Saver circles, tied to one arm's length of 15- to 25-pound flourocarbon leader. The leader gets tied off to a Spro or ball-bearing swivel. Before being tied off to the 25-pound Power Pro mainline, he adds a 1/8 to 3/4 ounce egg sinker.
"When you feel a bite open the reel and point the rod tip at the fish," he says. "The rock is grabbing the bait, turning it, then scaling the fish and spitting the scales before he eats the spot. You don't want to close the reel until he's eaten the bait and is swimming away. So the moment you feel the bite and start giving the fish line, begin counting out loud. Don't close the bail until you get to 12. Then just let the fish hang himself. He'll slam his mouth shut to stop the spot from coming out, and the hook will engage right in the jaw."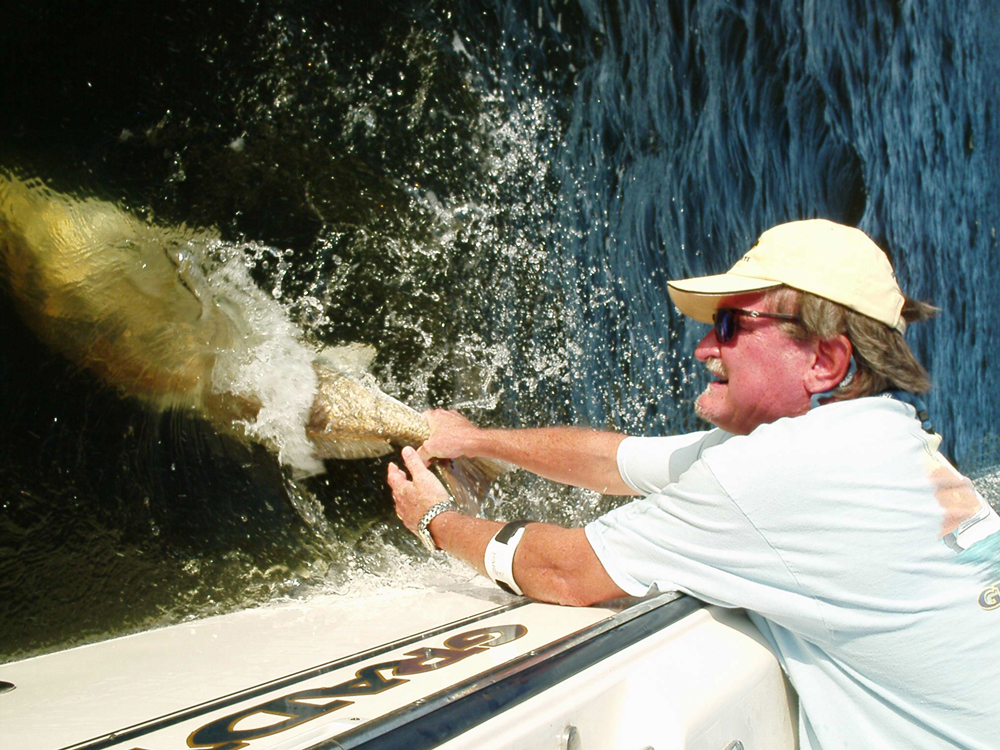 Mayer notes that circle hooks don't just lead to fewer dead discards and a fuller fishbox, they're also safer to fish with. "From a safety standpoint circle hooks are much better to fish with, especially with young anglers. You rarely impale yourself with one."
More Tips for Live-Lining and Chumming with Circle Hooks
Anglers usually know to be quiet when fishing the shallows, but it matters when live-lining and chumming, too. Be careful not to drag the anchor chain across the boat as you get set, and remind all the anglers aboard to lower the volume.
Never lift a striper's head out of the water before netting it, when live-lining. Rockfish sometimes become so focused on not letting the spot get away they'll chomp down hard and hold the fish without ever becoming hooked. If you don't lift their head out of the water, they'll often hold on tight until you get them into the net.
When the bite is slow while chumming, try drifting a bait back with slack line and no weight or tension. The idea is to allow the bait to drift back naturally in the chum slick, and often, it produces bites when static baits go untouched.
Capt. Brian Mayer not only charters the Marauder, but can also be hired to join you on your own boat for a day of educational fishing. If you'd like to book the Marauder or have him come aboard to help you iron out the wrinkles in your own system, call (240) 417-2408 or go to Marauder Charters on Facebook.